It's that time of year again! The time for love, romance, and lots of little candy hearts. Valentine's Day is right around the corner, which means men everywhere are planning how they'll show the women in their lives just how much they love them. But ladies, there's something (or someone) important that too many of us are forgetting: the men!
So, Valentine's Day generally seems to be viewed as a holiday for women. Now, that's not the case for everyone; there are plenty of ladies out there who make sure to shower their husbands with attention, too. But it's undeniable that there are people who don't feel like they need to do anything for their significant other. (I still remember hearing a female host on a local radio show talking a few years ago about how she never does anything for her boyfriend for Valentine's Day, while expecting him to get her gifts, as one example.) But men deserve to get a little romance, too, right? So if you're in need of gift ideas, fear not. I've got you covered.
The Man Bouquet
So, confession: "Gifts" is one of my love languages. I love receiving gifts — who doesn't, really? — but I cannot even explain how excited I am to give people presents. Naturally, I've always made a point of getting my husband Valentine's Day presents, and he's repeatedly said how much it means to him that he's not left out of the lovefest. But that said, there is one gift I gave him that I will never, ever, ever top: the man bouquet of 2013.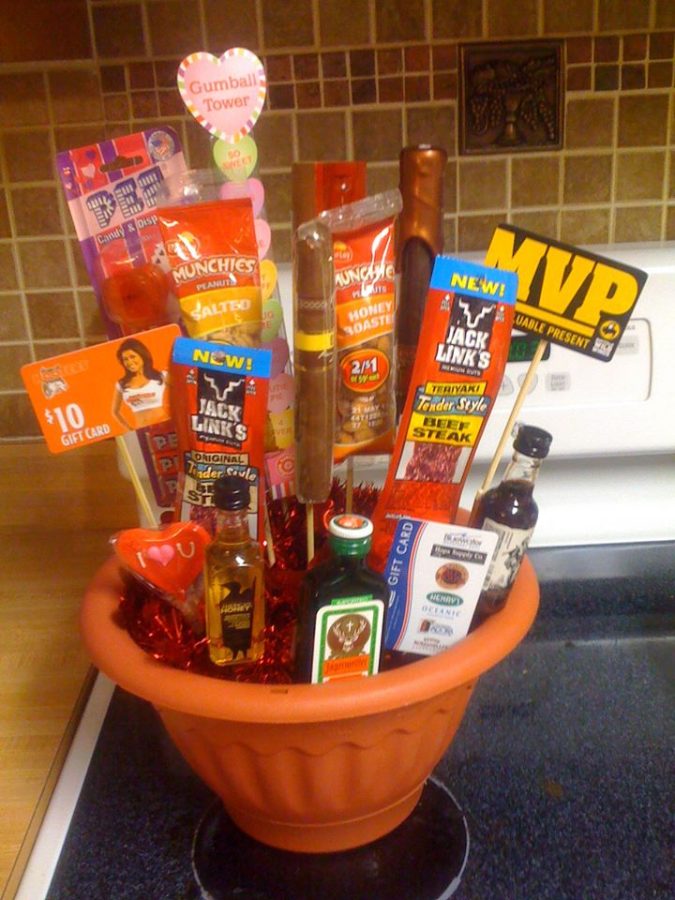 I struck gold with this baby. I loaded it up with tons of awesome things I knew he would like: beef jerky, candy, peanuts, liquor bottles, cigars, and gift cards to local sports bars. But the brilliant thing about the man bouquet is that you can go with literally anything your guy likes. Candy connoisseur? Head to Sweet Pete's and stock up on his faves. If he loves local microbrews or is a big fan of the foodie scene, stock up on some gift cards. You can get virtually anything, and by arranging it into an epic man bouquet, you take an ordinary gift and make it extraordinary.
Man Crates
Gift boxes are fun, right? Man Crates takes the concept of a gift box, though, and turns it into something perfect for the manly man in your life. They have all kinds of themes, so whatever your guy is interested in — sports, whiskey, golf, food, survival gear, camping, whatever — they probably have something for you. But it's in the presentation that this gift gets really special.
[youtube https://www.youtube.com/watch?v=ieR33OHI4nY&w=560&h=315]
You don't just get a regular box with Man Crates. You get a literal cedar crate, which he has to pry open with a crowbar. It's great for people who like something unique and individual, who like to get hands-on, and who want more than just a gift. It's an entire experience.
Food
Okay, this one is obvious, I'll give you that. But come on, that saying exists for a reason. The quickest way to a man's heart is through his stomach! So, arrange an awesome, manly, indulgent, decadent meal for him, comprised of whatever his favorite foods are. The obvious would be to grab some steaks from Publix and finish 'em off with a sexy, romantic dessert. If you don't know how to make a great steak, have no fear — it's actually insanely easy and would be better than any steak you get at a restaurant.
[youtube https://www.youtube.com/watch?v=kbpIYAnt-7k&w=560&h=315]
If that's not your deal, then there are plenty of other great food-themed gifts you can try. Breakfast in bed is a fun idea. Chocolate-covered strawberries are deceptively easy to make but look like you went way over-the-top.
Boudoir Photos
The last one is probably the most obvious because come on — we all know what they really want: sex. So find a good photographer you feel comfortable with and get ready to be really, really vulnerable with a boudoir photo shoot.
Despite how scary it may feel, it can actually be really empowering. Even with our stretch marks and changing mom bods, we're still sexy, beautiful women, and I guarantee your significant other will love seeing the pictures. But not only that, it'll remind you of how amazing you are, too.
What are you getting your guy for Valentine's Day?