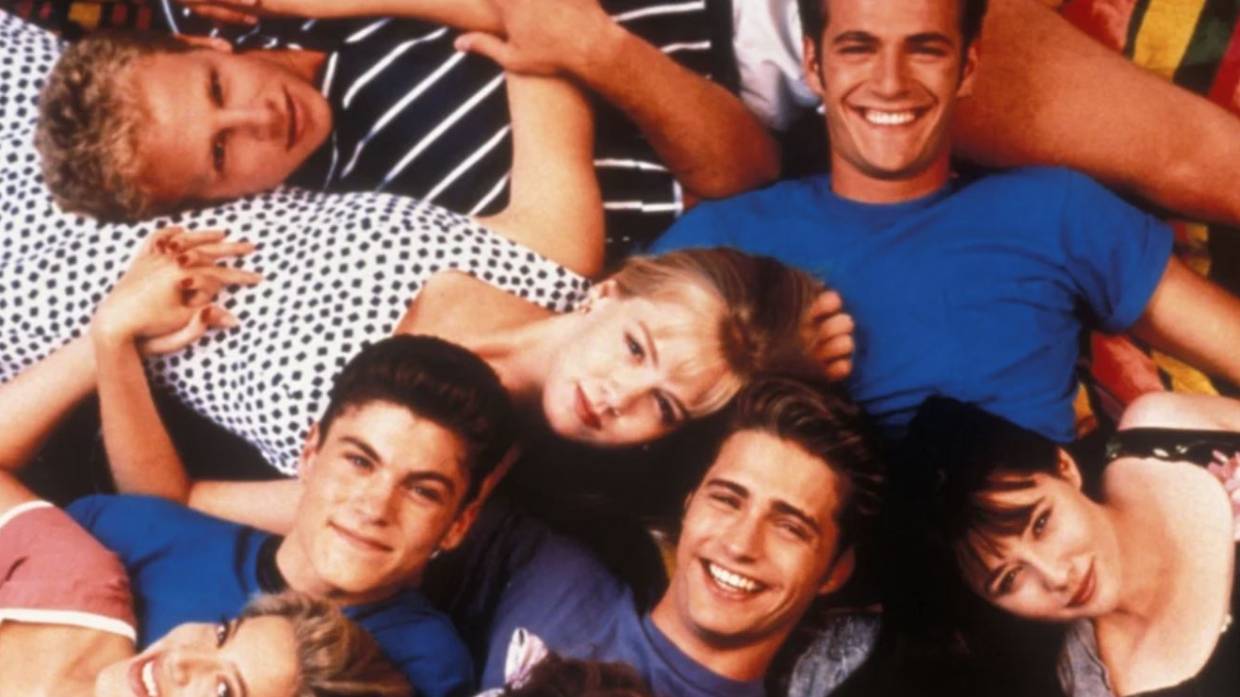 Like many of our generation, the news of Luke Perry's death was a shock. I'm not one to get overly emotional over celebrity deaths, seeing as I don't know them personally — only as the character they play on television. This one, however, hit home as it represents the loss of someone from a cast of characters, real or not, who were around for some of the most pivotal moments in my life.
Beverly Hills, 90210 premiered in October of 1990. I was an 8th grader in small-town Georgia living a very simple, sheltered life. The world of television and movies were my outlets into experiences my upbringing didn't allow. I was enamored by Brandon and Brenda's fish-out-of-water story from the Midwest to Beverly Hills, and when Dylan McKay pulled up on his motorcycle, he made his way into my teenage heart and straight onto my bedroom wall. Little did I know that one year later, I'd be living my own fish-out-of-water story.
That following summer after my final year of junior high, my parents moved me from everyone and everything I knew to a much larger school in Southwest Florida. Instead of accepting the emotions that came along with the move, I coped by dreaming of finding my own rebel boyfriend like Dylan and befriending a Kelly who was fancy and worldly and could teach me all the ways of the cool world.
As is normal, reality doesn't usually live up to the fantasy of television and my transition as a freshman in high school wasn't easy. I dealt with navigating student population three times the size of my old school and way more diverse in its makeup. Fitting in was my priority which meant I wanted new clothes, the coolest backpack, and anything that screamed normal, but financial pressures and constant upheaval made my home life anything but "normal." One of the only constants each week was that now-famous theme song playing each week where I could get lost in my crush over Dylan McKay and the struggles of the West Beverly High students. While they were dealing with issues like race, suicide, and depression, I learned how to navigate my own challenges.
I eventually found my way through high school and Beverly Hills, 90210 followed me into the next phase of my life — college. As the cast and the trials they faced grew, so did I. Issues like drugs, date rape, and abortion were suddenly very real, and it was comforting to watch a group of young adults on television struggle, fail, and move forward from those failures in the same way I was trying. I watched my forever crush Dylan spiral, hit rock bottom, find redemption, and then experience more tragedy, and I was there for it all. My connection to this show and its cast was a constant in what was equally the most exciting and terrifying time in my life.
The final season aired as I started my very first job out of college. I was newly married in a new city with very few connections, but I found friendship in a shared love for 90210. I was invited to a watch party before watch parties were cool and while the three of us shared the final episodes together at the end of its 10-season run, I discovered the value of sushi, good wine, and adult female friendships.
Yes, it was just a television show and Dylan McKay was just a fictional character, but it was so much more to me. It was an outlet in the times of my life when I desperately needed one. Brenda will always be the girl I relate to trying to fit into an unfamiliar world. Kelly remains the cool girl I wanted to be and Andrea the overlooked heart of the group that I should have aspired to be more. Although, I'm happily married to more of a "Brandon," Luke Perry as Dylan McKay will always be my teenage crush rebel hanging on my wall wearing his leather jacket and holding that brooding stare.