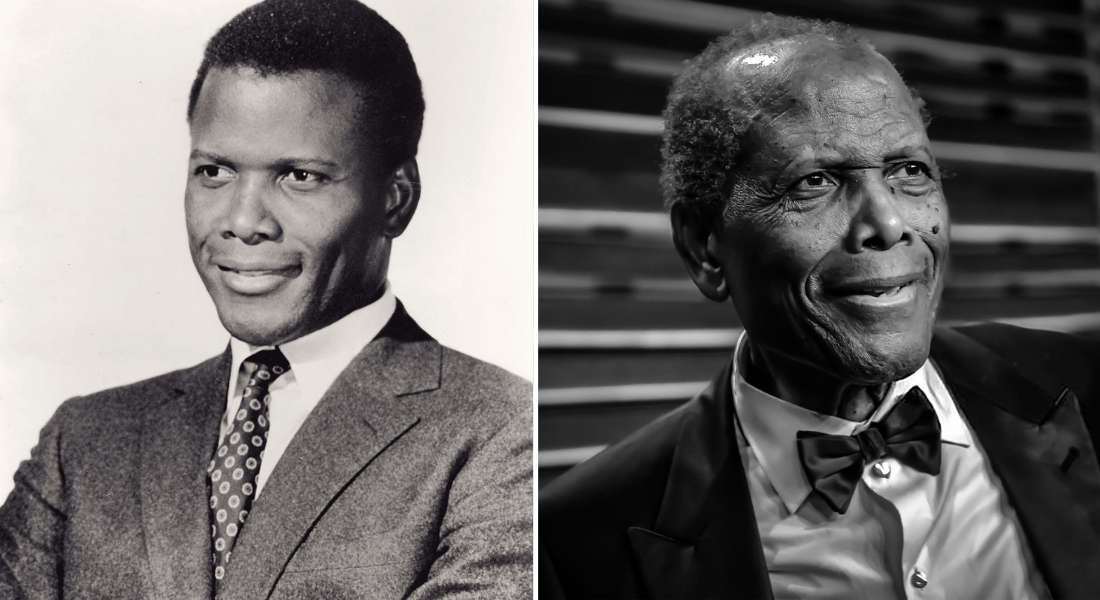 Sidney Poitier, the groundbreaking actor, civil rights activist, diplomat, and director, has died at the age of 94, a heartbreaking loss for people across the world.
Poitier's story begins with his Bahamian parents, visiting Miami when his mother went into labor unexpectedly three months early. Poitier was so premature that doctors told his parents he wouldn't survive; his father believed them, and even purchased a casket. His mother, however, didn't want to give up hope. She visited a soothsayer, who told her, "Don't worry about your son, he will survive and will not be a sickly child. He will walk with kings. He will be rich and famous. Your name will be carried all over the world."
Poitier's mother went straight home and got rid of the casket. They spent three months in Miami, helping Poitier grow stronger before returning to the Bahamas. This premature birth, in a strange way, was lucky for Poitier, as it gave him United States citizenship, which would come in handy later. The family originally lived on the rural Cat Island in relative poverty before moving to Nassau, where he experienced things like electricity, cars, and modern plumbing for the first time. It was also the first time Poitier ever saw himself in a mirror. "I saw my teeth. And they were quite acceptable, they looked pretty okay," he told NPR in 2009. "And my eyes, my hair… me! I was looking at myself."
At 15, Poitier was sent to live with family in Miami, where he had his first encounters with the racism of the Jim Crow south. For ridiculously minor infractions, like trying to deliver a package to the wrong entrance, the Ku Klux Klan threatened to kill him. It was the constant racism that spurred Poitier to move to New York City, where he began to get interested in acting. He lived in Harlem at first, sleeping at Penn Station at night and washing dishes during the day, eventually getting a disastrous audition with the American Negro Theatre, where he was almost literally thrown out. But it just made Poitier determined to work even harder, using a radio to practice English in his spare time, and learning to read from a Jewish waiter who used newspapers to teach him.
Poitier taught himself to speak English without his Bahamian accent, and after improving his reading, he gained an apprenticeship at the theatre. By 1947, Poitier was a founding member of the Committee for the Negro in the Arts, and in 1949, he got his first movie offer: a role as a doctor treating a racist patient in No Way Out. From there, his film career soared, and he also appeared on Broadway in A Raisin in the Sun, which was later made into a movie as well.
He found his greatest success in the 1960s, with appearances in To Sir, With Love, In the Heat of the Night, and Guess Who's Coming to Dinner. He was one of the only well-respected Black actors in Hollywood, and because of that, he took great care to choose characters with positive, upstanding attributes — something he would be criticized for. But Poitier argued he was bound by the world he was living in to portray Black men positively, as opposed to as caricatures or villains.
"If the fabric of the society were different, I would scream to high heaven to play villains and to deal with different images of Negro life that would be more dimensional," he said in a 1967 interview. "But I'll be damned if I do that at this stage of the game. Not when there is only one Negro actor working in films with any degree of consistency, when there are thousands of actors in films, you follow?"
For his 1967 performance in Lilies of the Field, Poitier became the first Black man to win an Academy Award for Best Actor. It wasn't until 2002 that another Black man — Denzel Washington — would win the award again.
In 1980, Poitier directed the film Stir Crazy, which became the most successful film ever directed by a Black man, which spurred on a successful career as a director over the next decade. He continued acting throughout the '90s and '00s, even winning a Grammy award in 2001 for Best Spoken Word Album, and wrote three books.
In addition to his work in the arts, Poitier worked as a diplomat, serving as the ambassador for the Bahamas to Japan for 10 years. He also served as the ambassador for the Bahamas to UNESCO for five years. He was also a strong advocate for racial progress and social justice, and even once risked his life for the Civil Rights movement. With Martin Luther King, Jr. and Harry Belafonte, Poitier traveled to Mississippi to deliver $70,000 in cash to the Student Non-Violent Coordinating Committee (SNCC), a student-led movement organizing peaceful resistance to segregation and exclusion of Black Americans, often facing violence in return. Poitier and King stuffed the money into doctors' bags to hide it, both aware of how dangerous the mission was. Mississippi was a state where Black men were frequently lynched, and the money was going to be used for an explosive operation: Freedom Summer. The goal during Freedom Summer was to register as many Black citizens as possible to vote in Mississippi.
Upon arriving in Mississippi, the car Belafonte and Poitier were traveling in was chased by local vigilantes, believed to be members of the Ku Klux Klan. They had to embark upon a high-speed chase, with the other car shooting at them along the way, before Poitier and Belafonte eventually lost them. The money was safely delivered, but Poitier vowed never to travel south of the Mason-Dixon Line again. He also participated, with over 200,000 others, in the March on Washington for Jobs and Freedom, where King would deliver his famous "I Have A Dream" speech.
Poitier's work as an actor paved the way for numerous other Black actors to succeed, from Denzel Washington and Will Smith to Michael B. Jordan and Idris Elba. The roles he played, his work in the civil rights movement, and his own upstanding character helped push back against the negative racial stereotypes of the 1950s and 1960s. As Martin Luther King, Jr. said of Poitier in 1967, "He is a man of great depth, a man of great social concern, a man who is dedicated to human rights and freedom." But above all, Poitier should be remembered for who he was, as he told CBS after writing his book Montaro Caine.
"I was not intending to make an impression. I was finding release for myself within myself. I was looking for who I am at this point in my life."
"Did you find out?" a CBS reporter asked. "Somewhat, yes," he said. "Who are you?" she asked.
"I'm a good person."