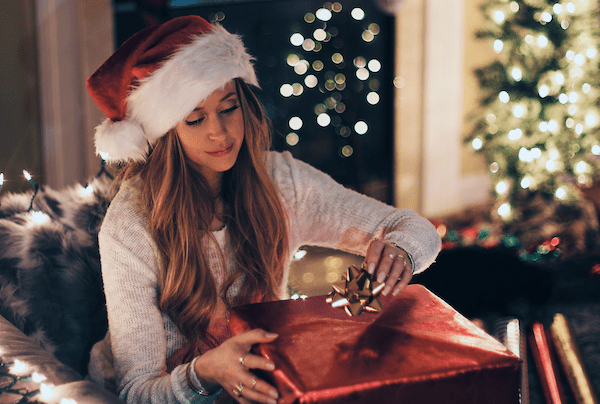 November? Is that you again?! For some of us, I know the common term, "holidays," starts at a certain time of the year. Mine technically kicks off when the anxiety hits. It's that time when my phone consistently has around 1,120 emails, my voicemail box is full (oh, that's year round), my Facebook messenger — I've stopped checking (so don't write me on Facebook) — and my Instagram inbox I cannot even come close to keeping up with. As for text messages? I don't want to talk about it. This stress hits… right around now. Unofficially, the day after Halloween. I want all this spooky crap out of my life for at least another 365 years. Although I will probably watch It's the Great Pumpkin, Charlie Brown 20 more times.
So, yes, as you can imagine, as a stylist and a mother it is just chaos this time of year. But not always in the way you think. My stress actually comes because I am the WORST at setting boundaries. I'm a workaholic, love my kids, love wine with my friends and a great date night with my husband. (I love a late date night under the sheets with him, too.) And let's face it, all with two jobs, a schedule and a so-called "life." If you ever want old-school, long, wonderful sex, you need to plan it. I'm not laughing; I'm dead serious. And that's hard. (That's also a whole other blog post, so I'm not EVEN going there right now.)
I actually get the blues when I don't stay true to my favorite holiday activities — I love shopping with a friend, even if I don't buy anything for anyone. I love, love, love grabbing brunch, window shopping and breathing in the hustle and bustle of the holiday air, until the early evening when they light up all the twinkle lights and turn on a massive Christmas tree. Doing one fun activity with my husband and kids — at LEAST one! Going to St Augustine, picking out a Christmas tree, seeing local lights, decorating our tree together, having a holiday movie marathon, serving all of the cheesy, yet amazing Hallmark loves stories. Also a night of hot chocolate and laughs while baking with my mother-in-law and sister-in-laws. I also usually beg my husband a night or two to stay up late with me and hang while I wrap gifts.
Last year was super far-fetched from this. I found myself overworked, and then all of a sudden it was Christmas. And the next thing I knew, it was over. This is my attempt being halfway through November to start the "holiday fiesta" now. I may even throw a few personal things in there for myself! My massage therapist yells at me for never coming in. (I have a problem carving out time for self care, although it is the most needed.) I also have a severe problem when it comes to saying, "No," and staying still. I recently saw a beautiful friend who just gave birth to a gorgeous baby girl. I held this tiny miracle, and it made my stomach dip. I needed another baby, or for Georgia to be that little again. (I don't need another baby.)
My point is this: Why is it hard living in the moment? Why, when we are in the present (a true gift), are we cursed with far-off feelings and images of what the future may hold — good or bad? Is it not satisfying enough to breath in the air and love every single second? We as moms are nonstop robbing ourselves these sweet moments that we must try to hold onto with our entire being. Sifting back through old Christmas photos recently, and I was in bittersweet agony getting lost in the baby faces of my formerly tiny kids. This season (for the most part) I have created a schedule to stick to, and a holiday bucket list. I have kept it minimal but fun nonetheless. Until then, here are some of the things I've done that I love and some I'm looking forward to:
Mid-December when the hustle is strong at the Town Center, I love going to Maggiano's and having martinis while sitting at the bar and people watching!
I have never done this, but I would love to go see A Christmas Carol at The Alhambra
I cannot wait to see The Trans-Siberian Orchestra at The Veterans Memorial.
The kids would die to go to Winterfest at Adventure Landing on Jax Beach.
Lastly, we have never seen the Christmas lights at Jacksonville Zoo & Gardens — last time we went, I think it was 200 degrees, so this should be sooo wonderful this time of year!
And my favorite buying rules that I stick to (most of the time) is this: For children, buy something they want, something they need, something they can read, something they can eat, and the obvious like socks, underwear, a Christmas sweater or jammies. Let the holidaaaazzzzeeee begin!!!
About the Author
Stephanie Waltrip is just a beachy mom juggling it all. Married to a Jax local, she is a former beauty queen facing the everyday challenges of being a full-time hair stylist, makeup artist brand ambassador, wife and mother of three (#autismmom). Stephanie enjoys blogging about all of the vanities while staying real when it comes to hitting the gym, eating healthy and keeping harmony in the home. You can catch Steph during the week at Studio Sage, doing onset hair and makeup or on the other side of the camera modeling. On the weekends, you can find her in her favorite element: bikini, wine in hand and with her husband and babies on the shore! Follow her at @iamstephmurray.