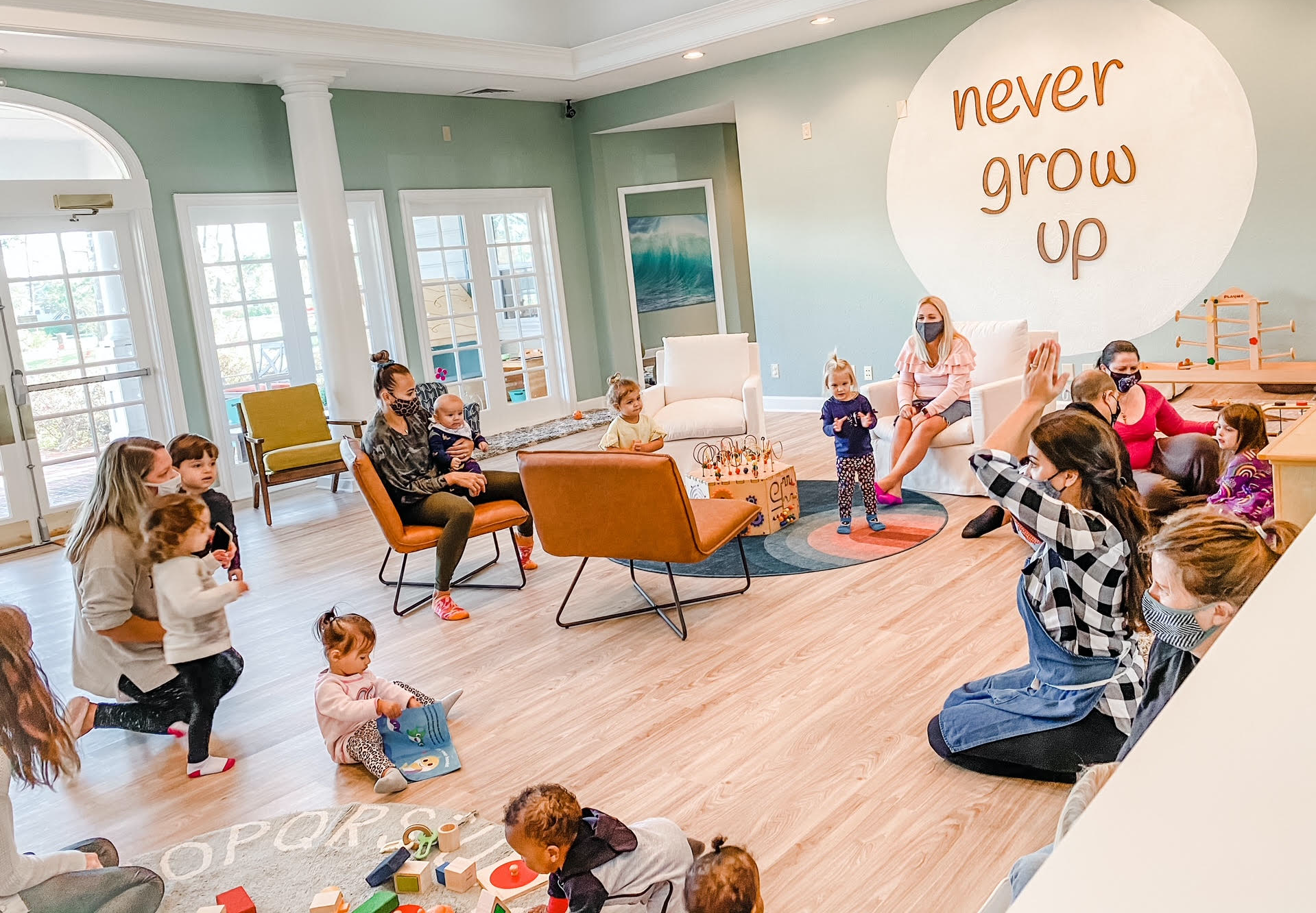 A mere three weeks before the grand opening of Bay & Bee's new location, life completely changed as we knew it. School and work were put on pause. Social distancing, hand sanitizer, face masks, and quarantine became a part of our daily repertoire. April turned into May turned into June — the weeks and months passed as the pandemic roared on, and businesses struggled to keep their proverbial heads above water while adhering to mask mandates and new limits on capacity. Virtual schooling and working remotely became the norm. Indoor playdates and affectionate greetings became distant memories.
It would be months before the owners and staff of Bay & Bee would be ready to set a re-opening date for their Montessori-inspired play space, a haven for babies, toddlers, preschoolers, and their caregivers that has served as a home away from home for many since 2014. Instead, they adapted by essentially "throwing things at a wall to see what sticks" — co-owner Monica's words and the unofficial motto of every small business ever during the past year. They upped the marketing ante for their online shop of high-quality children's products and toys. They dabbled in a monthly subscription service of at-home crafts and activities. They consulted with numerous medical experts and others in the play space realm regarding what would be both cost-effective and safe for the community. And they eventually re-opened in October with low-capacity drop-in play, continuing to throw things at that beautiful blue-green wall to "see what sticks."
Enter the new Bay & Bee.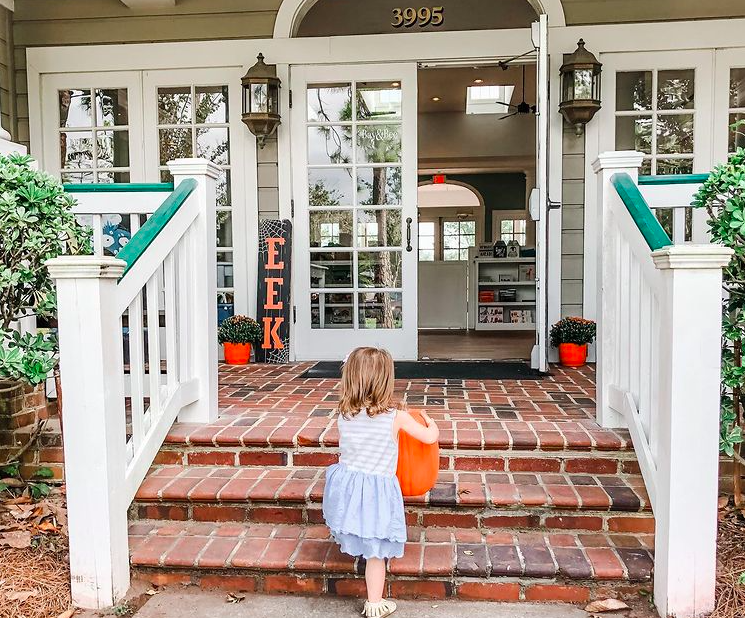 The Play Space
To enter the stunning new space with your littles is pure, unadulterated magic. A calm, serene environment beckons, in part thanks to Bay & Bee's trademark Benjamin Moore Wythe Blue walls, and features an abundance of natural light with more to explore around every corner for children aged birth to 4 years old.
Located at 3995 Hunt Club Road (just outside of Jacksonville Golf & Country Club off Hodges Boulevard), Bay & Bee continues to adhere to its Montessori and Waldorf principles of creativity and child-led play while implementing several COVID-19 safety measures.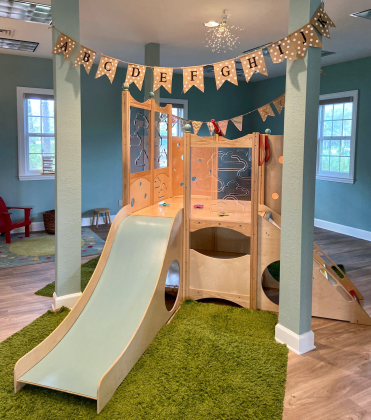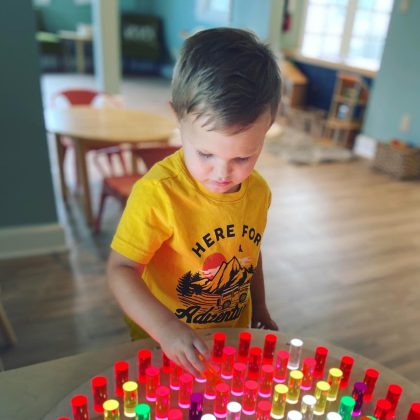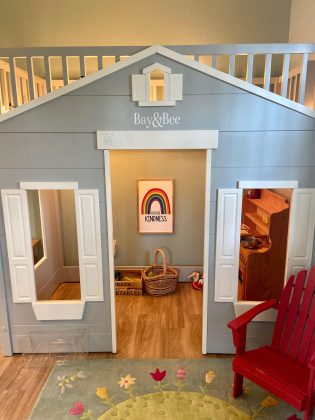 Scale the CedarWorks structure, build the ultimate fort with the foam blocks, design the train track of your dreams, experience the magic of the light table, explore the child-sized playhouse, or create to your heart's content in the craft room. Every detail has been thoughtfully curated, while each shelf, nook, and cranny awaits with fun toys suitable for babies and beyond (many of which you can purchase in the adjacent retail shop).
While Bay & Bee is currently accommodating low-capacity play, the community aspect of the space continues to flourish. Comfy seating throughout can be found for moms and dads alike, and a spacious back patio with more to explore overlooks a pretty pond (ducks included).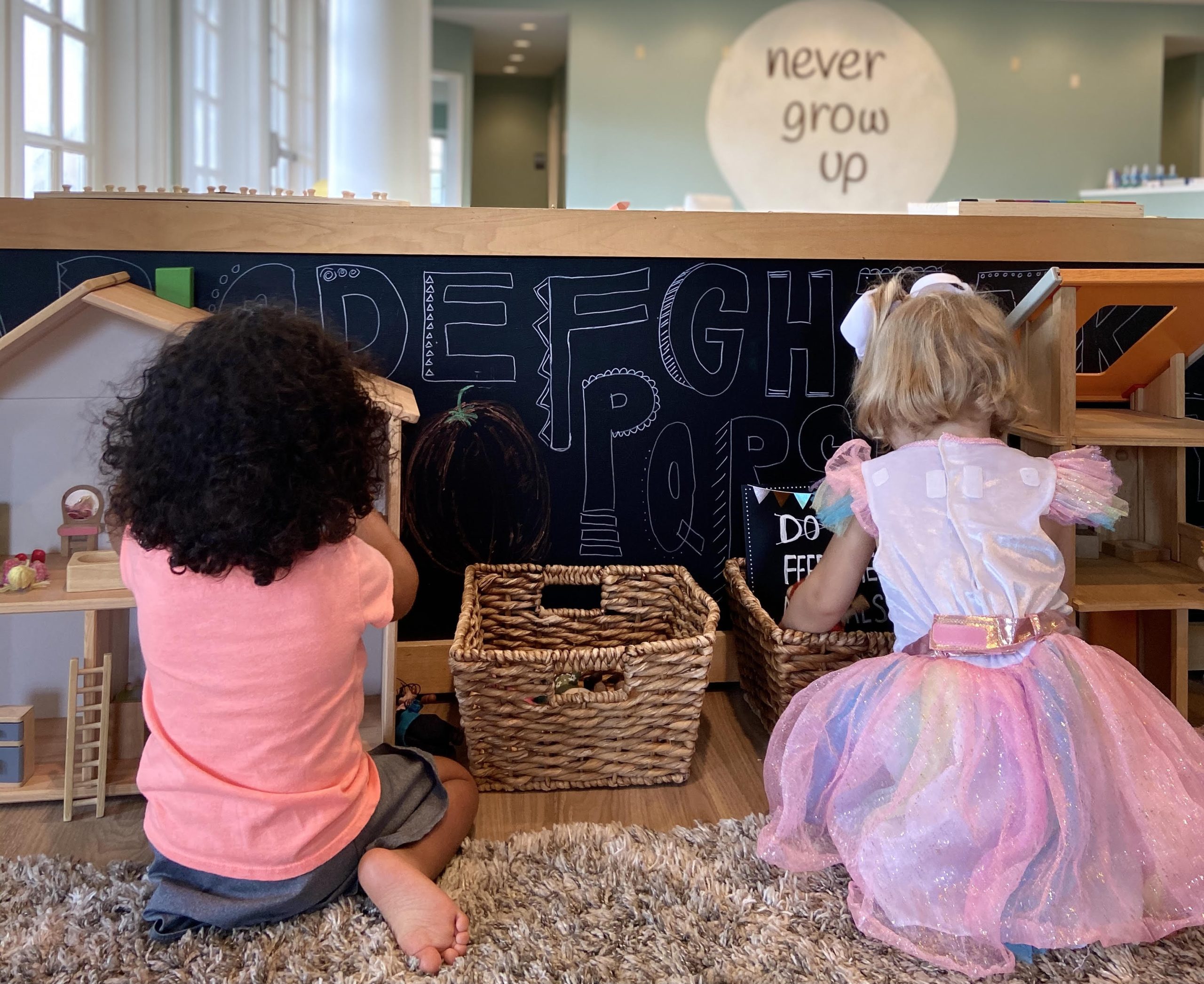 Drop-In Play
Bay & Bee is currently offering drop-in play sessions by reservation only, which can easily be booked on their website. Play sessions can be reserved Monday through Friday mornings, as well as Sunday mornings, with occasional afternoons bookings. Each session can accommodate a maximum of 10 families and includes playtime, bubble fun on the beautiful lawn, and a snack to go. They also offer fun holiday playdates and special events — follow Bay & Bee on Instagram so you don't miss out!
Schedule a Bay & Bee Drop-In Session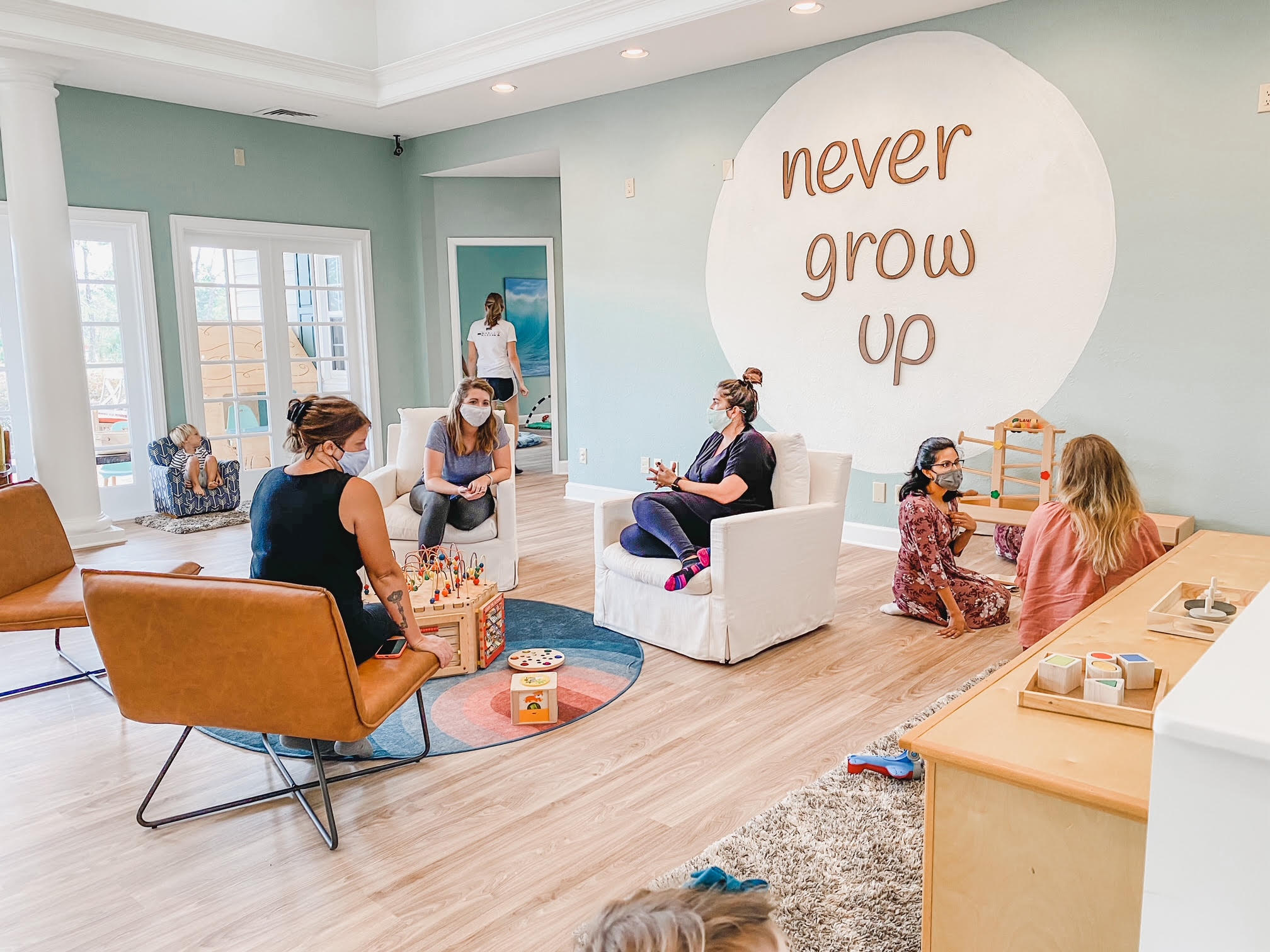 Age-Based Playgroups
Make friends and establish a weekly routine! To accommodate varying social comfort levels, Age-Based Playgroups are offered for a variety of age groups and meet weekly for six weeks with the same families on a rotating schedule. Each session incorporates staff-led, Montessori-inspired activities such as sensory work, movement exploration, or crafts. Siblings are welcome for an added fee.
Learn More About Age-Based Playgroups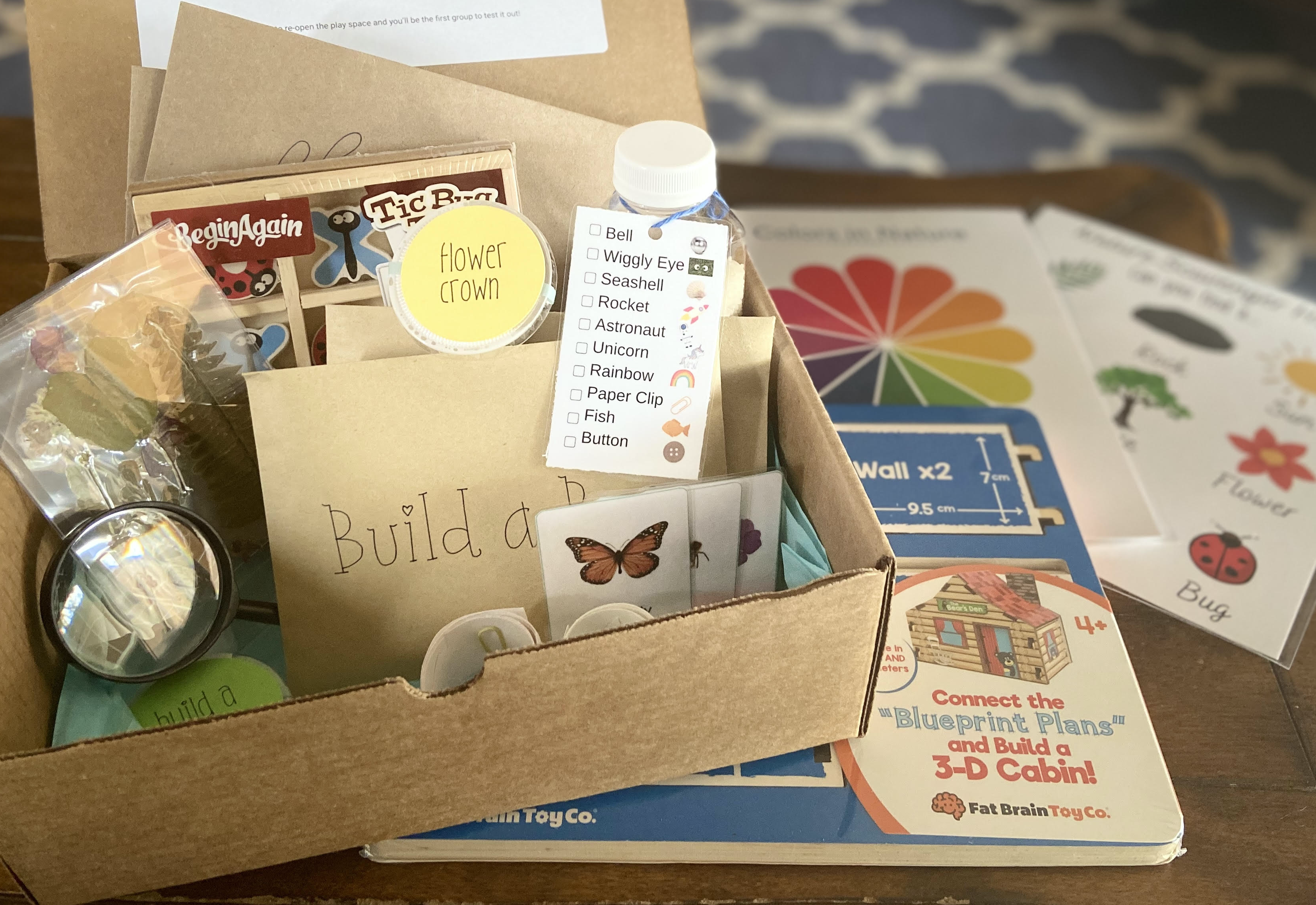 At-Home Activity Boxes
For the kid who's constantly bored, the answer lies in these At-Home Activity Boxes! Orders can be placed the 1st through the 4th of every month, and each customizable box includes fun products, house-made DIY crafts, and reusable activities all with infant and child development in mind. Choose a variety of items to suit your household ages, abilities, and preferences, and get seasonal, unique activities delivered straight to your door (literally, they're hand-delivered)!
The only thing constant is change. The beauty of Bay & Bee (and any small business, really) is that it must be ever-evolving to fit with the times. What appears to work this week, this month, or this year may not suit the next — and that's okay. One thing we do know is this: Bay & Bee is waiting to welcome you and your littles with open (and temporarily socially distanced) arms.