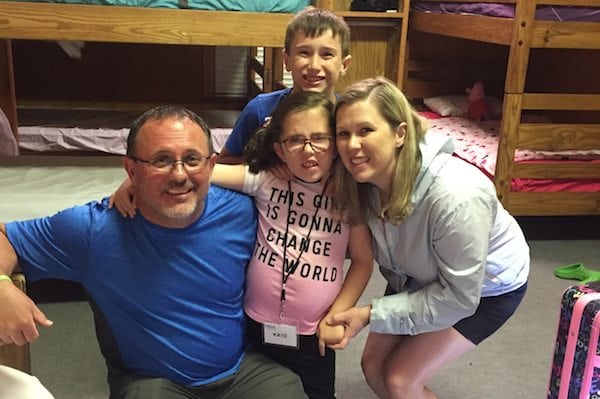 Kate Conte is a 3rd grader at Chets Creek Elementary. She is the absolute sweetest friend, has the brightest smile and the best ponytails. She rocks the best hair bows and loves to dance. My son is her classmate, and he says she gives the best hugs, too. Kate also has Myotonic Dystrophy.
The Promise to Kate Foundation is a local non-profit organization started by David and Elizabeth Conte. It began with a promise to their daughter, Kate, to fund research for her disease, Myotonic Dystrophy (DM), an underfunded and often misdiagnosed form of Muscular Dystrophy.
DM is a rare genetic disorder that can cause problems with several bodily systems. The different forms are caused by changes at various sites in the DNA of a person. DM1, the kind Kate has, affects an estimated 1 in 8,000 people worldwide — nearly 40,000 individuals in the U.S. alone.
So much research is needed. Due to its great variability of symptoms and its complicated disease mechanism, DM is one of the most complex disorders known. It is often misdiagnosed due to how long a diagnosis actually takes and how variable the disease is. DM patients race against the clock because the prognosis for congenital patients is that they will progress and work through managing their symptoms in their early years only later to become affected by the adolescent and adult symptoms causing regression. Promise to Kate works directly with leading researchers at the University of Florida who utilize cutting-edge technology to develop therapies for DM patients. But it can take 21 years for a new drug to come to market, the first 10 years being basic research, not to mention the cost of developing a new drug ($1.4 billion).
Promise to Kate also raises money to provide scholarships for families affected with DM to attend the Myotonic Dystrophy Foundation Annual Conference. Because of the complexity and rareness of the disease, many families can't find the resources in their local communities that fully understand DM. The conference provides them with education on how Myotonic Dystrophy affects the body, how to manage symptoms, what therapies are available and how to become their own advocate. They can learn about current research and drug study opportunities, and it also provides them with the ability to network with other families within the DM community. This is a life-changing conference for families affected with DM and the Promise to Kate Foundation was able to help four families attend in 2016  and will assist seven families in 2017.
Promise to Kate also funds a Day of Discovery at the University of Florida. This unique opportunity allows interested high school students to attend a day behind the scenes and tour UF's Center for NeuroGenetics lab where Myotonic Dystrophy research is being conducted. Students will learn about the many opportunities available in medical research and how other fields of study are being incorporated today.
Promise to Kate is so much more than a promise to their daughter, Kate. It is a promise to other families affected by Myotonic Dystrophy to help find a cure. It is a promise to these families to assist in their understanding of this disease and provide support. It is a promise to a younger generation interested in finding cures for the disease and offering them an opportunity to see what finding a cure looks like in the different phases of research.
The annual Promise to Kate Gala is called The Reception that is an elegant evening filled with dinner, live music, open bar cocktail hour, silent auction and casino. This year, The Reception will be held on March 3, 2018 at Casa Marina in Jacksonville Beach.
There are so many wonderful charities on a global and national scale. At the same time, there are local charities that strike a chord because they affect us daily on a personal level. Promise to Kate is a charity that strikes global, national and community chords, providing a way to support Myotonic Dystrophy research (global), DM families with disease awareness (national), students interested in medical research (local), not to mention our community friend, Kate.
Join the Promise by visiting PromiseToKate.org or stop by their Facebook page.