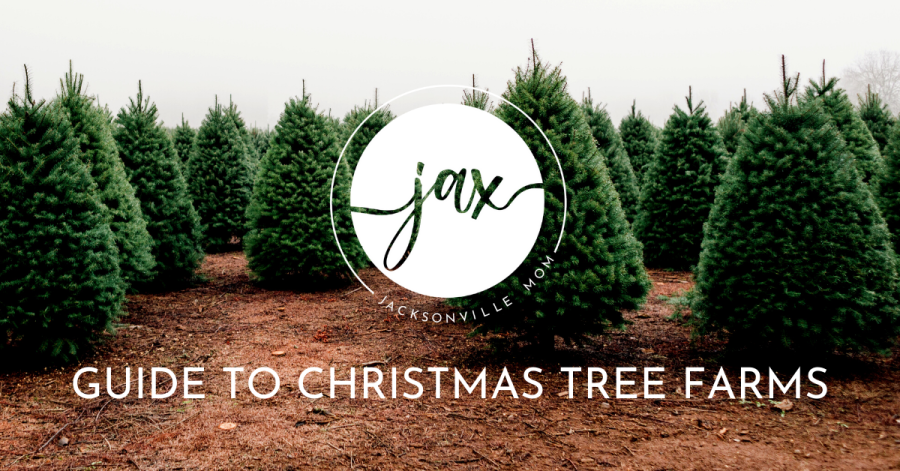 It's already that time of year! The Halloween decorations are coming down, and it's almost time to start decorating for the holidays. Nothing quite makes the festive atmosphere complete, though, like a Christmas tree! And there are tons of options, of course: you can use an artificial tree, you can go to a Christmas tree lot… or you can go for an exciting new experience for your littles, and check out a Christmas tree farm! It may be surprising, but even here in Florida, there are farms where you can not only get your very own Christmas tree but cut it down yourself, too! Talk about a holiday experience to remember.
Due to COVID, please check the website for reservations and additional precautions for each farm.
Here are a few options in the First Coast area:
Songer's Christmas Tree Farm
You can choose and cut from Cedar, Sand Pine, Spruce Pine, Carolina Sapphire, and Leyland Cypress. They also offer "frosted" trees, and Robin Blue Cypress and Carolina Sapphire trees in pots, which can be planted again after Christmas. They also have tree stands, tree bags, and wreaths.
5255 Carter Spencer Road
Middleburg, FL 32068
(904)272-3890
Songer's opens the Friday after Thanksgiving and is then open Friday, Saturday, and Sunday, from 10:00 AM to 5:00 PM, and then Wednesday, from 2:00 PM to 5:00 PM.
A Southern CHRISTmas Tree Farm
A Southern Christmas Tree Farm is a working tree farm. Guests have the unique opportunity to cut a real Florida Christmas Tree in the field. That's right! We provide the saw, we provide the live tree, and you do the cutting! If you prefer a pre-cut traditional type of tree, please see our selection of Fresh Cut Northern Trees. Netting is complimentary. Don't forget will also have nightly bonfires, hayrides, train rides, and more.
274000 Murrhee Rd.,
Hilliard, Florida 32046
(904) 845-7447
They are open to the public Black Friday – December 23. Monday-Friday 3-6PM, Saturday 10 AM – 6PM, Closed on Sundays.
Rudolph's Christmas Tree Farm
You can choose and cut from Red Cedar and Leyland Cypress trees. They also offer hayrides.
11965 O.C. Horne Rd.
Sanderson, FL 32087
(904)259-7703
They open the day after Thanksgiving and are then open daily from 8:00 AM to 6:00 PM.
BK Cedars
Provider of the Christmas tree on display at the state capitol, they sell potted Red Cedar and Arizona Cypress. They also sell red cedar logs chipped on-site, and kettle corn!
20926 N.W. 75th Street
Alachua, FL 32615
(386) 462-2060
They are open on Saturdays and Sundays from 10:00 AM to 6:00 PM from Thanksgiving to Christmas. You can visit other times by appointment.
Unicorn Hill Farm
3605 NW 69th Street
Gainesville, FL 32606
(352) 373-4575
They sell Burkii Cedar trees, which you can either cut down yourself or have them cut it for you. They also sell tree stands and tree bags.
Starting December 1st, they open on weekdays from 4:00 PM to 6:00 pm, and weekends from 12:00 PM to 6:00 PM, until all of the trees are sold.
Gibbs Christmas Tree Farm
9740 E. Hwy 318
Citra, FL 32113
(352) 546-2365
Sand Pine, Red Cedar, Arizona Cypress, and Fresh Cut Northern Fraser Firs are all available, with choices to choose and cut a tree, as well as a retail lot and potted trees. They also have hayrides, a petting farm, and wreaths.
They are open Fridays, Saturdays, and Sundays from 9:00 AM to 5:00 PM, from Thanksgiving until Christmas Eve.
Santa's Christmas Tree Forest
35317 Huff Road
Eustis, FL 32736
(352) 357-9863
This choose-and-cut farm offers Sand Pine, Red Cedar, and Arizona Cypress trees, as well as potted trees. They also have a gift and craft shop, a petting farm, hayrides, wreaths, a zip line, horse and pony rides, tram rides, a "Crazy Elf Maze Adventure," a reindeer haystack, and more! There are also visits with Santa.
The Christmas Tree Forest is open from November 21 to December 22, 2020; check the calendar for specific hours.
Coppage Christmas Trees
6596 Wright Rd
Manor, GA, 31550
(912) 283-4105
You can choose and cut from Blue Ice, Green Giant, Leyland Cypress, and Murray Cypress trees. They also have hot chocolate and cider, as well as field tours.
They are open Monday through Friday, 4:00 PM until dark, Saturdays, 10:00 AM until dark, and Sundays, 2:00 PM until dark.