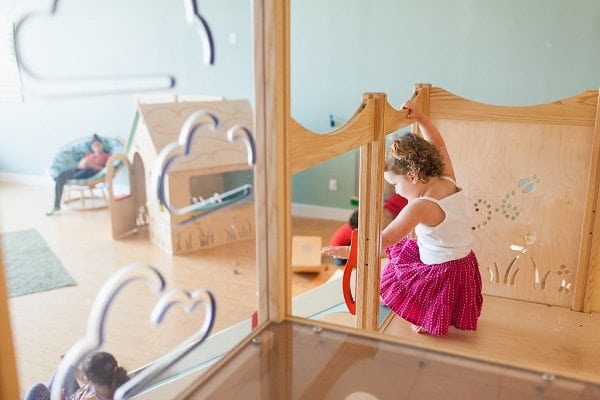 I can handle a rainy day here and there, huddled up at home in our pajamas, but give me several cold and rainy days in a row and I get a little crazy! I usually am on the search for anything to get me out of my house. Here's a list of best indoor play places in Jacksonville to help our mom friends make it through cold winter days, hot summer days, and all those Florida rainy days.
Best Indoor Play in Jacksonville
Beaches Rock Gym – Indoor rock climbing for kids of all ages.
BRAVOZ – This place is full of trampolines for your kids to bounce away. Special shoes and helmets are required and provided. For those that don't want to bounce, they have laser tag, archery tag, and an arcade to keep you entertained! We've only tried the trampolines but will be rushing back to try archery tag with the older kids. Check out their NEW Toddler Tuesdays too.
Edge Rock Gym – The Edge is a fun indoor rock climbing gym where kids can test their climbing abilities. They offer memberships, but one-day passes are also available.
Hard Knocks – Hard Knocks – Beyond Laser Tag: Your Indoor War The nation's first indoor combat simulation arenas open for recreational entertainment & groups such as corporate team buildings, birthday parties, bachelor parties, youth groups & more.
Jumpstreet Indoor Trampoline Park – Located in Jax Beach, Jumpstreet opened its doors in 2016. With a designated area for the little ones and for 8 and up, Jumpstreet will be your new go-to spot for high energy fun! Jumpstreet charges by the hour and also opens an hour early just for special needs children the first Saturday of every month. We love this place.
Jump Zone of Orange Park – Jump Zone also offers inflatables including slides, obstacle course, and bounce houses.
Main Event – When you want to let your fun out with family and friends, Main Event is the best and easiest place to head for fun. With state-of-the-art bowling, multi-level laser tag, more than 100 games topped with handcrafted food and a full bar under one roof.
My Gym – My Gym offers classes from infant to 13 years old keep your kids moving! We are not members, but we have tried classes and attended birthday parties. I am always impressed with the attentiveness of their staff and their ability to engage even the shyest kids! Membership is required but typically your first class is free!
O2B Kids Fleming Island -This place has everything! Great perks for members but they also offer general admission! Even if you are not a member you can come and play anytime! Children and families can engage in child-directed play in a safe and fun environment.  Be sure to check out the Big Toy climbing structure, play in the Building Things area, Costume Corner, or Play Kitchen. Children 0 to 3 years old can explore the special Toddler Play zone!
Play Factory and Café – The perfect place for littles under 6 to come and enjoy an imaginative play space indoors! The play area will be enclosed, clean, and safe. You can enjoy some refreshments at a nearby table, or join your little one in all the fun! The premier party venue for birthdays, showers, classes, and events! We are excited to offer affordable and all-inclusive party packages for your special occasion! Play Factory will have a full-service café onsite serving up espresso-based drinks, brewed coffee, tea, and more! We brew coffee beans from Social Grounds Coffee Company, a local Veteran owned coffee shop and roaster.
Party Bounce Play – Party Bounce Play is Northeast Florida's premier, indoor children's entertainment and recreation headquarters. With over 8,000 square feet and 21 different inflatables, children have a great time here. For the older children, there are 10 televisions to play over 400 games on the Wii, Xbox, and Playstation platforms. Also, they love to host parties of all sizes and occasions!
Pump It Up – Known for their inflatables, Pump It Up is a great place to burn some energy running from slide to slide. I love taking my family of four here because there is something fun for all ages. My one-year-old loves the Imagination Playground, and the nine-year-olds love the obstacle courses and slides.
Sensory Towne – A fun, modern, inclusive, sensory gym that provides an array of sensory-based activities, one of a kind sensory circuit classes, interactive floors, equipment, and educational opportunities. Their mission is to help provide sensory resources for families of all children that will help refine their ability to respond to sensory experiences, nurture, and improve upon their overall child development and social skills. They have fun swings, slides, interactive floors, foam pit, crash pad and more. Bring the kids out to play.
The Little Gym – Kids can participate in sports, music, and dance classes at The Little Gym! Membership is required but typically your first class is free!
TNT – TNT has an awesome open gym. The kids just bounce off the walls here – good thing everything is covered in foam! From trampolines to the foam pit, to the tiny bounce house, to the big open gym floor, I love the guaranteed nap that comes when we leave this place.
Topgolf –  Topgolf features 102 bays over 3 floors, an amazing rooftop terrace, lively bars and a golf game concept that is sure to blow you away. Topgolf isn't just for adults, it's perfect for all ages.
Trinity Baptist Church –  Trinity's free indoor playground and cafe is open Mon.-Fri. from 9am-6pm – Bring your kids to one of the largest indoor playgrounds in Jacksonville and enjoy a latte, frap, smoothie or snack from the Cafe. Trinity's Hammond campus is located at 800 Hammond Blvd.
Flight Fit N Fun (Velocity Air Sports) – Velocity Air Sports is Now a Flight Fit n Fun park! Brace yourself for all-out adventure and excitement! State of the Art Family Friendly Active Entertainment Center and will be the Largest Trampoline Park in the State of Florida. The new facility will feature 25,000-sq.ft. of trampolines including a Large Continuous Trampoline Field, a Trampoline Dodge Ball Stadium, Trampoline Launch Pads with Olympic Size Foam Pits, High-Wire Slack Lines, Ariel Silks, a Flying Trapeze, and a Massive Ninja Warrior Obstacle Course.
We Rock the Spectrum – We Rock the Spectrum provides children with a fun and motivational environment to help them in the areas of strength, movement, sensory processing, communication, positive behavior modification, social interactions, and self-care skills.
Included with Admission
MOCA – Fun to expose the kids to contemporary art, and really fun to reach the 3rd floor where you will find an interactive art exhibit just for the kids!
MOSH – Take advantage of MOSH Mondays and Little Learners, and explore this amazing little museum. Tons of special exhibits too!
The Cummer – When we have gone before, they have had a scavenger hunt to encourage the kids to explore the galleries. My kids' highlight is always the interactive section where they can play and create their own little masterpieces! We like to go Tuesdays after 4 pm for free admission!
Bowling Fun
Batt Family Fun – Batt Family Fun Center is a great place to have fun times with family and friends. At Batt Family Fun Center you can have a great time at prices that won't break your family's budget. They have plenty of bumper bowling lanes just for kids.
Beach Bowl – Located in Jacksonville Beach, Beach Bowl has been the main attraction center for recreational and competitive bowling in Jacksonville Beach. With Cosmic Bowling, a full-service lounge offering nightly drink specials, and a game room full of action-hit arcade games, you will never get bored partying with us.
Bowl America – Bowl America has cosmic bowling, birthday parties, and bowling leagues. They also offer youth programs such as the Rolling Rewards Program. Bowl America's Rolling Rewards Program salutes those students whose hard work and dedication have earned them the highest marks in the classroom. There are two locations in Jacksonville.
Jax Lanes Grove Park -Pick up a strike and show off your bowling skills at Jacksonville's Jax Lanes Grove Park. Don't leave the kids at home, youngsters will love the family-friendly activities at this alley just as much as mom and dad.
King Pins Bowling Center – Your first choice for family, food, and fun! King Pins Bowling Center has 20 lanes, arcade games, big screens, and daily specials. King Pins is a great place for family-oriented fun and activities.
Lucky Strike Entertainment Center – Lucky Strike Entertainment Center has everything you need to enjoy a great night out. They offer cosmic bowling, automatic scoring, pool tables & game rooms, food court & lounges.
Best for Bigger Kids
Adventure Landing – With locations in Jacksonville Beach, Orange Park, and St. Augustine, most have arcade and laser tag indoors with many other outdoor attractions.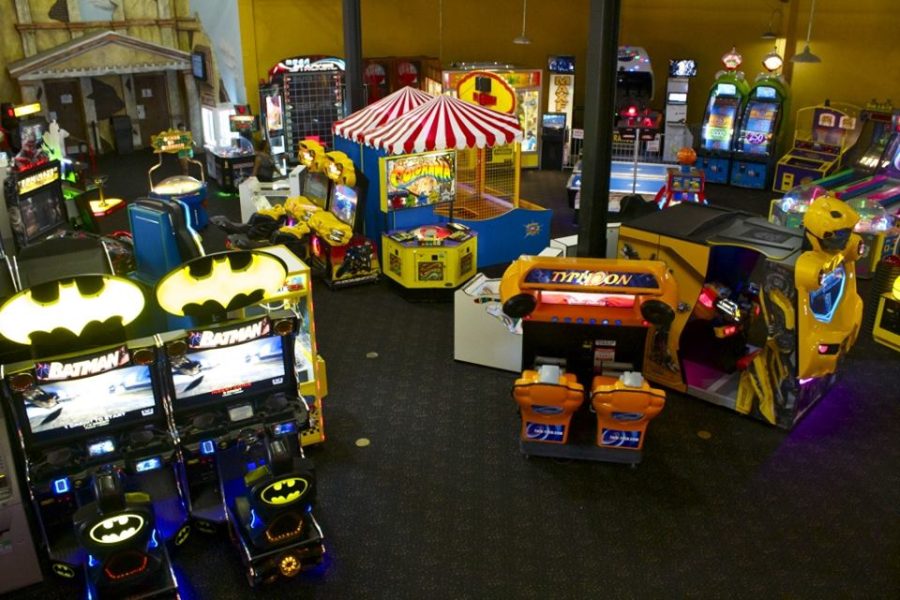 Autobahn Indoor Speedway – Perfect racing conditions every day on an indoor track.
Dave & Busters – A super fun place to enjoy an early dinner and arcade with the family.
Jacksonville Ice and Sportsplex – An excellent indoor activity when it's hot outside. The rink is open for public ice skating throughout the week.
Skate Station Funworks – Roller skating, miniature golf, soft playground, and arcade.
Movie Theaters
AMC Orange Park – 24 movie theaters located inside the Orange Park Mall.
AMC Regency – 24 movie theaters located just outside Regency Square Mall in Arlington. This theater also offers IMAX movies.
AMC Yulee – 10 movie theaters located in Yulee
Cinemark Tinseltown – Located off of Southside Boulevard. This theater participates in the summer movie program for kids.
Epic Theatres at Oakleaf – Located near Argyle Forest and Oakleaf Plantation west of Orange Park.
IMAX Theater at World Golf Hall of Fame – Offering a variety of documentaries and blockbuster hits in IMAX quality film.
Regal Avenues – 20 theaters located near the Avenues Mall. This theater participates in the summer movie program for kids.
Regal Beach Boulevard – 18 theaters located off of Beach Boulevard. This theater participates in the summer movie program for kids.
Regal River City Marketplace – 14 theaters located in the River City Marketplace. This theater participates in the summer movie program for kids.
San Marco Theatre – The San Marco  Theatre provides you with freshly made pizzas, sandwiches, nachos, quesadillas, great beer, and wine. The only place in town to enjoy dinner, drinks and a movie.
Sun-Ray Cinema – Located in the historic 5 Points area of Riverside, this theatre offers a fantastic menu to enjoy during the movie. This theater participates in the summer movie program for kids.
Cheap and Easy
Avenues Mall – Highlights are definitely the soft play area (free) and the train ride (about $3). Always a nice bonus is the number of elevators and escalators that provide entertainment for all of my kids. The soft play area is very small and limited but can usually last us about 30 minutes or an hour.
Barnes and Noble – The toy section at St. John's Town Center has a train table and a Calico Critters table for the kids to play. They also offer storytime.
Chick-Fil-A – Their play places are usually pretty clean, fun, and safe! One of the best places to actually squeeze in a conversation with another mom!
Chuck E. Cheese – With locations at Regency, Southside, and Orange Park, no summer of ours is complete without a trip to see the local mouse. You can keep your visit cheap if sign up for their email club, use coupons, and limit the number of tokens per kid.
Libraries – More than just books, our libraries offer puzzles and computers with educational games, and the weekly storytime is a must for my 1-year-old even on a sunny day! Check out Duval, Clay, and St. John's library websites and plan a visit to your local library, too.
Nordstrom – For the mom who likes to shop on a rainy day, try out Nordstrom. In the kids' section, you will find a fun little play area to keep the kids busy while you shop.
See More Indoor Play Spaces for Kids Below