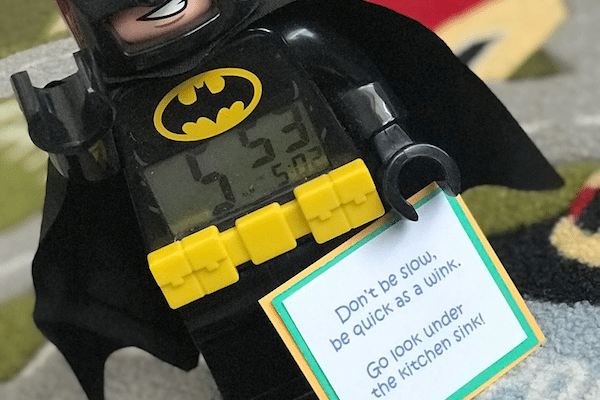 With a playroom full of toys and more board games than we can count, I still sometimes find myself competing with electronic devices and TV shows, looking for new ways to keep my children entertained and intellectually stimulated.
Luckily, scavenger hunts to the rescue! I was reminded of these greatly under-utilized adventures during a recent conversation with a friend when we were casually talking about a joint business trip that she had taken with her husband. Be it for business or pleasure, this has become a sweet tradition for their family whenever they travel. They almost always leave hidden clues (spread out during their time away) and treats for their three boys (ages 3, 9, and 11) to lighten the blow of being separated and to remind them that they're being thought of.
Since then, I've had a renewed excitement about scavenger hunts, and here are 10 reasons why you might, too!
1. They're fun for all ages, even adults. Whether they begin with a silly rhyming clue on your child's pillow on a weekend morning or a lipstick note on the bathroom mirror for your sweetheart, scavenger hunts almost always warm the heart and garner a smile!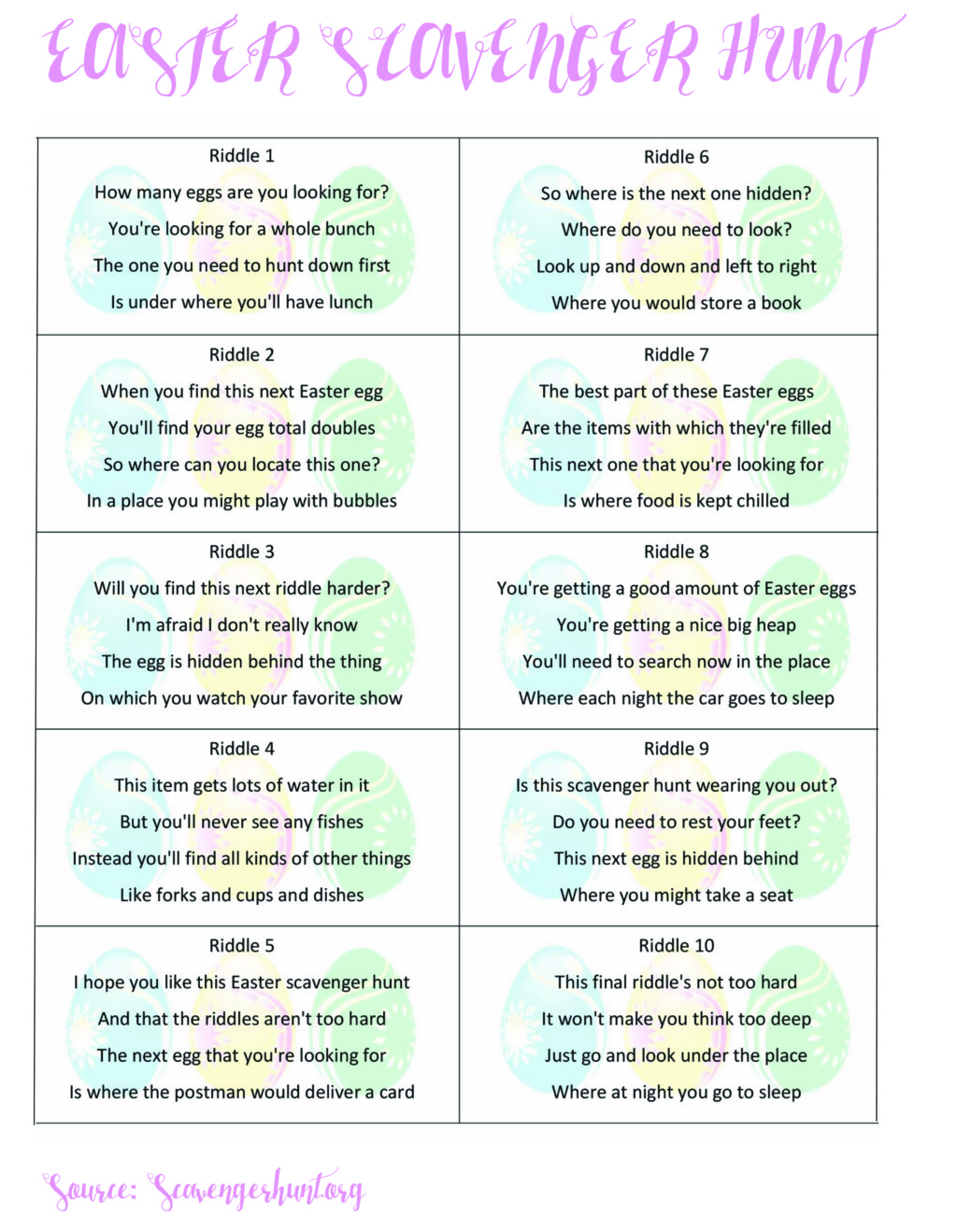 2. Use them to turn any day into a special occasion. Sure, scavenger hunts are great for birthdays and holidays like Valentine's Day or Easter, but they also make any rainy day, an aced spelling test, or even the first day of summer super special! Click the image above to download a FREE Easter Scavenger Hunt.
3. They can make learning fun! Whether solving a word puzzle to identify a clue, translating a different language, or learning about African-American inventors as they run around the house identifying modern-day conveniences that those inventors contributed to our society, scavenger hunts can help to make learning any topic more exciting.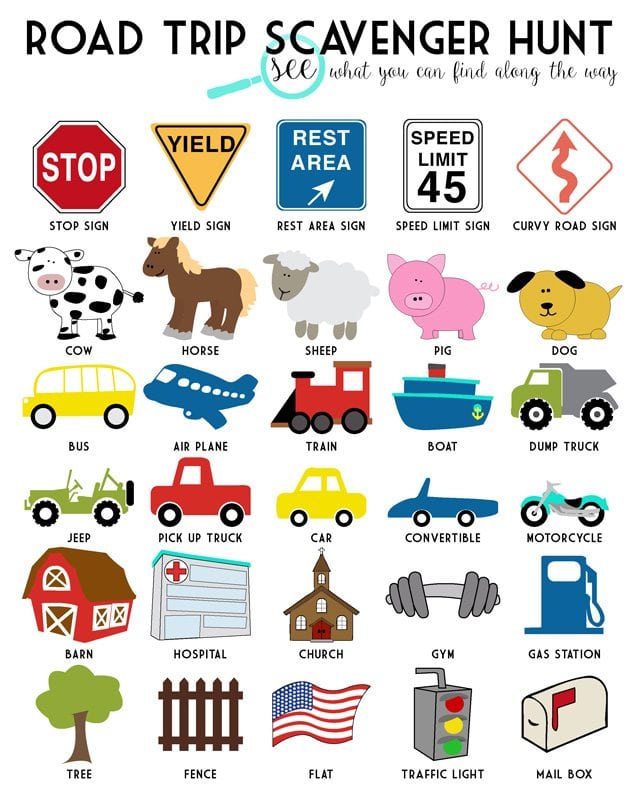 4. You can take them with you anywhere. Going on a road trip? Visual scavenger hunts are the perfect distraction to shortening long rides. Going to the zoo or the beach? Add in a little extra fun by creating a scavenger hunt list of things to find. Click the image above to download a FREE Road Trip Scavenger Hunt.
5. You don't have to recreate the wheel. This is definitely one of my favorite reasons! Unless you're trying to create custom language for a special occasion, there are tons of free downloadable examples to pull from that are simply a "Google" away.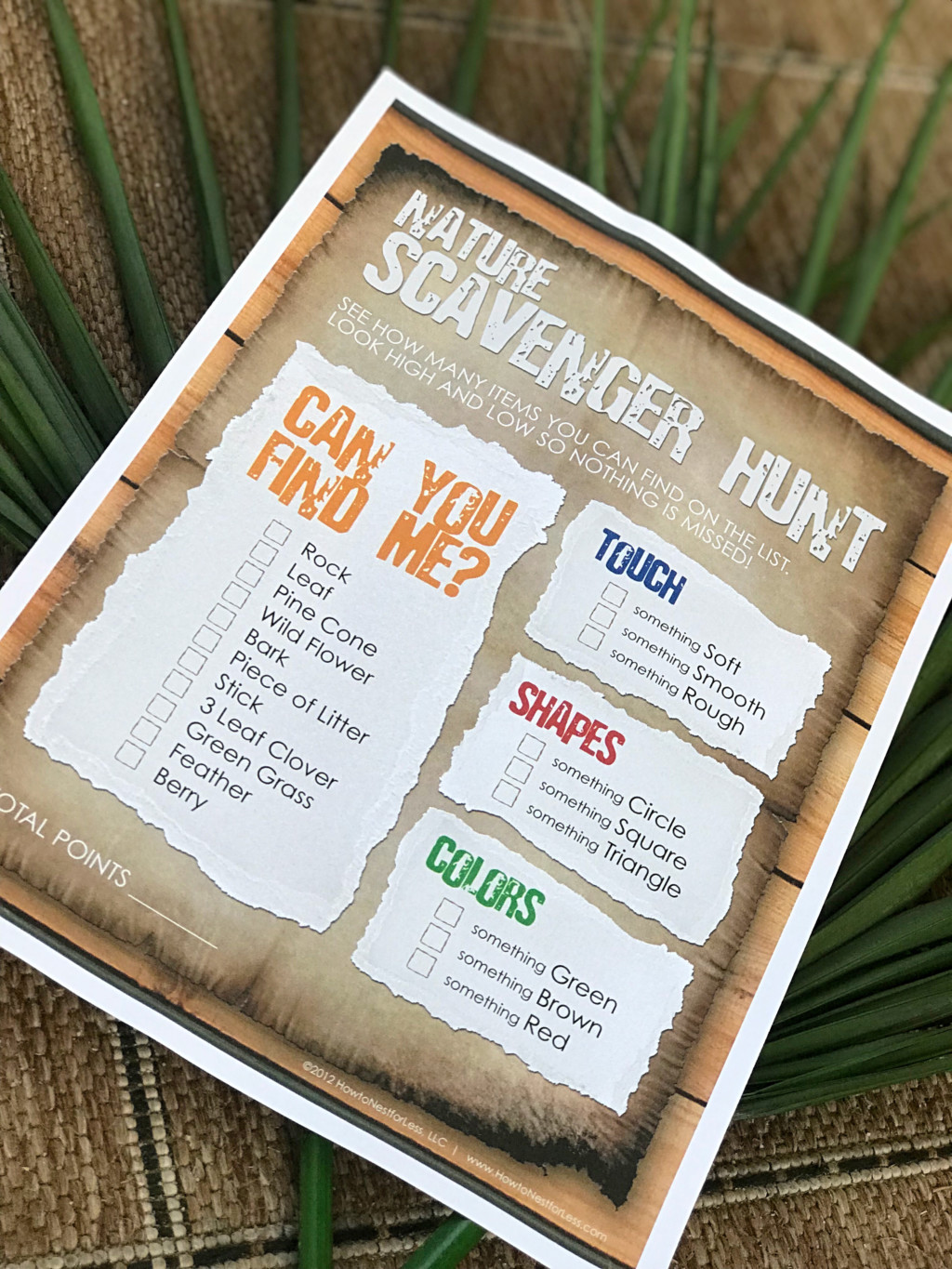 6. They offer a great way to slip in a little exercise. My boys usually enjoy getting outside to run around and play whenever they can, but there are also days when I have to force them to step away from their electronics! If your children could use a few extra daily steps, and they are anything like my two competitive boys, they'll rarely turn down a competitive scavenger hunt race around the house and backyard. Click the image above to download a FREE Nature Scavenger Hunt.
7. They're an awesome team builder. What better way to strengthen sibling/family bonds than with some friendly competition? Choose moms and daughters against dads and sons or parents versus children. Two teens constantly bickering? This might just be the ticket (especially if there's a cool prize at the end)!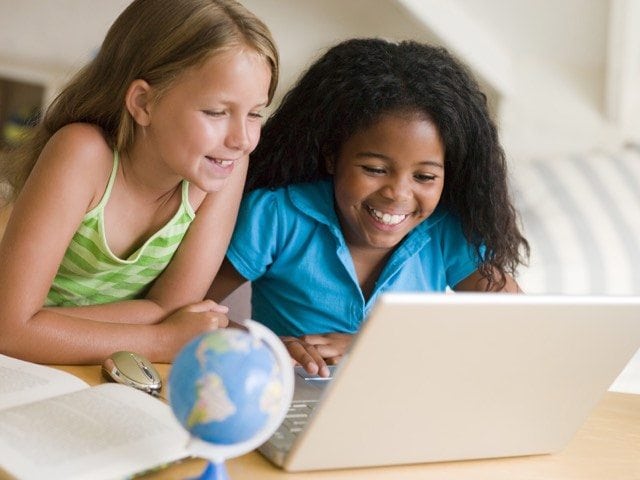 8. You can do them sitting still! If you're instead looking to calm things down around your house, there are even online (computer/iPad) scavenger hunts that are also great for learning interesting facts about any topic you choose! A great version I found on mykidsadventures.com instructed kids to do things like: Google their first and last name and see what they found, look up their favorite character from a book, research a toy they really want and see how much it costs, uncover some of the things that happened in the world on the day they were born, find their address on Google Earth, and look up pictures of places they'd like to visit one day. Click here to download a FREE Online Scavenger Hunt.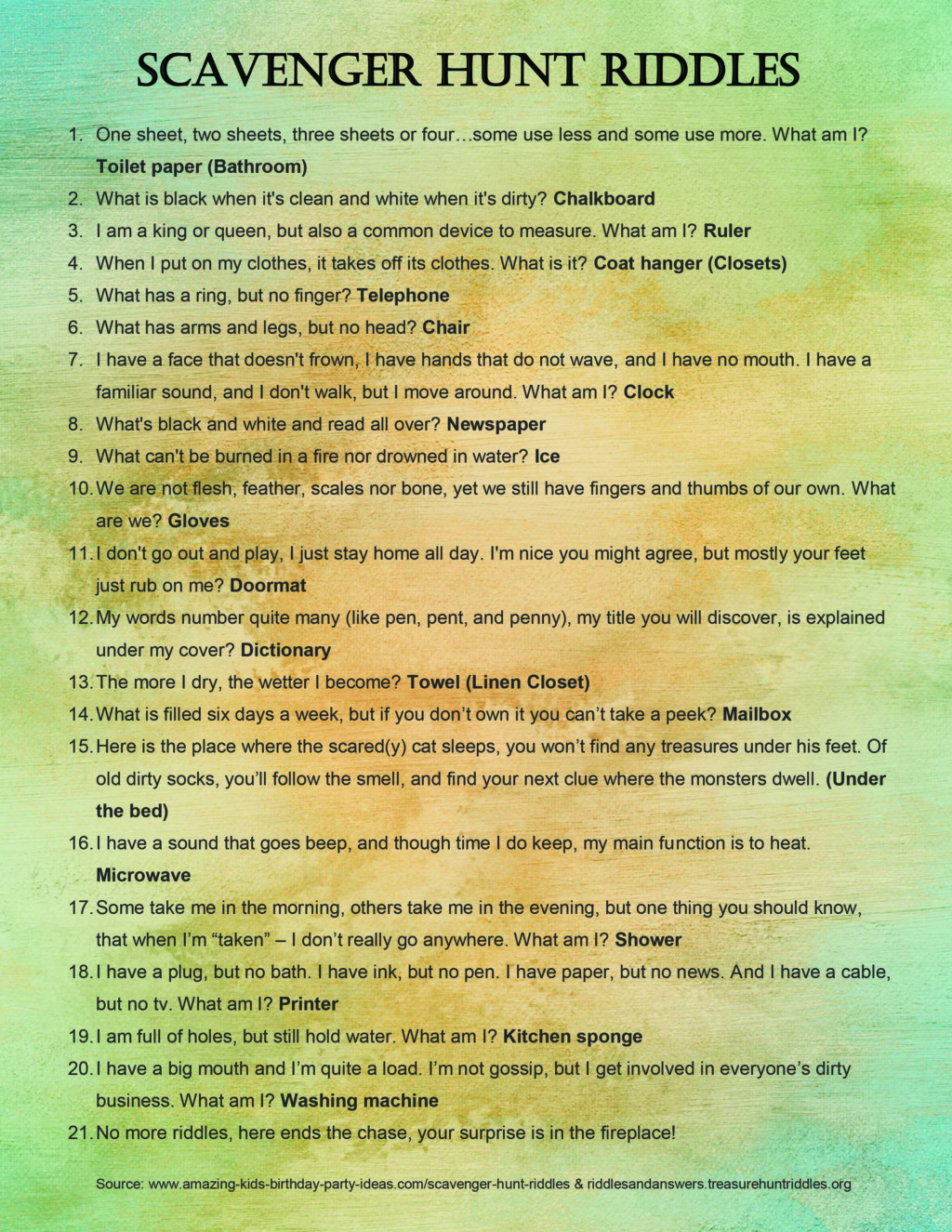 9. They can be as simple or as complicated as you want to make them. From racing around the house to collect a basic list of related items, to song lyrics or fancy rhymes, to creating a special code language that has to be deciphered, to using photos or text messages to provide clues, there are an unlimited number of ways to make scavenger hunts fun and memorable. Click the image above for a FREE Scavenger Hunt Riddles.
10. They're FREE, but can be such a valuable experience. Sure, you can spend a few dollars to download a new scavenger hunt, but there are more than enough free options to choose from that will save you money and time. And although we all love collecting a prize at the end, don't forget that a greater reward can often simply be a coupon (to NOT make up their bed or pick up their toys for a day), bragging rights, knowledge gained, or family relationships strengthened!