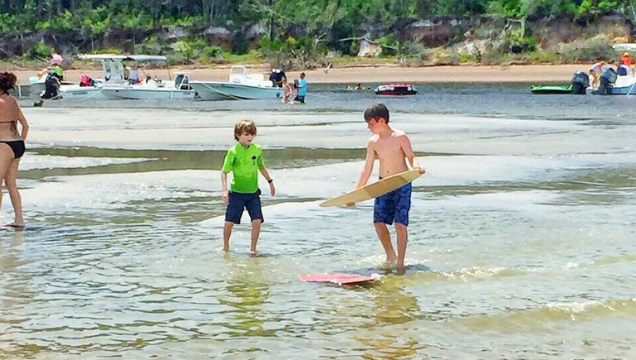 Jacksonville is often referred to as the "river city," and for good reason. With the St. Johns River flowing through Downtown Jacksonville, the banks of Ortega, San Marco and into Mandarin, as well as the Intracoastal Waterway, Sisters Creek, Nassau Sound, and even the Atlantic Ocean, boating is a huge part of our community! My family spends a big part of our life on the water, fishing, tubing, eating, cruising, and playing, and luckily, many of these places are accessible by car and by boat:
Where to Eat
While you can't go wrong with any of the Fish Camps, Palm Valley Fish Camp is located down the Intracoastal heading towards Palm Valley. Talk about amazing food, atmosphere, and great views! Beware though, this dock is tiny, but the food makes up for it.
My girlfriends and I love going to Lulu's Waterfront Grille with our kids and sit outside. They have a fun little putting green with kid-sized putters which makes waiting for food to come (and catching up with your girls!) a breeze. They have just completed a dock renovation, and it's made a huge difference. My go-to is always the fish tacos — yum!
Palm Valley Outdoors Bar and Grill is our family favorite. Like the two restaurants above, it is located straight down the Intracoastal Waterway, right under the 210 bridge. It has a GIANT dock, and we've never arrived there to find that there isn't enough room to dock the boat. They have a fantastic staff outside to help you tie up, and they are constantly watching the boats to make sure everyone is getting in and out safely. The atmosphere is great as well, with a huge outdoor eating area and a life-size Jenga game and corn hole. My daughter loves the yard games, while my son prefers to bring a football and play in the huge yard on the side of the restaurant, which is completely visible from the outdoor eating area. Palm Valley Outdoors is full of families having a good time, and on Friday, Saturday, and Sunday evenings, they have live music, perfect for dancing and singing along!
Safe Harbor Seafood Restaurant is a great place to come by boat if you are wanting a quick, yet delicious seafood meal. It is located on the Intracoastal Waterway, near Beach Marine by the Beach Blvd. bridge. The line can get long, but it moves really fast. The only downside about Safe Harbor by boat is the dock. It is very tiny and can maybe hold three smaller-sized boats.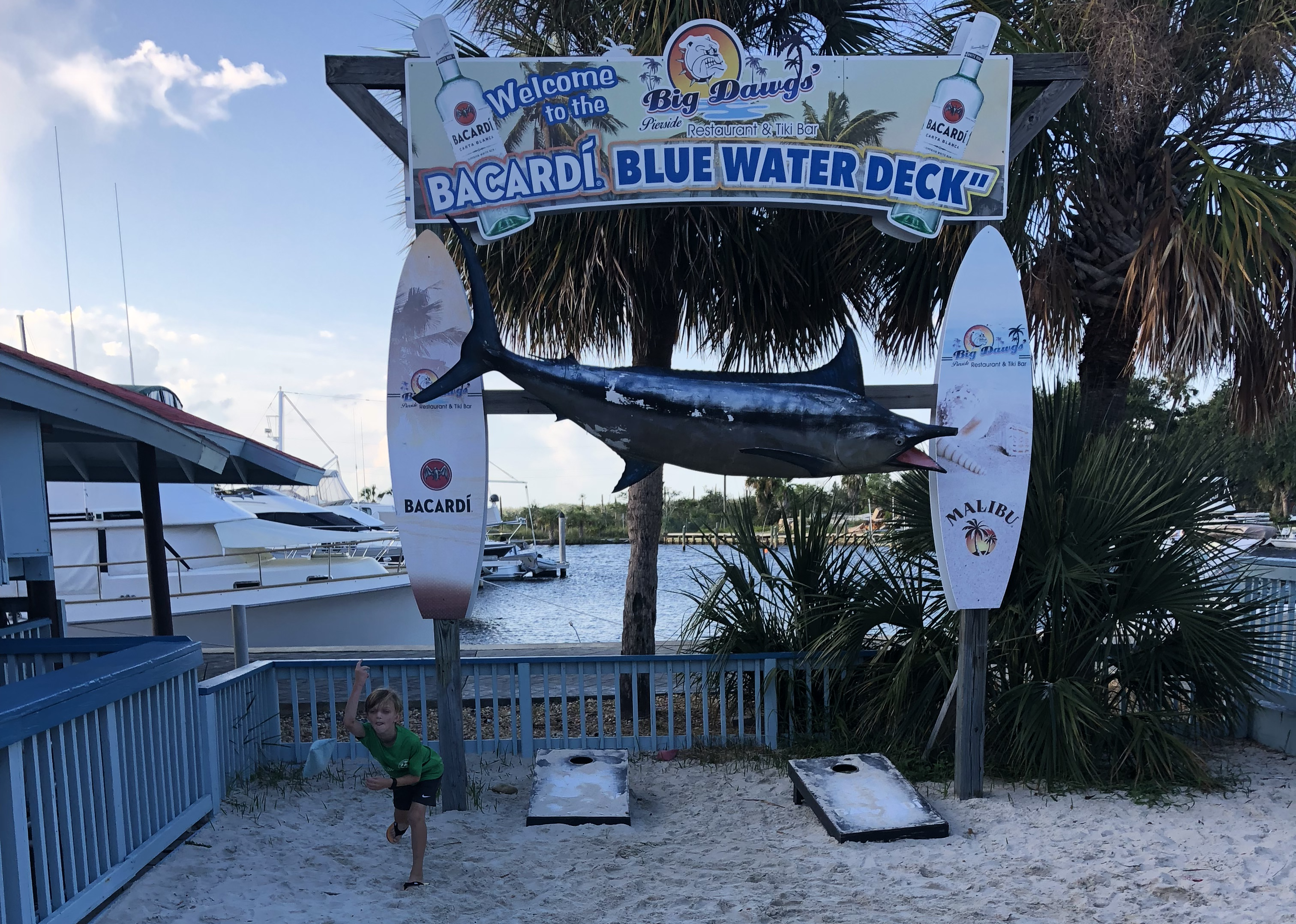 Formally known as Big Dawgs and Nippers (or for my fellow '90s Jacksonville ladies, H20), Pierside Tiki Bar and Grille offers casual fare with a fun and super laidback atmosphere for all, along with music on weekend evenings. You don't have to worry about kids being loud or rambunctious here! My kids love to play in the sandpit or play the ring game. The fish tacos and fried pickles are a must! We personally love to come here after a long day of being on the boat, and they can accommodate large parties outside, so if you are with friends, this is a great spot with ample dock space.
Located off of Beach Blvd. by Palm Cove Marina, Marker 32 is our all-time favorite date night spot, by water or by land. If you have passed by Marker (as we lovingly call it!) and have not given it a second thought, you are missing out. When you are coming by boat, the guys working the Palm Cove Marina docks will tell you where to dock. The food here is amazing, and we have never had a bad meal. The staff is friendly and very knowledgeable about the menu, and the drinks are always perfect. I personally wouldn't bring my kids here, mainly because this is an upscale place where I like to come when it's just the two of us. Don't get me wrong, kids are welcome, and we've seen families. You just won't be seeing mine here!
Where to Play
Fort George Island and Sandbar (My personal fave): Fort George goes by many nicknames — The Cove, Party Cove, and plain ol' Fort George. It's about a 45-minute boat ride from the Beach Blvd. bridge area. Fort George has a few different areas that you can party play at. There is a beach, and at low tide, an island, which is my favorite spot here. Once the tide is out, it is filled with tons of tide pools. The island can hold several boats, and you will find a big mix of people and families running, playing corn hole, tossing a frisbee, throwing a football, playing with their dogs, and grilling out galore. You might see families there playing for the day, college kids and young adults partying and hanging out, or big boats staying for the weekend. The one thing you are guaranteed to see is someone stuck and stranded until the tide comes back in. Make sure you follow someone in or watch your depth finder on your first time!
Guana State Park: Guana is located just south of Jacksonville on the Intracoastal Waterway. This spot only has a beach and no island. From where you anchor, you can play in the water and on the beach or you can explore the Guana Trails! We have done all three, and it's a lot of fun to hit the trails when it gets hot and you are tired of being in the sun. Bring the bug spray if you do decide to hike.
Huguenot Memorial Park: By boat, this is located on the north end of the St Johns River heading out to the ocean. It has the most beautiful sandy, white beaches. It's a fun place to stop and watch all of the big barges and cargo ships heading out to sea. The current can be pretty strong here, so it's not always our first choice of places to go, as my kids (and golden retriever) love to jump off the boat and swim around.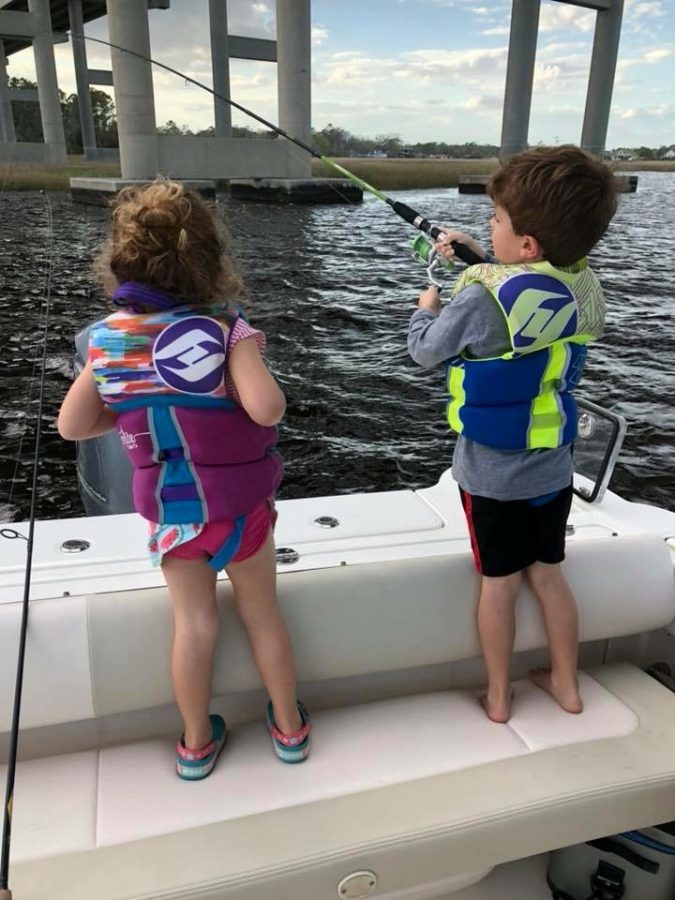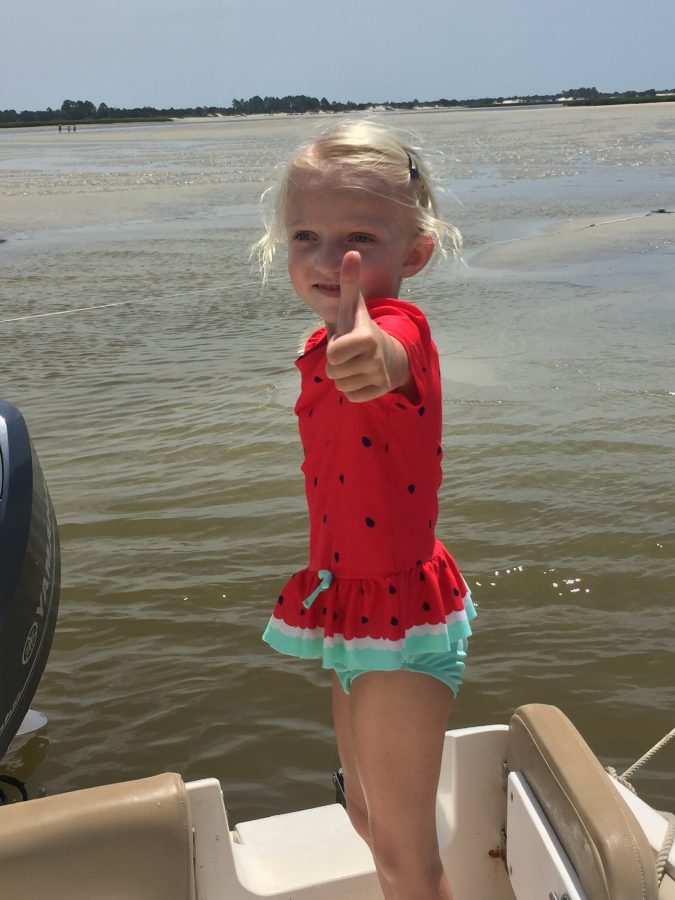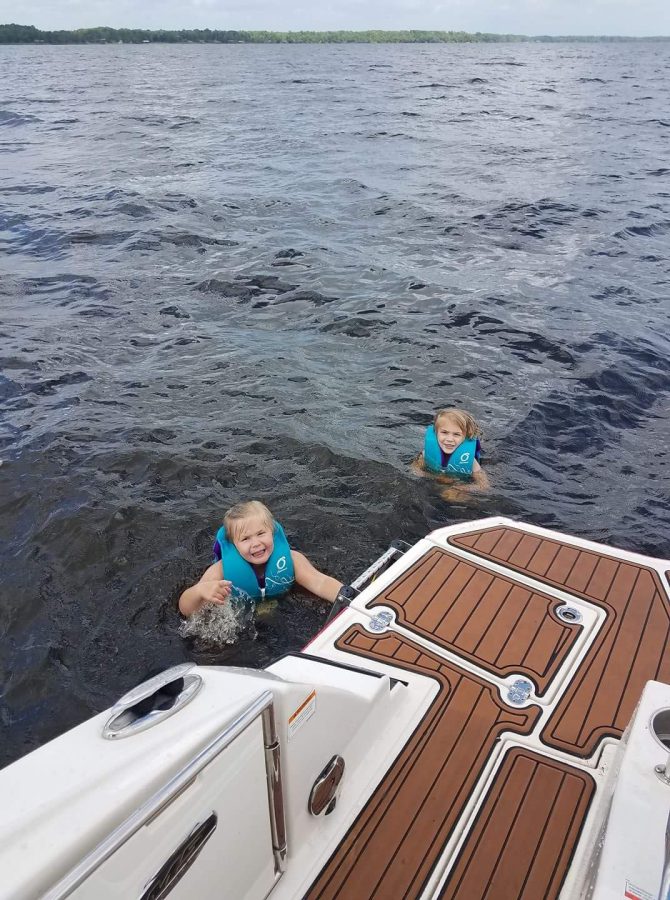 Shark Tooth Island: I'm not sure the real name of this spot, but my family has dubbed it "shark tooth island." We have effortlessly found baggies full of shark teeth here. Another family I know once found a megalodon tooth. So amazing! This island is located near the old jetties, across the water from the Sisters Creek Bridge. It's a great place to anchor without the worry of getting stuck, as there is a huge drop off. Beware when you hop out though — it's pretty muddy! You will see tons of cargo ships heading out to sea, which always amazed my kids when they were younger.
Day trip to St. Augustine: Depending on where you put your boat, St. Augustine can be well over an hour ride via the Intracoastal Waterway (obviously further if you are coming from downtown or Mandarin). The Conch House is a always a fun place to stop and get a bite to eat! There is also a public marina in downtown St. Augustine. You will need to call and secure a slip.
There are so many things you can do if you don't personally own a boat. Rent one, as there are boating safety courses and boat clubs on all of our waterways. Or rent kayaks or paddle boards. Take an airboat ride on the Intracoastal. Go on a fishing charter, where they can put you right on the fish! You will be amazed at the "different" Jacksonville you see by water.
Most our our favorite places are on the Intracoastal Waterway because it's close to where we live. I'd love to hear some of your favorite places on the water in and around Jacksonville!