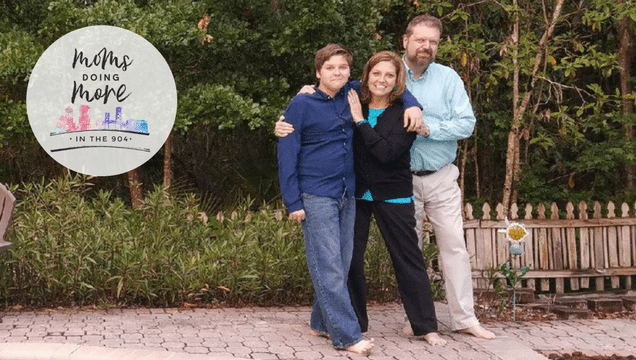 With the rise of the long overdue #MeToo movement, women all over the globe are finally — and fearlessly — breaking their silence on sexual assault and abuse. While their stories of survival continue to be heard and headlines on harassment and rape run rampant, dedicated sexual assault advocates like Teresa Miles are needed now more than ever.
Prior to joining forces with the Women's Center of Jacksonville following founder Shirley Webb's retirement in 2016, Teresa spent 30 years working in the field of child welfare. After launching her career caring for children in a runaway shelter, she went on to work with several state and national organizations, also helping to start a shelter for teens in Compton (yes, that Compton).
"Environments impact behavior the same in Los Angeles as it does in Yulee. Children are children and they follow those who will lead," says Teresa. "Certainly we can argue nature vs. nurture, but I know, and I have seen, what love, forgiveness and structure can do for a child. A​ child can change when provided with the right environment and support. For that matter, we all can change under the right circumstances."
Shortly before moving to Jacksonville — where she now serves on a few local committees, as well as on the State Board of Directors for the Florida Council Against Sexual Violence — the FSU graduate was an Executive Director for a larger organization in Brevard County. While there, she volunteered as an advocate for a local rape crisis center and served on a task force aimed at preventing human trafficking.
"Though I could not do anything to undo the horror that had occurred, I could hold the hand of a victim and let her know she was a survivor," she shared. "I could let her know she was safe at that moment, and I was there to help her, to focus on her and nothing else."
Teresa lives with her husband Don and their 14-year-old son, Ashton, whom they had when they were 39 years old. "We joke that he is either keeping us young or killing us early," she laughs. "Either way, we wouldn't have done it another way.  He is such a great kid, and we both have much more patience at this stage in our lives, though admittedly a little less energy."
When she's not working at the nonprofit Women's Center, which has provided education, support and advocacy to women since 1995, she enjoys spending quality time with her family and visiting local estate sales with her 80-year-old father.
What is the one thing that motivates you and pushes you to do more?
​I am motivated and pushed by the​ fact that there is still so much work to do. I am a creature of habit and there are some things that I always do… consistently. Each night when I go to sleep I say a pray​er. It is ​the same one I have said since childhood. ​H​ere I am 50+ years later and still praying for unmet needs in the world. Knowing there is work to be done motivates me. Being surrounded by likeminded people who work so hard on behalf of women is amazingly inspiring.
What is the biggest challenge you've had to overcome?
Wow, there have been many – some I choose to not think about, so that I can remain a somewhat functional human being. I must say that losing my mom was really, really hard. She was a beautiful, fun force of nature, and I miss her every day. Her death left me with a definite void in my life, especially as a mom. My son was only 4 years old​,​ and I needed her at that time. I don't think I handled her death in a very healthy way. I turned my emotions inward and focused on everyone else. At night I would stay awake eating ice cream and watching Law & Order reruns​. I​t was not a very healthy way to cope​,​ and I wouldn't recommend it to anyone, but I made it through.
How do you balance work, time with family and time for yourself?
Unfortunately, not very well at times. Right now we are in the midst of a campaign to build a new Sexual Assault Forensic Exam (SAFE) Center for rape survivors. It is taking a tremendous amount of time​,​ and I am loving i​t. The work is challenging and rewarding. The downside is less time with my family for awhile. I think the most important thing is communicating with one another. My family understands that I love them​,​ and I will be there when they need m​e, but sometimes that means that I can't be there when they want me. However, both my husband and son have no problem with being forthright and telling me when they need my time, even if it is just to watch a silly sitcom. What may seem silly, can be really important — I think every mom understands this. Also, I can't say it enough, I have a really supportive husband. When I need time alone, he makes it happen. Sometimes it's nice just to have the house to myself, to do laundry or go through stacks of mail, while blaring John Mellencamp music. My husband gets it and is always willing to give me some space.
How do you define personal success?
I have never really thought about "personal" success, as I just see it as "enjoying a good life." ​F​or me to feel personally successful would be for me to believe I have done the best I can do. Now, this means that it might change from day​ ​t​​o​ ​day. There are truly days I beat myself up, knowing I could have done better, knowing I should have tried harder, knowing I shouldn't have eaten this or that, I should have exercised or called a friend. Those are the days I go to sleep and tell myself I will do better tomorrow. ​Personal success for me ​is ​knowing I am not perfect, but knowing I can always try again tomorrow. In our house we call that a "do over​.​" Living my life and allowing plenty of spaces for a "do over​​" — t​hat would be my idea of personal success.
What advice do you have for other moms?
Forgive yourself and forgive them. If we can all do this, we will be okay!
A question for Ashton, Teresa's 14-year-old son:
What do you love most about your mom?
What I love most about my mom is that she never thinks just about herself. She always has other people's thoughts and feelings in front.
Moms Doing More in the 904 is a new series that highlights local moms who are making a big difference in our community. Want to tell us about an inspiring mom who is doing something great? Tag us on social media @JaxMomsBlog with the hashtag #MomsInThe904.