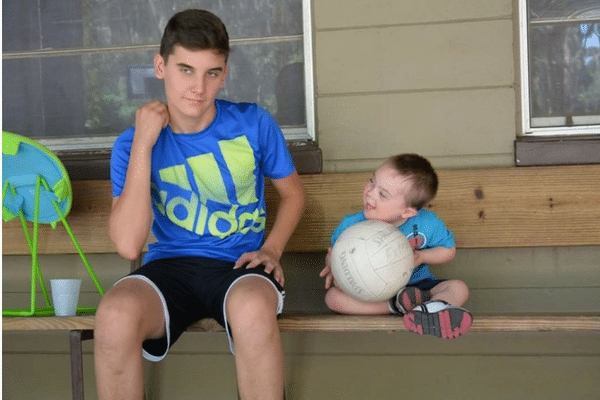 When I was a teenager, I remember sitting with my church youth group as we were asked to consider signing up to be buddies for a summer camp for kids with disabilities called Camp I Am Special. They explained that we would only have to volunteer two weeks, with two campers, but it being an overnight camp, we would be with our campers 24 hours a day. We would feed and bathe them if necessary, help them with activities, and above all, be their friend. At the time, I thought it sounded like a great thing for someone to do, but I thought it over and decided that it wasn't something I felt like I could do. I can't be responsible for a kid with a disability for a week, I thought. That's just not something I can handle. Every time I think about that now, I always chuckle that God must have a sense of humor, because about 10 years later, I gave birth to a little boy, Wyatt, with Down syndrome. The joke was on me, huh?
But while I didn't feel up to the task of being a buddy for Camp I Am Special, my brother did. He volunteered to be a buddy for two weeks, and loved it so much that he not only returned every summer, he got a job as a lifeguard so that he could be there the entire summer instead of just two weeks. He loved being at Camp I Am Special. After he died at the age of 18, my parents donated his truck to the camp, and my mom still is involved, sitting on the board for the camp. And now that Wyatt is 6 years old, he's officially old enough to attend for himself — and this summer was his very first visit.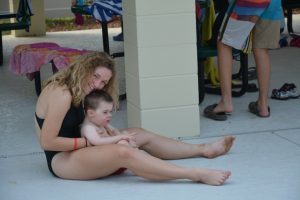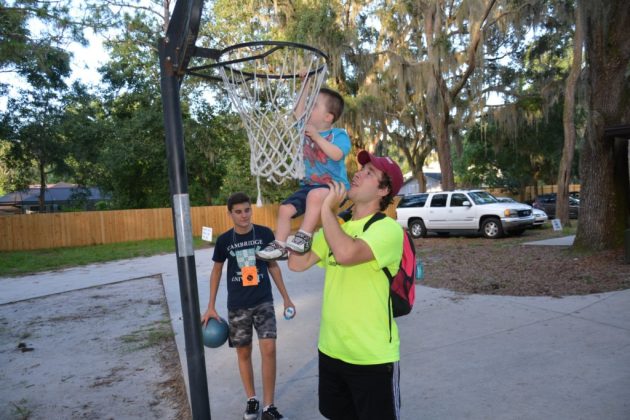 I was nervous to send him to an overnight camp, especially knowing that a teenager would be the one essentially taking care of him for the entire week. Wyatt is 6, but developmentally, he's much younger. He still needs to be fed. He drinks out of a sippy cup. He's mostly non-verbal, isn't potty trained, and he definitely can't swim. But here's the thing — everyone at Camp I Am Special is more than equipped to handle not only Wyatt's disabilities, but those of children with much more severe disabilities as well. I was floored when I filled out the application for Wyatt to go, and it gave me a hearty dose of perspective, too; included were questions about feeding through g-tubes, wheelchair access, or needing to be turned at night to avoid bed sores. And I was struck with how beautiful it is that a camp exists to allow kids — and for one week, even adults — with such a wide range of abilities and disabilities to experience the fun and traditions of camp.
Each camper at Camp I Am Special is assigned a buddy, a high school student who goes through the camp's screening, testing, and training requirements. In addition to that, there are camp group leaders who must be college students, have at least three years experience as a buddy, and are CPR, First Aid, Lifeguard Rescue, and Professional Crisis Management (PCM) Certified. Even though I had some worries about my Wyatt being in someone else's hands for a week, I knew that he would, at least, be in good hands.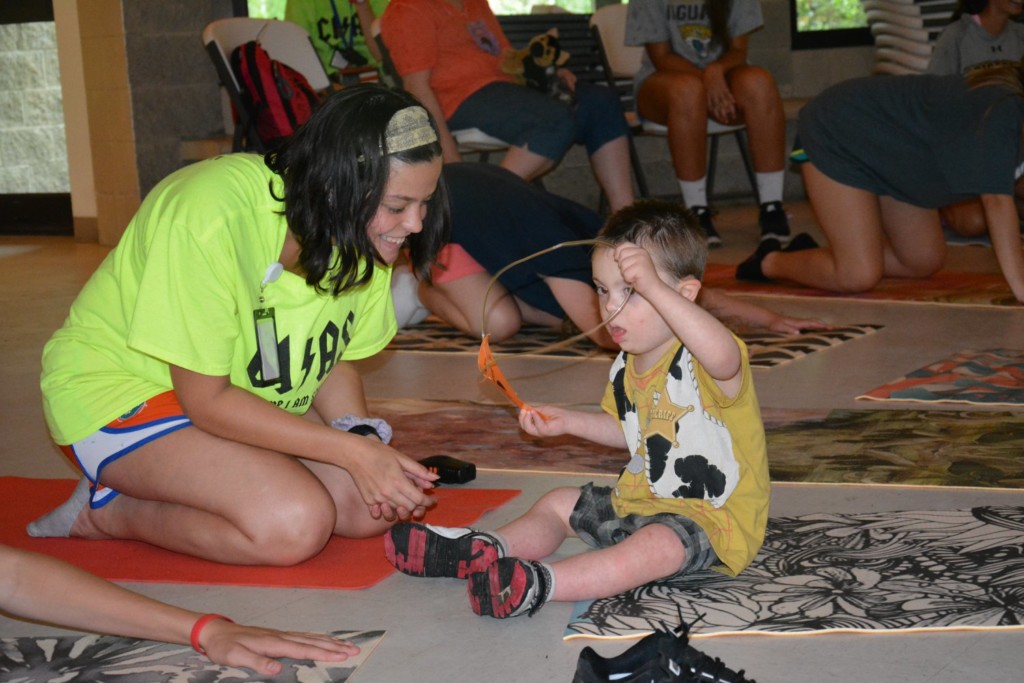 The day I went to drop him off was emotional, to say the least. Over the years, as Wyatt's gotten older, there have been numerous times that I've thought of my brother, and while it's hard enough knowing that my kids will never know their uncle, it's even harder when I think of Wyatt. My brother would have loved him so much. I can only imagine how positive and excited he would have been after we got the Down syndrome diagnosis. It's been a huge source of grief, and as I drove Wyatt to Camp I Am Special, I couldn't help but cry. I knew my brother would have been so excited to see Wyatt at camp; he may have even gone with us to drop him off, would have been thrilled to know that the place he found so much happiness and purpose would have new meaning now for his nephew. I prayed, though, that he would watch over Wyatt this weekend and be there with him in spirit.
As we drove up to the camp at Marywood Retreat Center in St. John's County, we stopped at a tent at the entrance of the camp to check in, and then drove slowly to where we would park. There, lined up on either side of the road, were all the campers and buddies, cheering, clapping, and chanting Wyatt's name. I started crying again. After we parked, Wyatt's buddy, George, came to greet us and help get everything unloaded. We walked into the cabin, where a sign decorated for Wyatt by George was hanging on the bunk beds that the two of them would share. We got Wyatt's things unpacked, and then walked over to finish the check-in process. I gave the kitchen staff some extra food in case Wyatt wasn't willing or able to eat the food the camp provided each day, as well as a nutritional supplement he gets twice a day. I explained that he was lactose intolerant, so he wouldn't receive any dairy throughout the week, and we then went to visit the clinic, where we gave the nurses Wyatt's medications.
After that, I chatted with George a little bit to try to get him a bit familiar with Wyatt, and then… it was time for me to go. It was extremely difficult — I kept feeling like I needed to explain a bit more, or be there to help them with Wyatt — but I knew that the best thing I could do was just go and let them spend time together.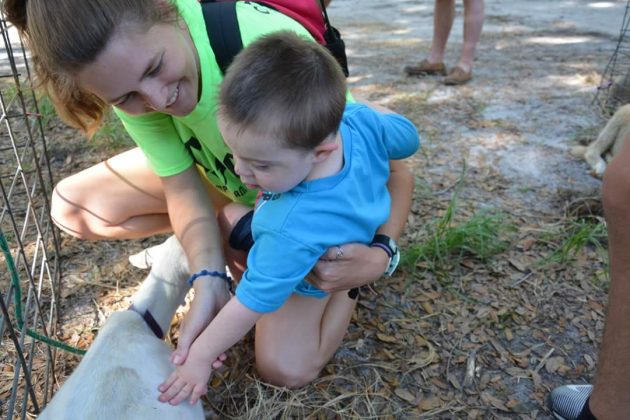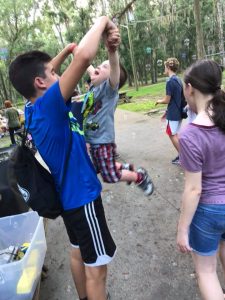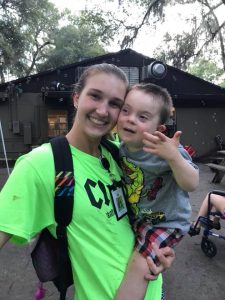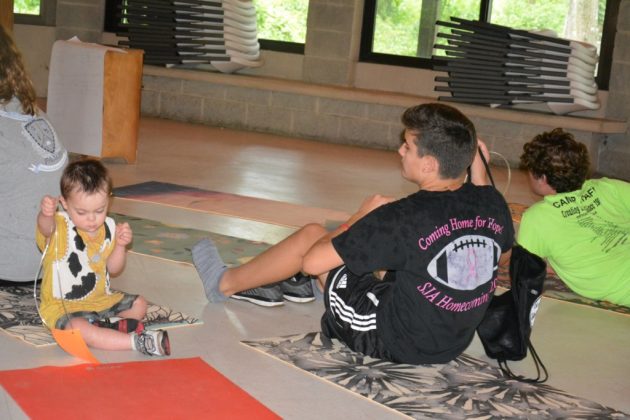 After the first day, I did call to check on him the next morning to make sure everything was going okay. They assured me that Wyatt was doing great, and I'm sure he was — but I had a lot of anxiety. I knew everything Wyatt needed, how to calm him when he was upset, what kinds of things he liked to do, how to keep him happy, how to get him to eat. These people didn't know him and were just kind of thrown into the fire with him. I wanted Wyatt to have fun, but I also wanted his buddy to have the wonderful experience my brother had. Once again, I just needed to let go, which for moms, is the hardest thing to do.
Thankfully, the Camp I Am Special staff takes tons of pictures throughout the week, and upload them to their Facebook page regularly, so I was able to keep up with what Wyatt was doing. And the week was filled with awesome activities! They had a petting zoo and pony rides. There was a bubble disco and a video game truck. There was arts and crafts and yoga. They had movie nights and a talent show. And, of course, the pool — specifically designed for kids with disabilities, complete with a wheelchair ramp — was a daily source of fun. At first, I didn't see any pictures of Wyatt in the pool, which didn't surprise me because he hasn't been a huge fan of swimming in the past. But as the week went on, I saw pictures of him venturing into the water, first on their large and crazy floats (with things like giant ducks and pizza slices), and then in the water himself. I was so proud.
Finally, when Saturday rolled around, it was time to pick Wyatt up. When I got there, they were preparing for an awards ceremony; each child got their own special award for something they had excelled at during camp. Then it was time to start getting our things together; George had Wyatt's bag packed and ready for us, even the food we'd sent to the kitchen. We got to take home the sign hanging on his bunk, as well as all the arts and crafts he'd made and a bag filled with letters: letters each day written from George to Wyatt, letters from other campers, letters from camp staff. When I read them at home, it brought tears to my eyes. Everyone also was e-mailed a slideshow with all the pictures from camp. It was a really touching end to what was a great week — and we can't wait to go back next year.