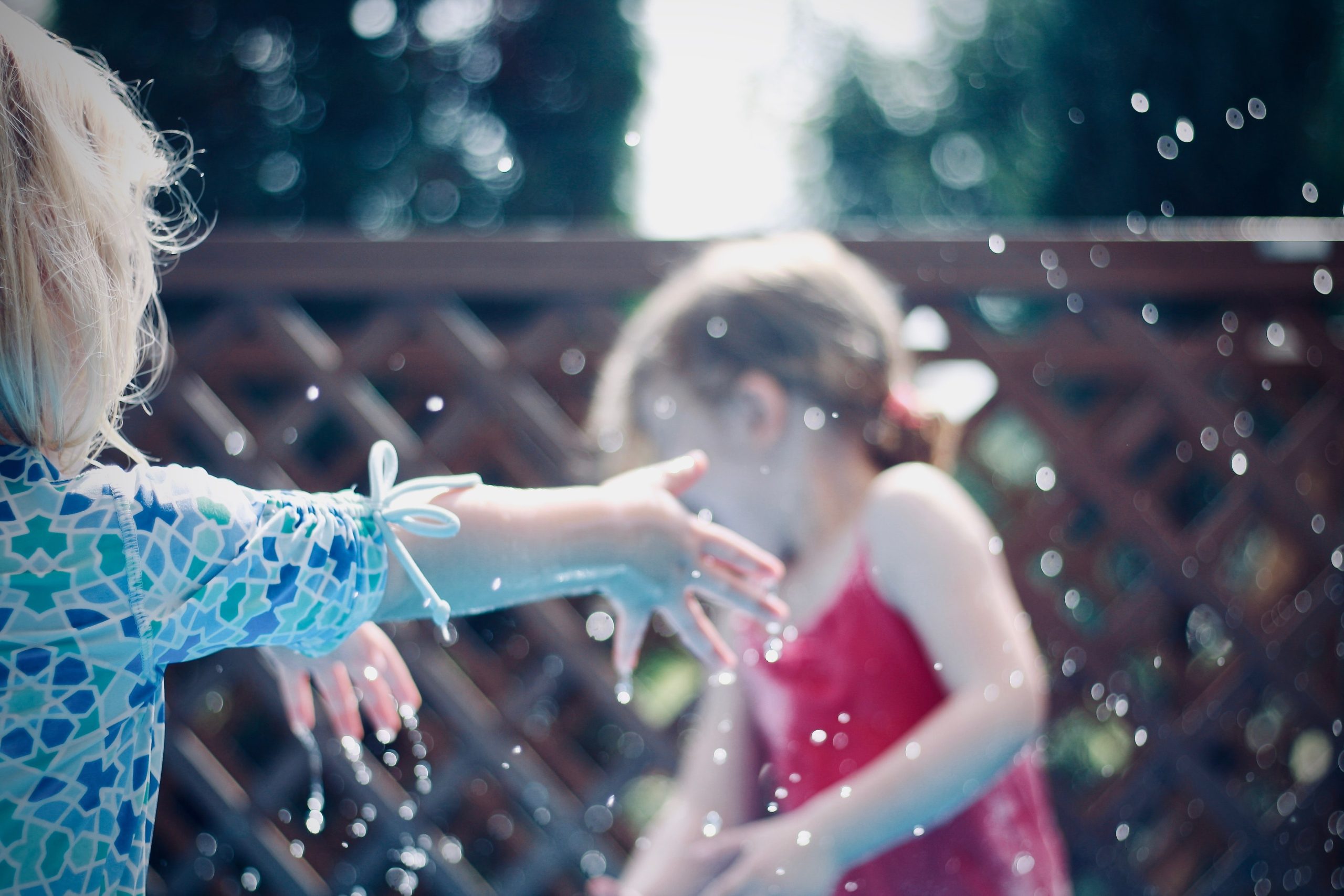 It's summertime in Florida, and we all know what that means! School is out, kids are bored, and it is A MILLION DEGREES OUTSIDE. (I'm only slightly exaggerating.)
Essentially, the only way to comfortably be outside this time of year is to be in or around water. But, what do you do if you have no pool nearby, and schlepping kids, their snacks, floats, toys, towels, and sunscreen to the beach or a local watering hole just isn't in the cards?
Never fear, hot mama. We got you! There are plenty of inexpensive and easy water play ways for the kiddos to enjoy without leaving home.
Create water-based sensory bins. Little ones love exploring, and sensory bins are a fantastic way for kiddos to learn through play! Low storage bins work great if you don't have a water table. You can add everything from measuring cups and water beads to plastic cars and bubbles. Splashing is encouraged!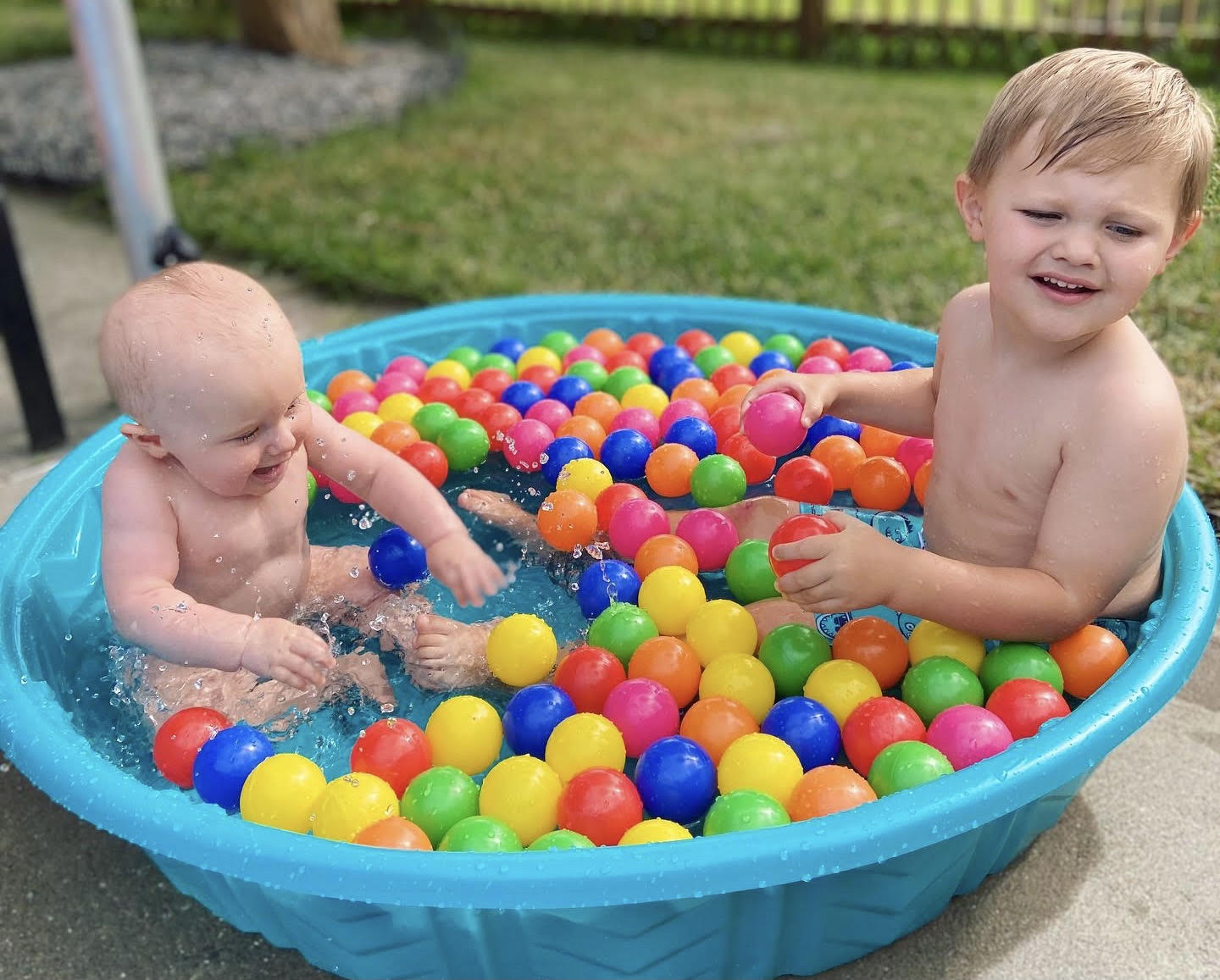 Upgrade the kiddie pool. If you live in Florida, there's a good chance you have a plastic kiddie pool stashed somewhere in the garage. And we all know the frustration of dragging that thing out (or spending 10 minutes blowing it up), only to have the kids get bored with it 5 minutes later. Fill it with balls or LEGOs, or mix it up a bit by creating a water obstacle course with sprinklers, hula hoops, and jump ropes that lead up to the pool. You can even station yourself in a chair nearby with a cold beverage and a water gun. (Who said obstacle courses can't be relaxing?!)
Paint with water. All you need is some dry pavement, water, and paintbrushes to start getting your art on! If you want to add a little color, use a few drops of food coloring. You can even freeze your food coloring and water mixture in popsicle molds for extra cool painting play.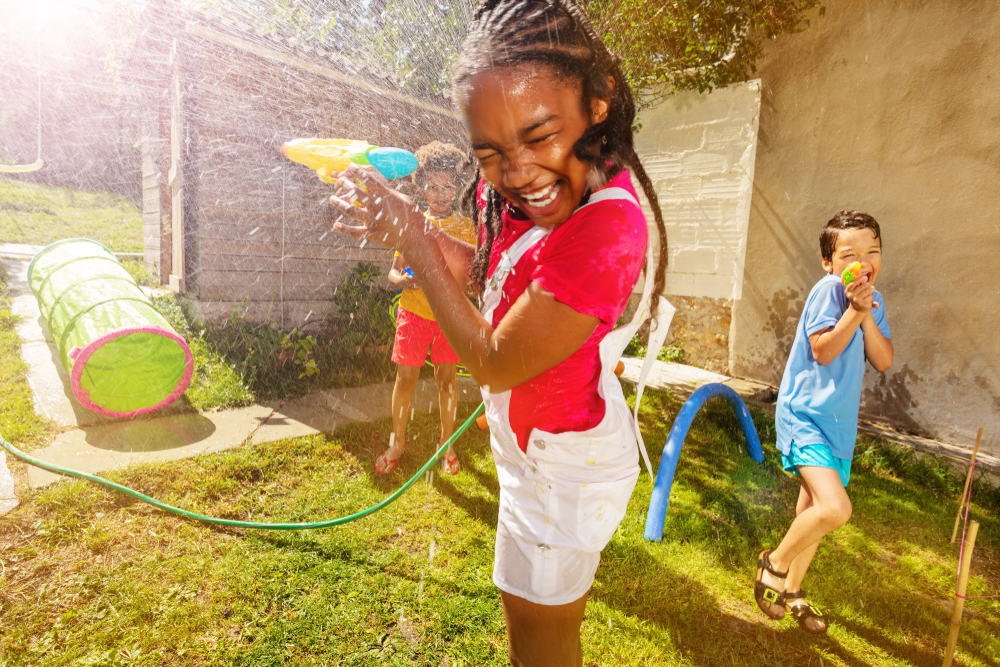 Have a water fight. Everyone loves a good water balloon fight, but cleanup is a pain and the plastic is terrible for the environment. Swap balloons for water guns, large sponges, or water balls that can easily be washed and reused.
Make a pool noodle sprinkler. If you're worried about metal sprinklers with small kids (or just don't feel like purchasing one), opt for a pool noodle sprinkler instead! Cut a standard pool noodle in half and cut smaller chunks off one half to stuff in an open end of the other. Seal that end well with duct tape and poke holes about 3 inches apart all over the noodle. Put a hose in the open end and use additional pieces of cut noodle to seal around the hose, if needed.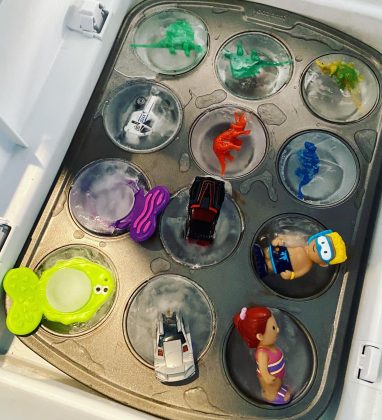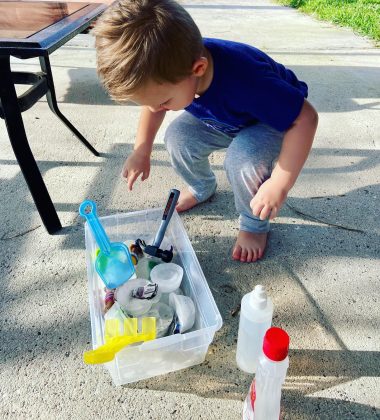 Excavate with ice. It takes a little prep, but ice excavation is a great way to keep kids cool and entertained. Use plastic toys like mini dinos or LEGOs and place them in small bins, a muffin tin, or ice trays, then fill with water and freeze overnight. Younger kids can use droppers, cups, and squeeze bottles to excavate, and older ones can use plastic tools. Or, if your kiddos are Star Wars obsessed like mine, freeze Han and Chewie characters in "carbonite," and see who can rescue their character faster with a water gun filled with warm water!
Create a bike wash. Get the neighbors in on the fun by placing sprinklers along the sidewalk. Have the kids ride through with their bikes or scooters for a refreshing cool-down! If you're feeling really creative, use PVC pipes to create a frame, and hang sponges and pool noodles for the full drive-thru experience.
Make a water slide. Slip 'n' Slides are great fun (just clear the area of rocks first!), and you can make one if you're feeling crafty! You can either use heavy-duty plastic sheets or camping tarp, which are usually available at your local hardware store. Just add water and a little soap for some slip! I'd recommend also using a small float to help cushion those running starts.
Incorporate water into your favorite games. If you need a low-prep option for water play, just use what you have on hand! Get tangled up in a slippery game of Twister, or use a hose for some water limbo.
What outdoor water play ideas are your favorite?