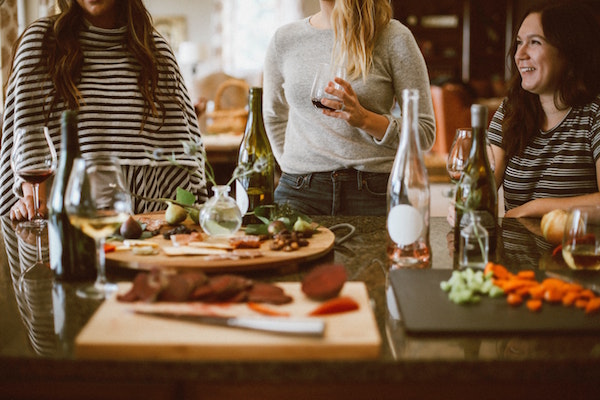 If I've learned anything about friendships in my later years, it's that adult friendships require grace. Life is busy especially when you're a mother. It's not like the old days when you can text a friend and meet at the last minute for coffee or dinner with the girls. I can't count the amount of, "I miss you, we need to get together soon," text messages. Maintaining adult friendships consists more of getting caught up during playdates with the kids, and less of dinner dates and staying up until 2 a.m. like we used to. However, sometimes when the stars align, we get the chance to break free and leave the little ones with our husbands and catch up with our long-lost mom friends. And sometimes those plans fall through at the last minute.
When you start a family, not only does your list of responsibilities grow but so do the chances of unexpected pediatric visits and feelings of complete exhaustion once the kids are down for the night. All of a sudden, those plans that have been on your calendar for two weeks for dinner and drinks on Thursday night with your girlfriend are derailed by your child's Wednesday afternoon stomach bug or double ear infection. All that to say, life happens!
I've been notorious for canceling plans at the last minute because the day just didn't go as planned due to a barrage of unexpected circumstances. I've had many of my mom friends do the same to me. The one thing we all realize is that adult friendships are hard, and they require a lot of grace. When we were young and careless, we would label friends as "flakes" for canceling last minute. As we venture further down the road of motherhood, those last-minute cancellations no longer elicit the reactions we had in our formative years — instead, we are quick to respond with offers of assistance or well-wishes.
No need to dress it up or play coy, motherhood is freaking hard! With that being said, the last thing I want to do is make another mother feel guilty for experiencing the same struggles I've probably been through myself, all over a missed opportunity to catch up over dinner or drinks. Of course you want to get dressed up and maybe relive some of the glory days with your girlfriend, but as I said earlier, life happens sometimes. You may even get that dreadful text as you're getting ready for the night, but remember, you are a mother, too, and you know what she is going through.
Maybe you are the one who has to cancel at the last minute. Not only are you dealing with the stressful circumstance that is undoing your plans, but now you feel guilty for ruining the night. Motherhood is hard and unpredictable. Any good friend will understand what you are going through. Just as you show your friends grace and understanding, so will your friends. As a mother, your family comes first, and any other mother will understand the feeling. Of course you are upset that plans were canceled last minute, but there will be other nights and more opportunities to see your mommy friends.