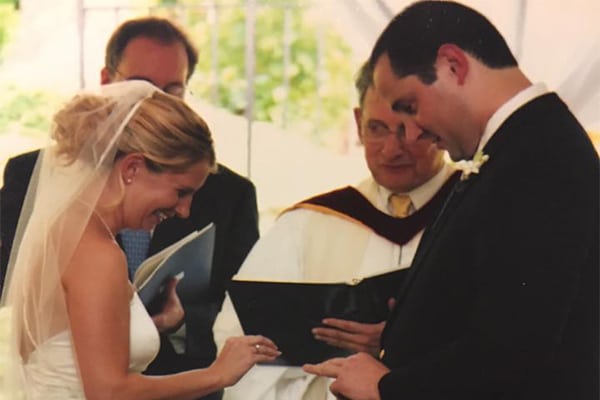 I have three rings I wear: my engagement ring, which my husband's grandmother gave to him (it had been hers), my wedding ring (the date of our anniversary carved inside), and an anniversary ring (bought long before four kids, a mortgage and a dog).
Back when we were talking about getting engaged, we would spend Sundays in South Florida wandering around the fancy outdoor malls they have, looking in the windows at Tiffany & Co. and Harry Winston and daydreaming about our future life together. That, of course, included the perfect ring, the perfect three children, the perfect dog, the perfectly cute home in the perfect neighborhood, the perfect schools and perfect vacations we'd take together, resulting in the perfect Christmas card. When you get engaged, all you want is the prettiest ring, the most fun and beautiful wedding, and then an amazing life together. And all you are thinking of when you walk down the aisle is the "for better."
A few years in, reality takes over. The "for worse" creeps in. For worse is nights alone while the other travels. It's losing the friends or relatives who watched you make your vows. For worse is when your husband figures out his boss is committing securities fraud, and he has to blow the whistle. It's cold nights alone in the ER, grieving the babies you will never hold. It's endless doctor's appointments, endless amounts of money, and still ending up with an empty nursery. For worse is job loss and aging parents facing cancer, having to make the decision to move for a better career opportunity, trying to sell a house for what you paid for it. It's taking a screaming, blood-covered child to the ER for stitches and pacing the floor for hours with a colicky baby. For worse sucks.
On our tenth anniversary, we spent the night at home. We had 5-week-old twins guzzling down formula as expensive as liquid gold, and two other older kids desperate for some attention. A babysitter was out of the question. We were completely and totally exhausted and spending every cent on diapers and formula. I'm not sure I even made dinner that night, though my husband sweetly managed to bring me flowers. We stared at each other and at the TV. I'm sure if you had asked me on my wedding day how I would be celebrating my tenth anniversary, I probably would have said, "Oh, I'm sure we'll take a trip somewhere, maybe to Paris." Ten years later I wanted to snarky-look at that naive girl and say, "Bless your heart, honey." Because marriage is not all for better, which is why the "for worse" is in the vows. And if they spelled out the "for worse," I doubt anyone would ever get married, because the details of "for worse," can be pretty ugly, even though I would (extremely gratefully) call my marriage a very happy one.
After we had the twins, I held a baby for about 23 hours a day. My rings were always catching on their blankies or scratching their soft skin when I bathed them. My fingers were dried and rough from washing dozens of baby bottles a day, along with all their million little parts that were supposed to (but didn't) help with reflux and colic. The skin under my rings was always raw and itching. And so I took them off. All the sparkle wasn't as sweet as a tiny cheek soft under my chin or the sweet newborn neck folds or the sight of our older daughter and son holding their newborn siblings.
The thing is, you realize much later, it's not about how pretty the rings or how amazing the wedding. It's not about all the "for betters," because that's the easy (and fun) part. What makes a marriage, in the end, can be the "for worse." In the dark ugliness is where real love learns to grow. The family we have grown together and the life we have built is what brings the joy. As wonderful as our wedding was, I know it is nothing compared to the almost 13 years of life we have woven with each other. We have had our "sickness and health," "richer and poorer." Our children are the jewels now. We don't need to give each other gifts anymore. We have all we need in this marriage we have created. And I don't need my rings to prove it.