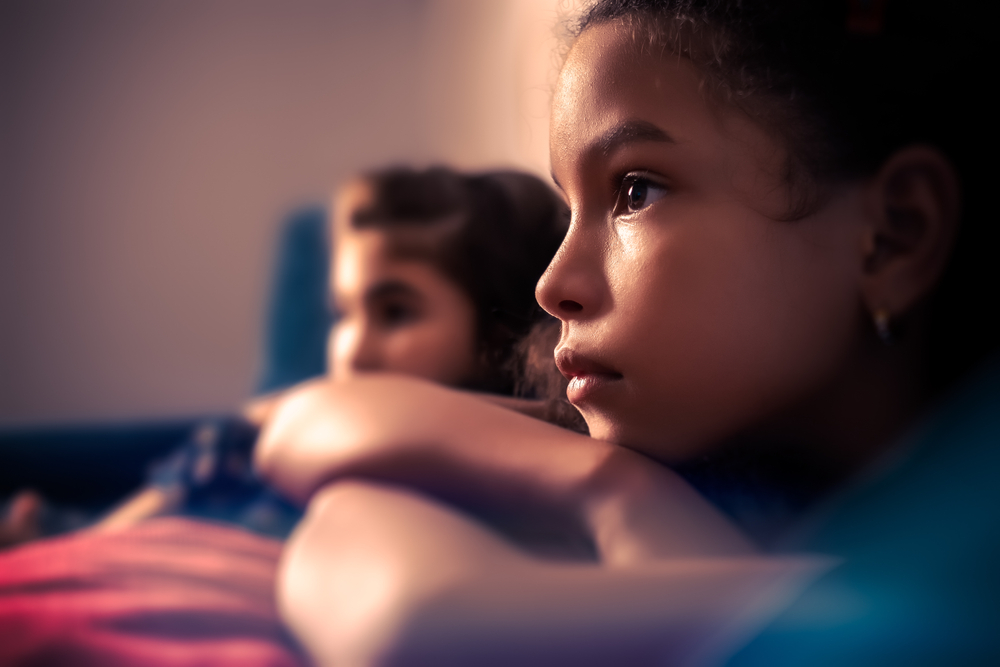 "When I was a boy and I would see scary things in the news, my mother would say to me, 'Look for the helpers. You will always find people who are helping,'" said Fred Rogers, the iconic creator and host of Mister Rogers' Neighborhood, a long-running children's show well known for addressing current events in simple terms with comfort and empathy.
And now, nearly 40 years later, Mr. Rogers' sentiment still rings true.
"In our world today, there's pain, loss, and uncertainty. These are feelings that need to be addressed," shares Vivian Pinner, licensed mental health counselor with Baptist Behavioral Health. "Adults and children have faced two years of fear and loss during the COVID-19 pandemic, and now we're seeing the 24/7 news cycle of the Russian invasion of Ukraine. This can be scary for kids."
She adds, "Children want to know, 'Am I safe?'"
Tips for Talking to Your Kids About Current Events
When discussing big — or even scary — events happening in the world with your children, here are a few things to keep in mind:
1. Ask open-ended questions. According to Pinner, one of the best places a parent can start is to find out what your children already know. By asking open-ended questions, you may better get an idea of how to respond. Try asking something like, "Do you have any questions about what's going on?" and "How are you feeling about that?"
"Some kids are more anxious than others," she says. "Some will say they're not worried at all. Others will be extremely anxious. Just remember to listen and meet your child where they are."
2. Pull out the map. Providing an actual map that kids can look at will help put any perceived dangers in perspective. "When we see school shootings on TV, they can look just like the classrooms our kids walk into every morning. When we see refugees — children and parents with luggage — this can look just like the bags we pack for vacation," Pinner shares. "Using a map to show your children where conflict or tragedy is taking place can be helpful to explain that even though this is happening in the world, they are safe at home."
3. Turn off the television. Pinner also recommends turning off the TV at home and staying off your phone when you're spending time with your little one. "For younger kids, especially those without social media, it's easier to limit the news they're exposed to," says Pinner. "If you're watching a stressful event or reading about the conflict on your phone, your kids can pick up on your tension and anxiety."
4. Keep your home routine consistent. Children thrive on routine, and it is important to maintain a sense of normalcy, safety, and stability. Pinner shares, "With conflict overseas, you can remind your child, 'I don't think this will change our day-to-day life. You are safe with me; I am here for you and I always will be.'"
5. Demonstrate healthy ways to cope and deal with stress. "Peace begins at home," Pinner stresses. "I just can't emphasize this enough." Parents should strive to work through their own feelings before speaking with their kids — this will put them in a better position to help manage their little ones' emotions.
"Whatever you do at home to bond as a family, do more of it during hard times," she adds. "If you're a praying family, pray more. If you're a hugging family, hug more. Be intentional about building a relationship of safety and trust with your child."
6. Perform acts of service and give back. "With so much conflict in the world, it's easy to feel powerless," Pinner recognizes. "Making a small difference at home or abroad is still making a difference." She suggests making it a priority to give back — whether that's helping an elderly neighbor or donating items or funds to those struggling overseas.
7. Keep the discussion going. Pinner says to continue the conversation as events change and evolve: "Remind your children that if problems arise, you'll get through them together, and you're always there for them. Continue asking those open-ended questions."
She adds, "Pain, loss, and uncertainty lead to fear and stress. Listen to your children and see where they are, not just based on their behavior, but based on their heart and emotions."
Wolfson Children's On Our Sleeves offers free resources for kids and teens, parents, teachers, and health professionals to start these crucial conversations, including those about current world events. Parents and kids can also reach immediate support through the Wolfson Children's 24/7 Kids & Teens Helpline at 904.202.7900 or by texting LIFE to 741741. To schedule an appointment with Wolfson Children's Behavioral Health, call 904.376.3800.