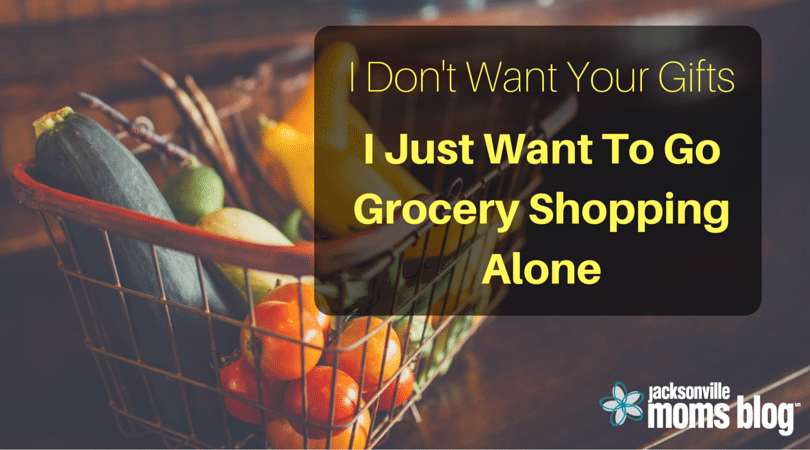 I had dog-eared a page in a cookbook, and that's about it. As soon as my husband got home from work, I high-fived him like a tag-team wrestler and bolted out the door as quickly as possible.
Preface: I sent him a text earlier in the day saying that there was NO WAY I was going to be able to do the grocery shopping that afternoon. Both of my boys were "having a day." And by that, I mean bouncing off the walls, full of toddler energy, avoiding their naps like the plague, and waiting for the perfect time to explode like one of those canisters of nuts that are really filled with fake, springy snakes.
This wasn't my first rodeo. I have taken both of my kids (one is three, and the other is a year and a half), only to find myself carrying one child over my shoulder while letting the other one basically cry-it-out in the checkout line, because, dammit, we are alllllllmost done, and I'm NOT about to leave the store without groceries!
So, there I was backing out of my driveway, still out of breath from pulling off a ninja parkour-esque move to dodge my youngest son and shimmy out the door. I could hear his screams, but I had to do it. "Just drive," I said to myself, then let out a huge sigh.
When I got there, I parked my car and walked toward the trunk out of habit. I didn't need a stroller nor did I need to grab my bulky grocery cart seat cover thingy. I walked into the store and grabbed a cart. No, not the big one with the car attached to it, you know, the one that is mandatory to get even though they refuse to stay in it. I didn't have to use half a pack of antibacterial wipes to wipe down my cart like a hospital employee just in case my son decided it would be a great day to lick the steering wheel (yes, he's done this). I didn't have to stop by the bakery and get a cookie, and I didn't have to tell anyone to stay seated. I had no one to bribe with a lollipop or a matchbox car, and frankly, it left me feeling a little anxious.
Midway through my vacation, err…I mean, grocery shopping trip, my husband texts me and says, "Khai has been screaming since you left." I stare at my phone blankly… Ok. If I don't actually open the message, then I technically never even read it, right? "Oh honey, my poor phone must have been unreachable at the bottom of my deep, black-hole of a diaper bag, covered in granola bar crumbs and receipts." You know, that giant bag that takes up half of the grocery cart of which I didn't even need to bring in the first place! Part of me feels sad for the baby (my son, not my husband). I suddenly snap out of it once I see the peanut butter stain on my shirt from earlier in the day, reminding me of what a rough one it was.
Despite not having my kids in tow, I still managed to show a bit of my cray by accidentally bumping into another woman with her kid and said, "Oops! Sorry, excuse us", as if I was still toting two wild toddlers along with me. She must have thought I had multiple personalities.
I loitered the aisles, reading labels, and even found myself going through a couple of aisles twice to make sure I didn't miss anything. When I was done, I moseyed over to the checkout line without that feeling like I forgot important items (which I usually do), I remembered my reusable grocery bags (which I never do) and paid without any little fingers wanting to push the buttons.
Woo-hoo, I did it! And it was magical (cue Angels singing). I got everything on my list without a hitch.
A solo grocery-shopping trip is a true gift. A gift that shouldn't be taken lightly – I've earned it. It may seem silly, but as a stay at home mom, who practically has a child wrapped around my ankle 16 hrs a day, it is a joy to have something so simple to keep some sanity. This is my quiet time, a moment of solace, a walking meditation in a field of brightly colored produce and boxed cereal. Laugh at me all you want. My dreams may not seem big, but I'm certain it makes me a better human being, wife, and mother. I was even able to put my cart back in the corral – you're welcome.
Also, I may or may not have typed most of this blog post on my cell phone. In the comfort of my quiet car. In the parking lot of Trader Joe's. Yep. Don't judge.