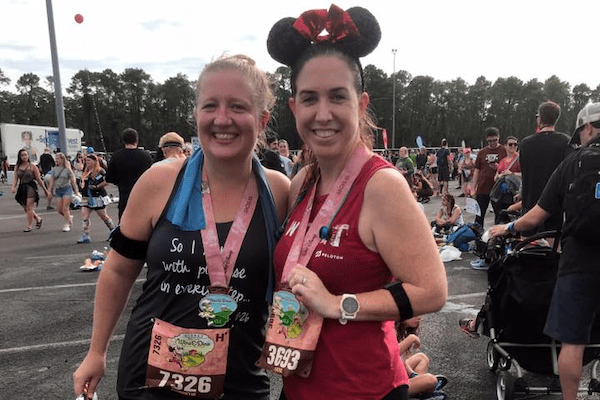 I ran 13.1 miles! Who am I, and what have I done with the girl who forged more than a few notes in high school to get out of running just one single mile?
If you haven't figured it out yet, I am not a runner.
Yet, there I was months ago gripping my non-runner card like a tall pour of cabernet at the end of a parenting-through-teenage-hormones-filled day, signing up to run the Disney Wine and Dine Half Marathon. "How hard could it be?" I asked myself bowing to some serious peer pressure from Meg a friend who will remain nameless to protect the not-so-innocent. Turns out, the answer to that question is totally flipping hard, but once I commit to something, I'm in.
Like the overachiever I am, I became an obsessed lunatic expert in all things running by setting up a Pinterest board worthy of a world-class athlete. I wasn't sure if I could actually finish the race, but you better believe I was going to look the part when I started it.
I accidentally launched my training plan two weeks early and immediately thanked the good Lord for bad math skills because those buffer weeks were much needed. They say no two runs are the same, and I experienced that when I felt like a running warrior princess on the week I completed six miles only to turn around and wonder if I could make it to my mailbox the following week.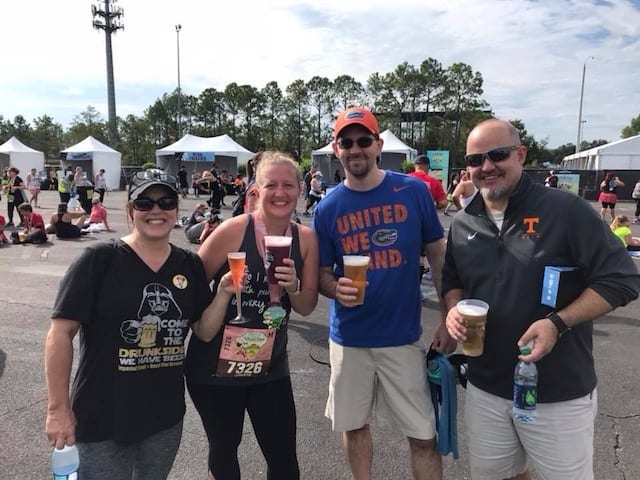 Although there were times I could feel my body wondering why I'd so abruptly shifted from "only running if someone was chasing me" to "let's run long distances for fun," things held up pretty well. Until they didn't. My 10-mile week brought on unexpected knee pain, and my last distance-training run ended up being my worst one of all. I felt defeated and began to wonder if I was capable of finishing. Mentally, I knew I could do it. Endurance wise, I was set. Physically, my body was telling me to quit.
Race day came, and the mix of emotions was a little like childbirth. I was anxious to get started, nervous about the unknown, and eager for the end to come. Once the race started, it was everything and nothing I planned for all at the same time. The biggest example of this was my running partner. I was a bit of a loner during training, but crossing the finish line with this new friend is something I'll never forget.
I'll never forget that feeling of accomplishment crossing the finish line. My husband was on the sidelines right before I crossed, and that is when the tears started coming. It was such a proud moment for me. He never doubted my ability to finish even when I did, and I've never been so happy to prove him right.
In the end, I learned so much about myself before, during, and after the race, but these two were the most meaningful:
I can do anything. Yes, I'm a mom in my forties with so much of my life behind me, but man, finishing 13.1 miles makes me feel ready to conquer the world. Knowing my kids were following my journey was seriously all the motivation I needed.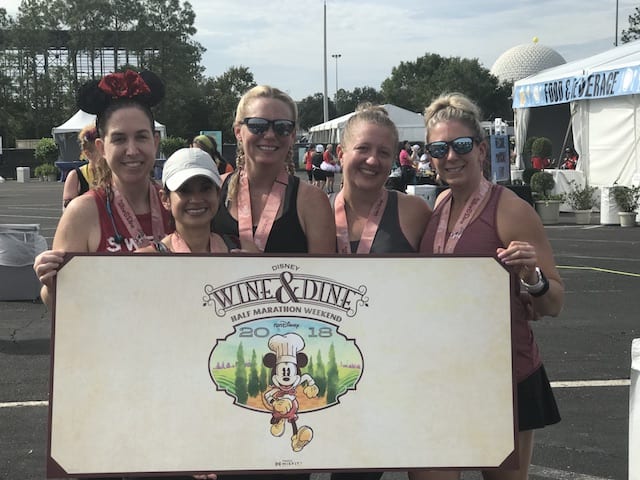 I need people, and that's okay. The amount of encouragement I received leading up to, during, and after the race just because I chose to share my experiences (good and bad) was overwhelming. I was reminded that people want to see others succeed. The fact that so many took time out to pray for me, send me an encouraging text, or comment on Facebook is not lost on me. In a world where it feels like there is so much negativity, I'll take the positivity with me and look to pay it forward.
Have I officially turned in my non-runner card? The jury is still out, but now that the smell of Biofreeze has worn off, I'm thinking race two might be in order. Of course, I could still be suffering from runner's high, so I'll keep you posted.