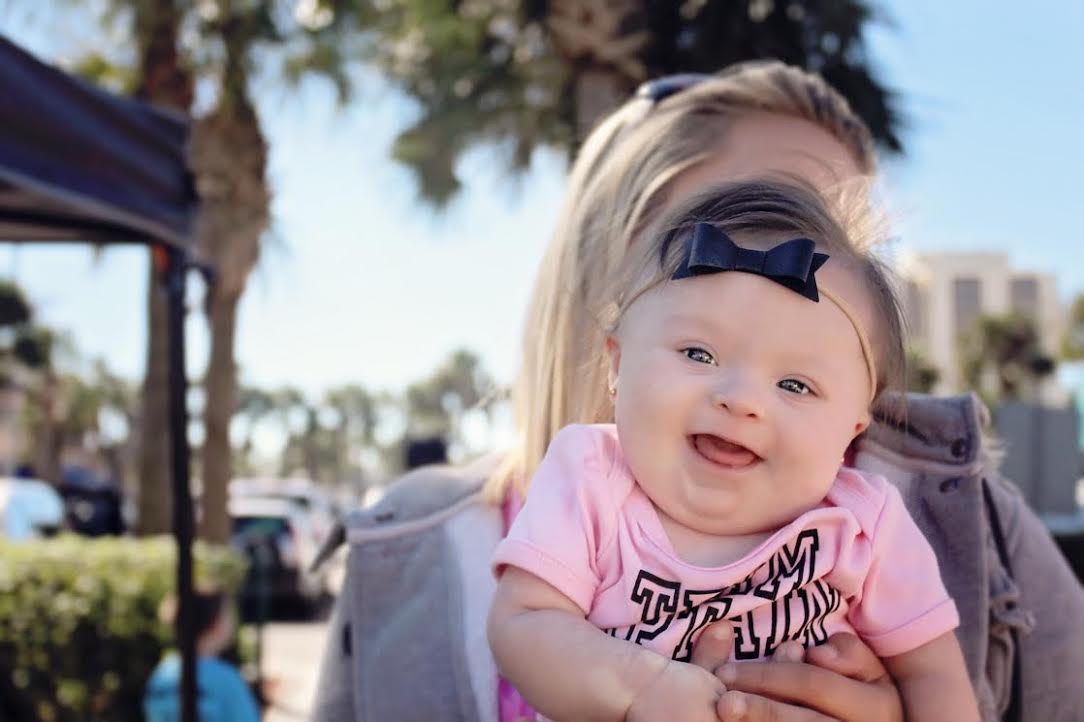 For most people, October represents a new season and a time for change. A change in weather, foliage, clothes, hair color. Its a time when we start reflecting on what we want the rest of our year to look like. But for so many families like myself, October represents so much more than that. It's the one time of year when we start talking about more than the impending holiday season. We start talking about acceptance, inclusion, and diversity. We open up our lives to others, we spread awareness, we shout our loved ones' worth. As a community, we come together to talk about our struggles, our goals, and our dreams.
October = Down Syndrome
Not too long ago, October was a month that housed so much pain and anxiety that it crippled me most days. A pain that only those close to me truly got to experience. A pain that any mom whose walked in my shoes can relate to all too well. Three years ago, on a Friday morning in October, I received a phone call that changed my life forever. I was 12 weeks pregnant with my first child when I found out she would be born with Down syndrome. To say that I was nervous would be an understatement. I was shaken, unprepared, and uneducated.
Down syndrome was something I spent a long time feeling scared of. Mainly because I didn't know anything about it, and mostly because I didn't know anyone with Down syndrome. So many parents and families find themselves in this same situation. Not knowing where to go or who to turn to for help. That's where our local Down syndrome associations came into play.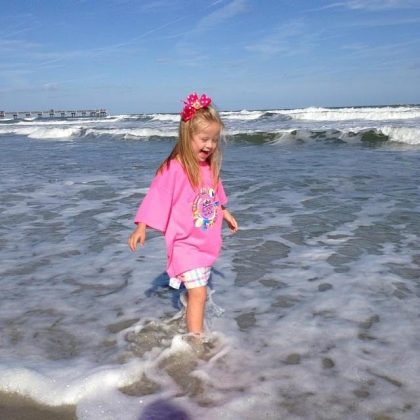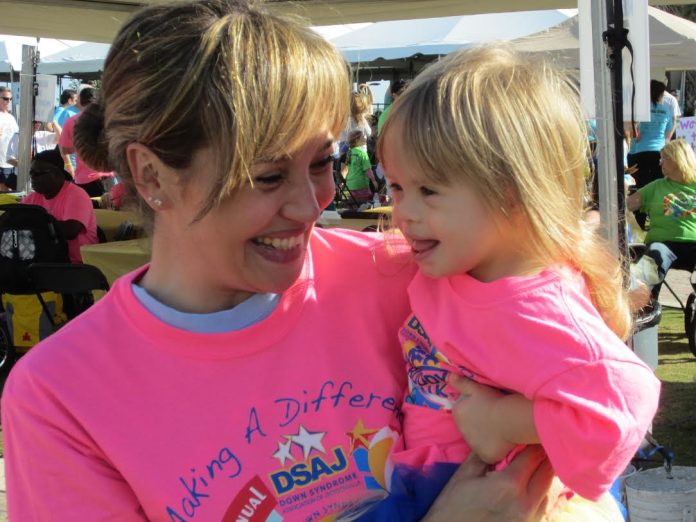 Meet the Down Syndrome Association of Jacksonville
We are so fortunate to have an amazing local organization right here in Jacksonville. The Down Syndrome Association of Jacksonville offers outreach programs and services to new parents just receiving a Down syndrome diagnosis. For many parents who are scared and overwhelmed like I was, the DSAJ provides referrals, guidance, and support to new families. Along with a multitude of sports and wellness programs, the DSAJ also hosts social groups, one of which is near and dear to my heart — "The Lil Stars Program." This group is geared towards families with children ages newborn through 5 and allows local families to connect and come together. I have been so fortunate to be a part of this group and have met so many wonderful families who are traveling the same road as we are.
The DSAJ doesn't just focus on children, though. They are committed to helping adults with Down syndrome, as well. With the recent launch of their newest initiative, Career Solutions Employment Program, the DSAJ has successfully placed individuals in the workplace and is partnering with local businesses for continued placement. In addition, the DSAJ's paid internship program is preparing individuals to be successful employees within the workplace.

Why We Need Your Help
Aside from the amazing social opportunities the DSAJ provides for local families, the biggest offering they give to our community is help with therapies. Individuals who are born with Down syndrome often require a variety of therapies to help them grow and become more self sufficient in everyday life. My daughter has been in occupational, physical, and speech therapy since she was just a few months old. The DSAJ helps provide families with funding for therapy when insurance and out-of-pocket expenses fall short. In order to help families pay for these therapies and to continue providing services to our community, the DSAJ hosts their annual "Buddy Walk." The Buddy Walk is the biggest fundraising event of the year for DSAJ. They have a goal of $245,000, and we need you to help us meet it!

Join us Saturday, October 20 at the Seawalk Pavilion in Jacksonville Beach for the 16th annual Buddy Walk. There will be food, games, live music, and dancing from 10 a.m. to 3 p.m. with the walk beginning at 12:30 p.m. If you can't make the walk but would like to donate to this organization, you can click here.
If you have interest in hiring or having interns train in your office, please contact the DSAJ, and visit dsaj.org for more information.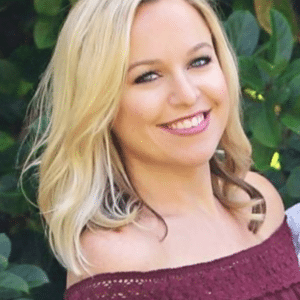 About the Author
Courtney Pecora is a St. Augustine Moms Blog contributor who was born and raised in Saint Augustine, Florida. She met her husband, Vince, in 9th-grade gym class and the two have been inseparable ever since. Courtney is a former hairstylist of 10 years and in 2013 was voted "best of Saint Augustine." She recently left her job behind the chair for a new position as full-time wife and mommy to Ella, 1, and her newborn, Emilia. When she's not knee deep in diapers and snack time, she enjoys interior design projects, date nights with her husband and hunting down the perfect margarita. Courtney is also heavily involved in the Down syndrome community. She recently was a key speaker at the March for Life event promoting acceptance and inclusion on behalf of her daughter, Ella. To follow along with Courtney's personal journey with Down syndrome and her life as a mother juggling two under 2, you can check out her blog, Bottles & Whine.