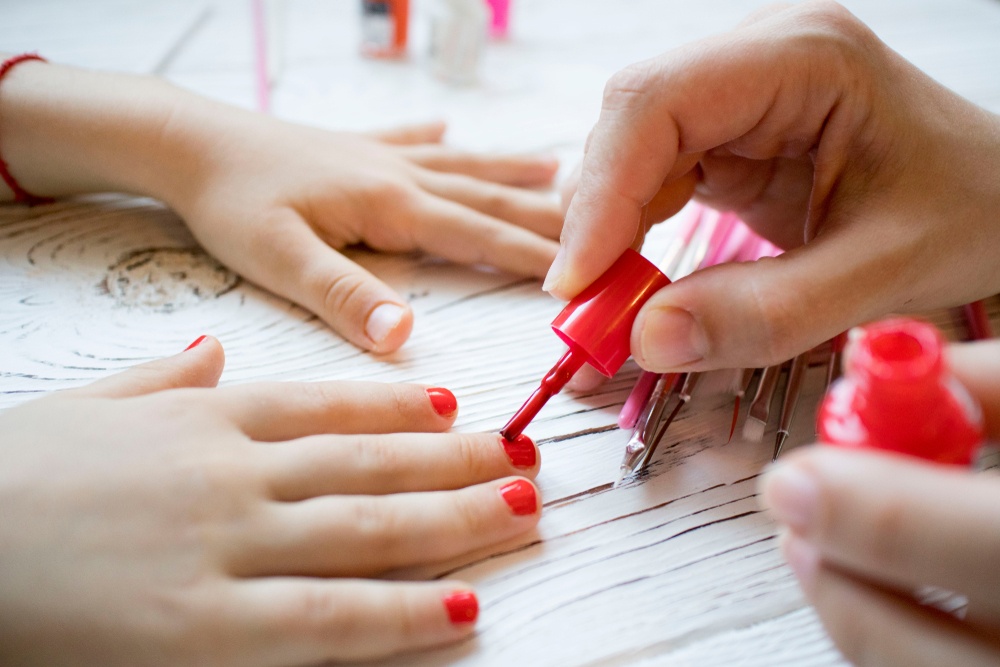 Over the last 18 months, I've developed what I'd describe as a "healthy obsession" with painting my nails (although my husband might argue the "healthy" part). At the start of the pandemic, we weren't venturing out much, and the process of painting was the self-care I needed to clear my mind. And, silly as it may sound, having nicely painted nails made me feel pulled together, despite working from home in loungewear for over a year.
But, I hadn't been the only one appreciating my decorated digits. My highly observant youngest son began noticing as well; first, complimenting my color selection, then eventually helping me pick my mani/pedi combos.
It wasn't all that surprising to us that Emory took an interest in nail polish. He's always loved color, from his vibrant drawings to his eclectic clothing choices. Last year for his 5th birthday, he opted for a rainbow theme. So, when he finally requested that I paint his nails, I said "yes" without hesitation.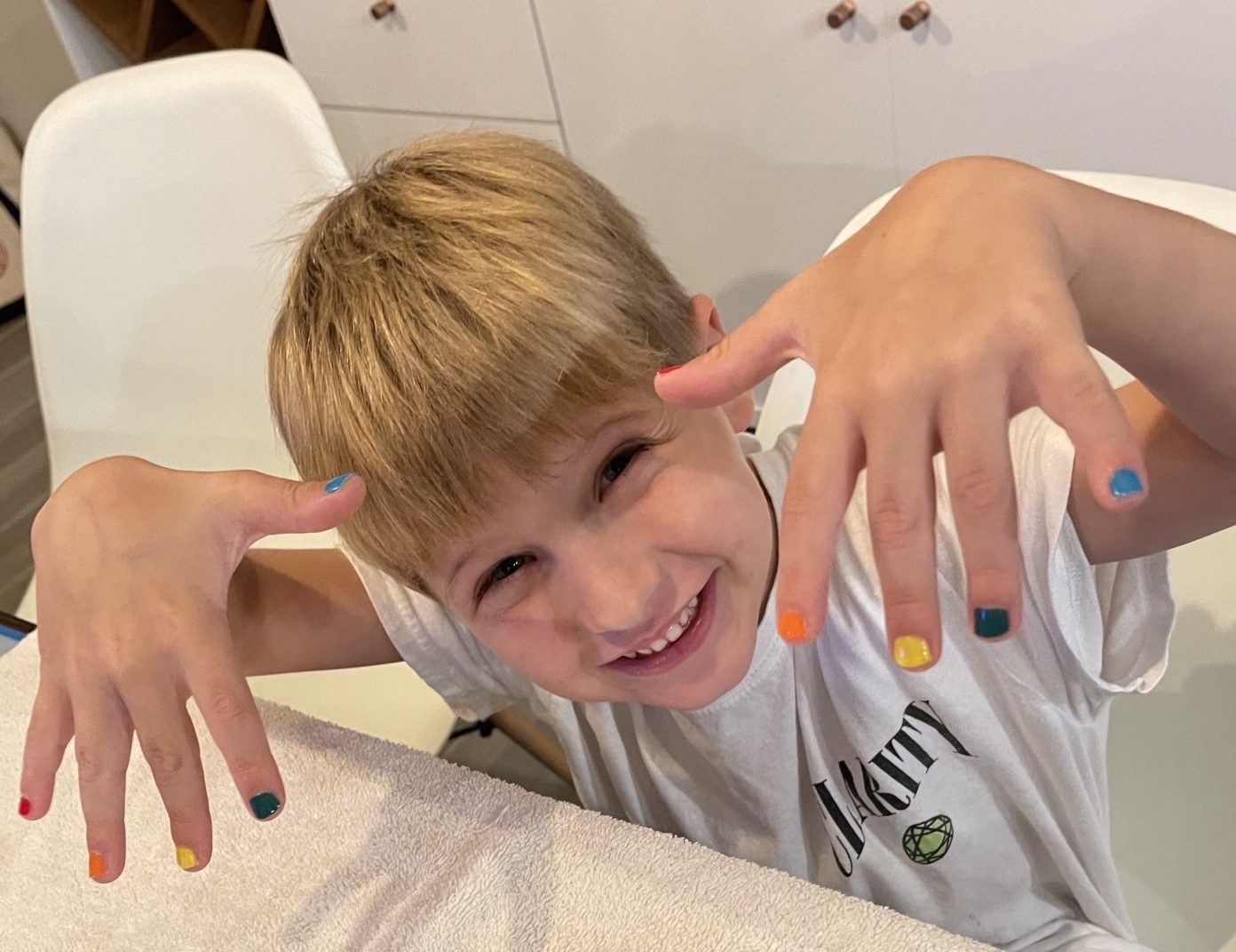 If you're wondering if my first thought was "I hope he doesn't get teased for this," it absolutely wasn't. I was mostly concerned with whether my little ball of energy could actually sit still long enough for a proper manicure! My husband and I both agreed we were proud of our son's desire to express himself and decided not to create doubt in his mind by suggesting that painting nails was "unusual" or "not normal" for boys.
But, I'd be lying if I said I wasn't concerned about comments he might get from others. The day after his first manicure (complete with five colors!), we headed to the neighborhood pool and Emory was SO EXCITED to show off his newly painted nails. One little boy noticed almost immediately and commented, "Why are your nails painted? That's for girls."
I held my breath and waited to see how Emory responded.
"Because I like it, and boys can do it, too."
And that was it. Both boys started playing together, and the nails weren't mentioned again.
When Emory started Kindergarten last month rocking bright blue nails (and his favorite tie-dye shorts), I asked after his first day if anyone had mentioned them. "Yeah, they said they were cool, and they liked my nails," he beamed. I mean, can the first day of school get any better?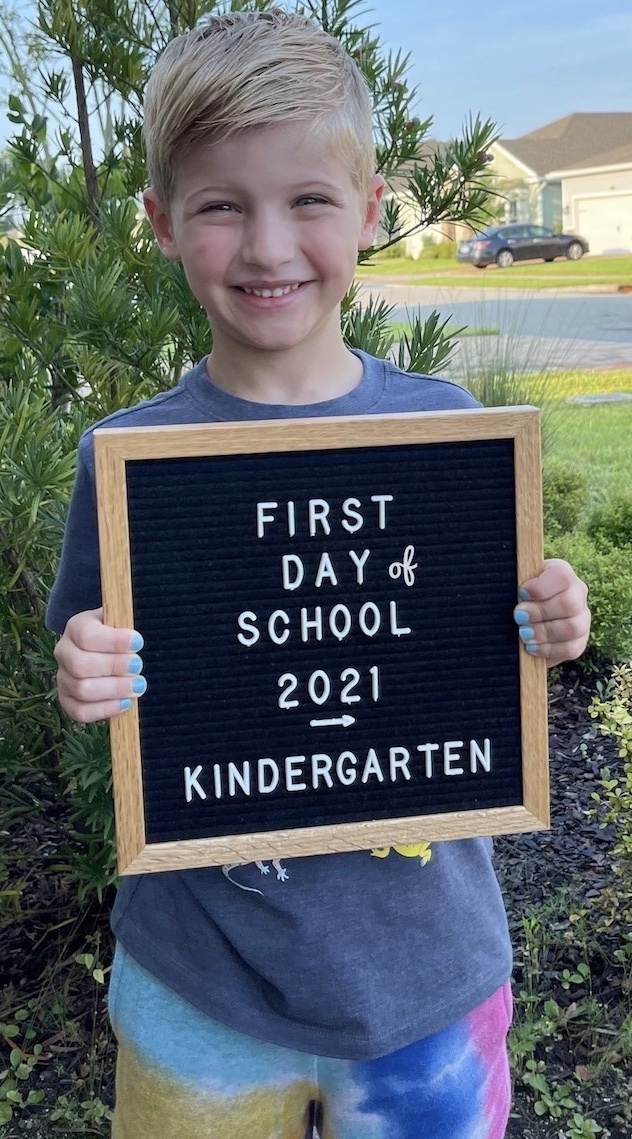 We've continued with painting nails at Emory's request, but I hadn't really thought about any impact it had beyond just making my son happy. And then we went to Disney World a few weeks ago. I was FLOORED at how many cast members noticed Emory's rainbow nails and went out of their way to comment on how beautiful they were. On our last day at the parks, a cast member in Star Wars land asked to see Emory's nails, and what he said struck me:

"Wow, those are really awesome. What a cool world you live in now." I caught his eye and noticed his own painted nails.
A cool world. We're a year and a half into a pandemic, wearing masks outside in 95-degree heat, hearing negative news stories every day, but this young man saw the ability for self-expression as a defining factor in making the world a better place.
And I agree. So, I'll continue to paint my son's nails for as long as he wants. Hopefully, he'll inspire others to express themselves in ways that make them happy, even if it's different from the expected.