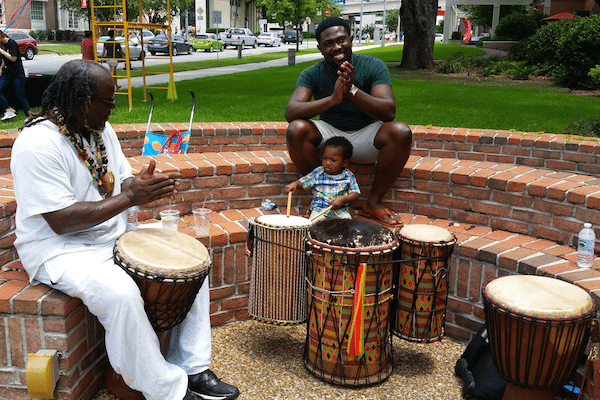 Michael Crichton said, "If you don't know history, you don't know anything. You are a leaf that doesn't know it is a part of a tree." Though the thoughts and experiences I'm about to share are personal, I believe that any American who is not a Native American can relate to the importance of understanding one's roots. In the words of Maya Angelou, I think we will find, "We are more alike, my friends,/than we are unalike."
By looking at us, you cannot tell that we are culturally different, but we are. My husband is Nigerian, and I am Black American. As we consider how we want to raise our sons, we know that we want them to take pride in being both Nigerian and American. Just as getting married takes you to a deeper level of self-awareness, so does being a parent. Though I've always been interested in my ancestry, it's not until after almost four years of marriage and almost two years of motherhood, that I've put action to my interests. I'm eagerly awaiting the results of my DNA swab because I want to understand my own origins on a deeper level. So as we are raising African-American sons, we raise them with a high level of cultural awareness and self-assurance that allows them to feel a sense of belonging regardless of where they go, who they are with or what they do. This is causing me to think deeply about not only my ancestry but what it means to me to be an American.
The challenge with being black and raised in the U.S. is that unless we do our own research, we are taught to believe that our history begins with slavery. Not that we are most likely descendants of one of the great ancient western African empires like the Kingdom of Ashanti, the Mali Empire or the Songhai Empire. Armed with this kind of history instead of a history beginning in bondage, we can focus on possibilities instead of limitations. Instead of focusing only on the National Geographic version of Africa, we can focus on the Africa of great inventions, advanced education and medicine.
As I recall my own childhood, I recall several instances of being acutely aware that I was brown and that my brown skin came with limitations, not because I was told, but because it was what I witnessed. Around the age of 6, my mom told me that I could get a doll. When I chose the white doll over the brown one, she refused, not because there was a problem with the white doll, but because I perceived there was a problem with the brown one. In another instance, we were out and about town in October when a white lady asked me if I was going to be a princess for Halloween. I told her that I couldn't be a princess because I was brown. This is why representation matters. My mother was shocked and hurt and knew she had to course correct. Because my school and most of pop culture was not representative of us, she immersed me in community activities where I was surrounded by people who looked like me.
With our sons, we have an additional challenge. Not only are they black, but they are African, and in the West, that's still taboo. Because they are being raised in the U.S., they will naturally absorb American culture, and it will be easier for us to shape their perspectives on being American. However, being Nigerian in America comes with its own set of challenges because people think it's funny to joke about all Nigerians being scam artists and/or living amongst wild animals. If they ever encounter this kind of ridicule, we want them equipped with knowledge, emotional intelligence and pride, so that they continue to move forward undeterred.
While we have discovered a small Nigerian community in Jacksonville, it will still take effort to immerse them in Nigerian culture. Our eldest son is not yet two and our youngest son is not yet born, but some easy ways to ground them in Nigerian culture is through food, literature and music. I cook a traditional Nigerian meal once or twice a month and continue to try new recipes. We also spend time dancing to Afro Beats and playing our African drum. Additionally, we have books of Nigerian and Ghanaian folk tales and the books from my own childhood that we read together, and trips to Nigeria will be a regular part of raising our children. My husband and I are proud of who we are as individuals and even more proud of who we are together. If we instill this deep sense of pride in our sons, we will consider it a job well done.