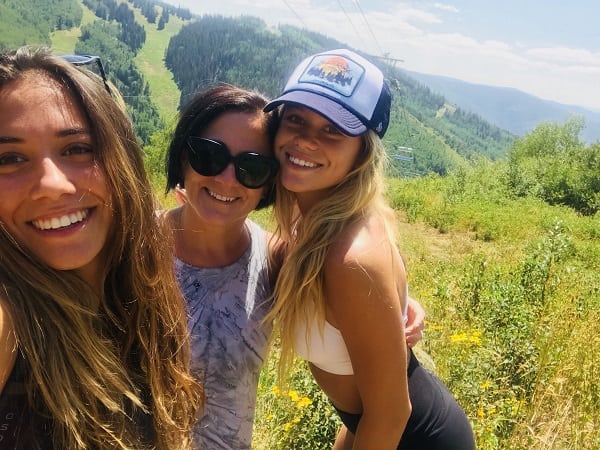 Emilie Christenson is the owner of Jaffi's Boutique and a local mom raising daughters and the next generation of entrepreneurs, Carlie and Devon. She is a true boss babe and mentor with a heart of gold, and the fashionista behind this fun, down to earth beaches boutique. Inspiring women for over a decade and a half, we sat down with Emilie and learned more about the woman behind the shop, and to learn more about business, style, and family life.
Three fun facts about you:
Fashion has always been my passion. I designed and made my first dress when I was 7 years old. I'm a workaholic freak maniac wired for speed – and like it that way!
How did you get started in the retail/fashion industry?
I grew up surrounded by family-owned retail/fashion businesses so I guess you could say it's in my blood. My grandparents on my mother's side owned a small department store in Tennessee (Berg & Schafer) that was in our family for over 100 years and my grandparents on my father's side owned a dressmaking factory in New York (C&G Originals). Some of my favorite childhood memories were working at the "shop" or in the "store" and I am so grateful to them for being such amazing role models and mentors to me and my family. After working with Merrill Lynch for 12 years, leaving to start/own a family-friendly boutique of my own seemed like a logical and exciting next step back in 2001 – thank goodness it was and still is!
What is the one thing that motivates you and pushes you to do more?
My children – having kids was a game changer for me and from that moment on my top priority was to be a positive role model for them. When faced with exciting and/or difficult situations my first thought is "what would I want my kids to do if they were me?" – it really helps put things into perspective which includes taking care of myself!
What do you love most about being in a family-run business?
We get to decide what comes first and prioritize accordingly, which is a lot easier to talk about then it is to do! Bottom line is this – you MUST make time for what's important because if you don't there is no one to blame but yourself. When I had my first daughter I remember crying hysterically to my father and couldn't imagine leaving her for a second – much less working like the maniac I once was in corporate America (which I also loved). He looked at me and said, "Honey, it's quality not quantity that matters. Just make the most of the time you have." That was an Oprah "ah-ha" moment for me and from that point on I tried to be more mindful of doing my best "in the moment" with my kids. I knew that when 2 p.m.rolled around and it was time to leave work for after school pickup, dance, soccer, etc. I turned into a pumpkin – so I made a conscious decision to truly BE THERE which was actually a liberating and calming decision for me. Whatever didn't get done could wait until the kids were in bed (which my husband didn't appreciate, btw) or the next morning (probably a better choice). We all do the best job we know how – so don't beat yourself up over constantly focusing on what you're NOT doing. That will slow you down and cause unnecessary stress. Just be you, celebrate successes and do your best. Your kids will thank you for it later. By the way, now that mine are grown, that quiet, uninterrupted time in the car is one of the things I miss most…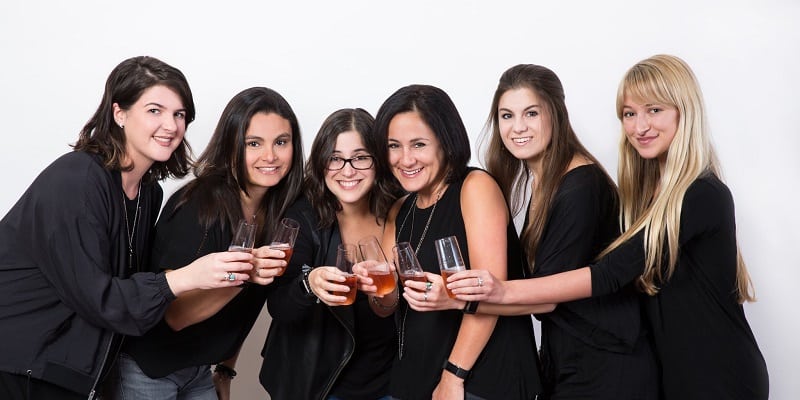 What advice do you have for other working moms? Just do the best you can with what you have and don't worry about what other moms are doing. Look to others for inspiration, support, and collaboration – but please don't measure your worth by comparing yourself to them. Your kids love you just the way you are unconditionally. Don't be so darn hard on yourself! You are a bad ass just by being you – and being true to yourself will set the most powerful and empowering example EVER for your kids.
What advice do you have for moms raising daughters? Everyone is different and you need to do what feels right for you and your family – but for me, being open, honest, and transparent with my girls is what I think they appreciate most. I was open to whatever they had going on with hopes they wouldn't feel the need to lie or keep things from me. I was honest about my past experiences and lessons learned along the way. And I was transparent about what was going on in our family during good and bad times. Your kids are stronger then you think and can be as much of a support for you as you are for them if you let them! I think everything happens in life the way it's supposed to. You can learn and grow from experiences or run from them – ultimately the choice will be theirs so "don't baby your baby" (my husband always said that and it took me a while to get it).
If you could wear one outfit for the rest of your life, what would it be?  I am OBSESSED with the Brooklyn Dress by River & Sky. In fact, I own it in 4 colors (BUT black is always my go-to!) It's loose enough to be super-comfortable, short and tailored enough to look put together, and has pockets! You can dress it up with sassy shoes and jewelry or dress it down with flip flops. Either way, you can't go wrong!

Like mother, like daughters'! Emilie is a proud mom of two daughters, Carlie and Devon. These girls have been raised with an entrepreneurial spirit and we had to share more about them too.
Carlie Christenson, Age 21, Senior at the College of Charleston
Three Fun Facts about you: I love music, but can't sing to save my life. I have a tendency to take in injured wildlife and started a business called Boob-eez at age 9!
What advice would you give to young girls to develop and follow their interests and dreams? START! Whatever it is, be it an idea for a product/service or a desire to travel the world, write it down. Start devising a rough plan of how you'll get yourself from A to B and tackle the easy stuff first! We have a tendency to wait for things to be 'just right', but the secret to success is to stop waiting for perfection and to just begin the creative process. Prototyping is KEY. If you can find comfort in the iterative process of having an idea, loving it, hating it then throwing it out, you're halfway there! Greatness isn't for perfectionists, it's for those that see failure as a stepping stone.
What do you love about your mom? I love that my mom is a figure of comfort for so many people; not just my father, sister and I. Everyone she meets is attracted to her light – her charisma, charm and damn good advice! It's like magic, the way she handles every situation with both style and grace – she can be someone to everyone! We joke and call her the "Retail Therapist." My sister and I are luckiest of all though because not only do we get her as a business mentor and best friend, we get her as our mom and being loved by her is the best feeling.
How do you juggle your family, friends, school and your professional careers? If I were good at juggling I'd be in the circus – a place for people that can do the 'impossible.'  The best way I handle a busy schedule is to plan in accordance with importance. Make sure the most important of tasks gets done first then let your free time manifest itself. With regard to friends and family, sending a simple text, calling every now and then maybe planning a coffee date helps me feel close to those that have their own busy schedules. We have all of this amazing technology, but forget that its purpose is to feel closer to those we love, not more distant/detached.
If you could wear one outfit for the rest of your life, what would it be? I'd go for a simple look: DL black jeans, a white tee with a lil' lacey something underneath, a pair of Sbicca platforms and my coordinate necklace that I never take off. Classic, easy and totally comfortable.
Devon Christenson, Age 19, Sophmore at Florida Atlantic University
Three Fun Facts about you:
I've been vegan for around 2 years now, helping to save the planet one meal at a time. I've lived in the same yellow brick beach house in Neptune Beach my whole life. I love the beach & surfing with my dad!
What advice would you give to young girls to develop and follow their interests and dreams? 
In my opinion, if you have an idea or a dream, you should work every day to make those things come to life. If not, they will be stuck in your imagination and life is too short to hold back!
What do you love about your mom?
There's a countless amount of things I love about my mom. However, the things I admire most are: her positivity, good heart and kindness. She's taught me to keep smiling even on the bad days. Her aura shines so bright and touches everyone around her. She's just amazing! Another thing I love is her mindset. Growing up, she has been so inspiring, by sharing her amazing advice and interesting points of views on life. She has never made Carlie and I feel like we weren't capable of something. She's taught me that possibility is endless in that she has never had limiting beliefs about anything! Ever! I could go on forever, but I think its best I stop typing before I write a book, lol.
How do you juggle your family, friends, school and your professional careers?
I just live my life! I go with the flow and don't stress anything too hard. I keep my family close, always. As far as school, it's a full-time job. I usually get my work done before I hang out with friends and I work my online brand into my schedule as much as possible. I always make time for relaxation, beach time & exercise as well.
If you could wear one outfit for the rest of your life, what would it be?
Light denim distressed boyfriend jeans and a white tee with sneakers.
More About Jaffi's
Located in the heart of Beaches Town Center, on the corner of First and Lemon Street in Neptune Beach, Jaffi's is a women's clothing boutique that offers a hand-selected collection of the best each season has to offer. From boutique favorites like Joie, JBrand, Hard Tail, Splendid and Cosabella to Veronica M, Heather, and LA Made, Jaffi's is known for consistently catering to its customers by carrying brands that offer both style and comfort. You can now also shop online here!