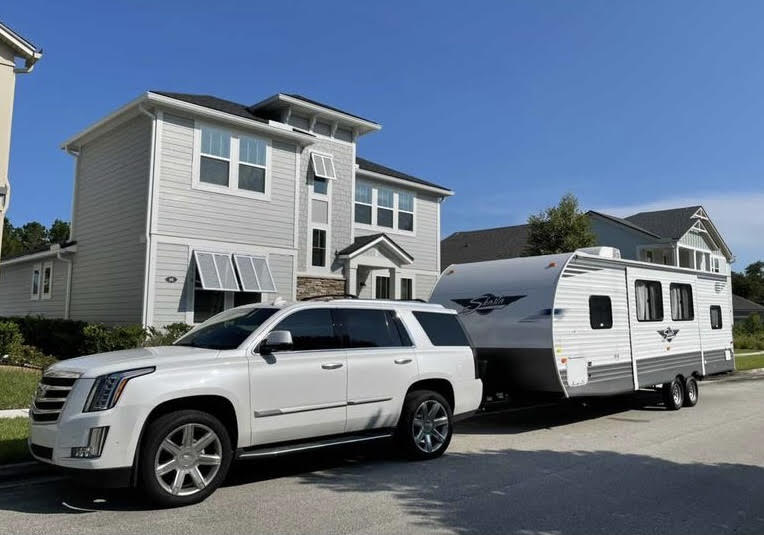 When I started looking at campers years ago, the buying game was completely different than it is today. Back then there was an abundance of inventory, you had time to plan without a camper being sold out from under you, and prices weren't inflated. In today's market though, those are all very real scenarios, so here are some tricks I learned when buying a camper in this crazy market.
Online Inventory is a Farce
I started my search for a travel trailer online and quickly realized that in many cases the inventory shown is "representative" only. If you find a unit that you like, chances are that the pictures shown are not of the actual one they have on the lot, if they even have that model at all. Many times I would call to check before I'd attempt to go look and their answer was always "that unit just sold but come in and take a look…" It is all a shell game to advertise a price point online in order to lure you onto the lot. Your best bet is to carve out some time and go walk through what they actually have in stock.
New vs. Used
After being dejected by experiences at the big box dealers several times, I considered purchasing from a private seller. If you do a quick search, it appears at first glance that you can get a better interest rate if you go directly to a credit union than financing through a dealer, so it seems to make sense. In my experience though, private sellers tend to have campers listed for top dollar, and there is a huge risk with not knowing how the camper has been treated or maintained. While you can usually get some extras thrown in — sway bars, water lines, TVs, etc. — to me the risk ultimately outweighed the benefits. I decided to shop for a new camper to get the manufacturer's warranty and the peace of mind that comes with it.
Backend Extra Costs
When you've finally found the camper you want to buy, be aware that the "sticker price" is much lower than what you'll see on the bottom line of the paperwork. Just like a car dealership, the backend costs that they tack on are astronomical. At most dealers, a "prep fee" of about $1,000–$1,300 is common. This is to clean and inspect the unit before you drive it off the lot. There are also freight charges, as well as tax, tag, and title, and now, of course, the COVID cleaning fee. Dealers will tell you that they don't negotiate on price, but long story short, they came down several thousand dollars from the sticker price, and I got them to waive all the fees, as well as throw in all of the hoses, a hitch, and a "starter kit."
The next thing they will try to hit you with is during the financing and paperwork process, where they will essentially try to get you to add on thousands of dollars to the amount you have agreed to finance by scaring you into "GAP" insurance. They will play games with the length of the loan (campers can be financed for 10+ years) and the interest rate to show you that the "payment stays the same" but you get all of this additional coverage. Dealers make money on the finance part of the deal, so in my opinion, this is all a game. They may try to tell you that you can only get the lowest interest rate if you opt for the GAP insurance, but this is not true. I told them straight out that I would not be financing anything beyond just the price of the camper and that I wanted the best interest rate and the shortest term. If you are direct and clear, they will follow what you tell them, and you won't end up adding thousands of dollars of unnecessary extra debt in your name.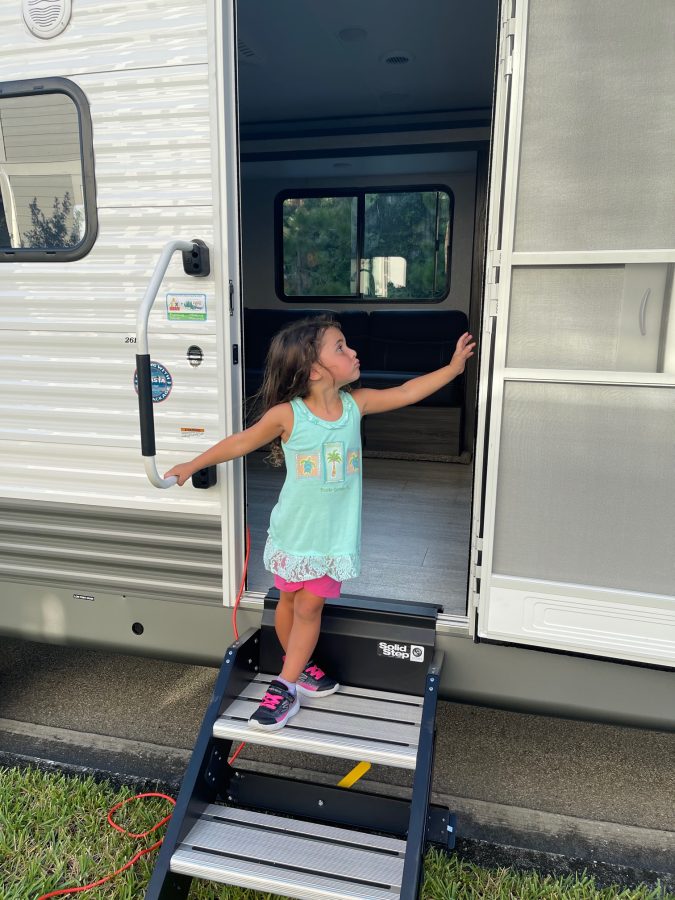 Key Takeaways
Sleep on it. If you are in the market for a travel trailer, be prepared to shop in person at several dealers. Though there are inventory shortages and units move quickly in this market, do not be afraid to go home and sleep on it. Salespeople count on keeping you at the showroom to wear you down and guide you to make an emotional purchase. Yes, there is emotion involved, but ultimately your purchasing decision should be a well-educated one as well. There are many different models and features and price points and making the best decision for you and your family is important. Don't let emotion or a pushy salesperson force you to make a decision that isn't the best for you, so be prepared to remove yourself from the situation and let your emotions settle before signing on the dotted line.
Have a plan. Know your questions, know your non-negotiables, know your towing capabilities, know how much insurance will cost for your rig, and know where you're going to park your camper as many lots are full these days! A little secret though — dealers will store it for you while you find a spot to keep it. The dealership where I ended up buying my camper offered to keep it for up to two months without me even pressing the issue, so if you find yourself in a bind, know that is an option.
Have fun! In most cases, a camper is a luxury item purchase, so enjoy the process and know that at the end of it waits lots of memorable family trips, tailgate parties, and campground fun!