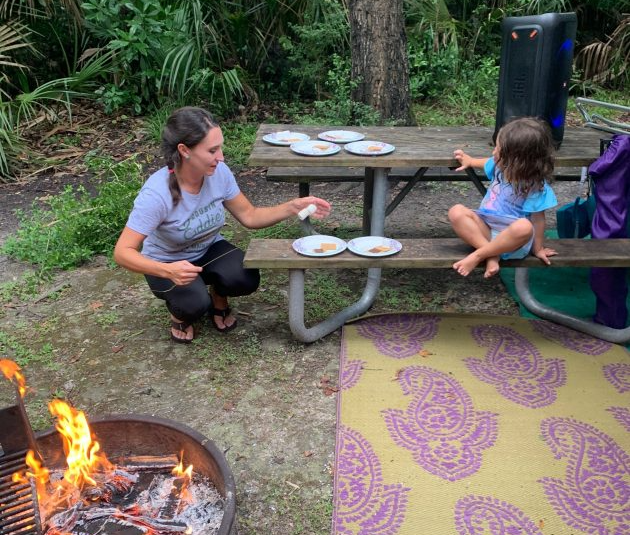 A few weeks before she started kindergarten, my 5-year-old started asking for a "real-life Barbie DreamCamper Trip." Because this year has been a total train wreck and we all needed a little bit of fun, I happily obliged. I don't own a camper, but I coincidentally saw a Facebook post from a woman who had one for rent within a day or two of my daughter asking, so I contacted her and set it up. Here is what I learned as a rookie DreamCamper, along with some tips to make your trip easier if you decide to dabble in the RV life, too!
Rent first. Trust me. I've pretty much already covered the first bit of advice, which is the first time around, rent a camper from someone who will take it to the site and set it up for you. If you're a newbie, know there is a bit of set up — towing, parking, leveling, plumbing, power, water connections — that you won't really want to learn or mess with if you're just testing the waters of RV camping. it was super handy to have all of that done when we arrived at the campsite.
What to pack. As far as what to pack, when you're renting, you have to bring some big items that you normally could just leave in a camper if you owned it. A fan and bug spray were essential for mosquitos. I brought a folding wagon for hauling stuff to and from the beach, which was handy. You'll also want some kind of Bluetooth speaker for music while sitting around the campsite. They were too big for us to bring, but bikes would be clutch for cruising the campsite. Which brings me to my next tip…
Cruise the campsite. Camp people are super friendly and almost all of them want to chat and impart camping wisdom to a newbie. The pros have really cool camp setups, games, music, etc., and it's fun to just walk around and see it all. I suggest grabbing an adult beverage and taking a stroll around early evening when everyone is back from the day's activities and starting to cook. Campfire grilling is legit, and everyone will be out around their campers chatting and chilling.
Next, food. You'll need lots. When you have small kids hanging out around the campsite, you will be passing out all the snacks, all the time. Popcorn was great for a little camper time out when they watched movies (also, take movies). And don't forget hotdogs for the campfire, sandwich stuff, and anything that you can cook in a microwave. The camper had an oven, but there was a whole pilot light situation, and I wasn't trying to get into all of that. Of course marshmallows, graham crackers, and chocolate are a must for the ever-messy s'mores.
Lots o' firewood. Unless you're going super remote, most campsites have a "camp store" where you can buy ice and firewood. I would suggest buying lots more than you think you need of each. Firewood goes quick, especially when you're burning it starting in the early afternoon to help deter the bugs.
And finally, bring outdoor rugs and towels. So many towels. When we were camping, it rained on and off, and the campsite quickly became a mud pit that my 3- and 5-year-olds thoroughly enjoyed. I, however, did not enjoy all of it being tracked into the camper, so towels on the entry steps really helped. The outdoor rugs covered the whole area outside the camper and thankfully dried quickly. I cannot imagine how bad it would have been had the people we rented the camper from not put them down.
We absolutely loved our camper experience and are hooked. It really is a genius way to travel with two small kids. You have your own space, your own sheets, a "home base," and there are so many campsites in great locations that you get to enjoy without spending a small fortune on hotels (most campsites are about $50-75ish per night), so it's fairly cost-efficient, too. If you're considering camp life, rent a camper, and give it a try! As far as our experience, 5 stars, will return.
What additional tips do you have for RV first-timers?