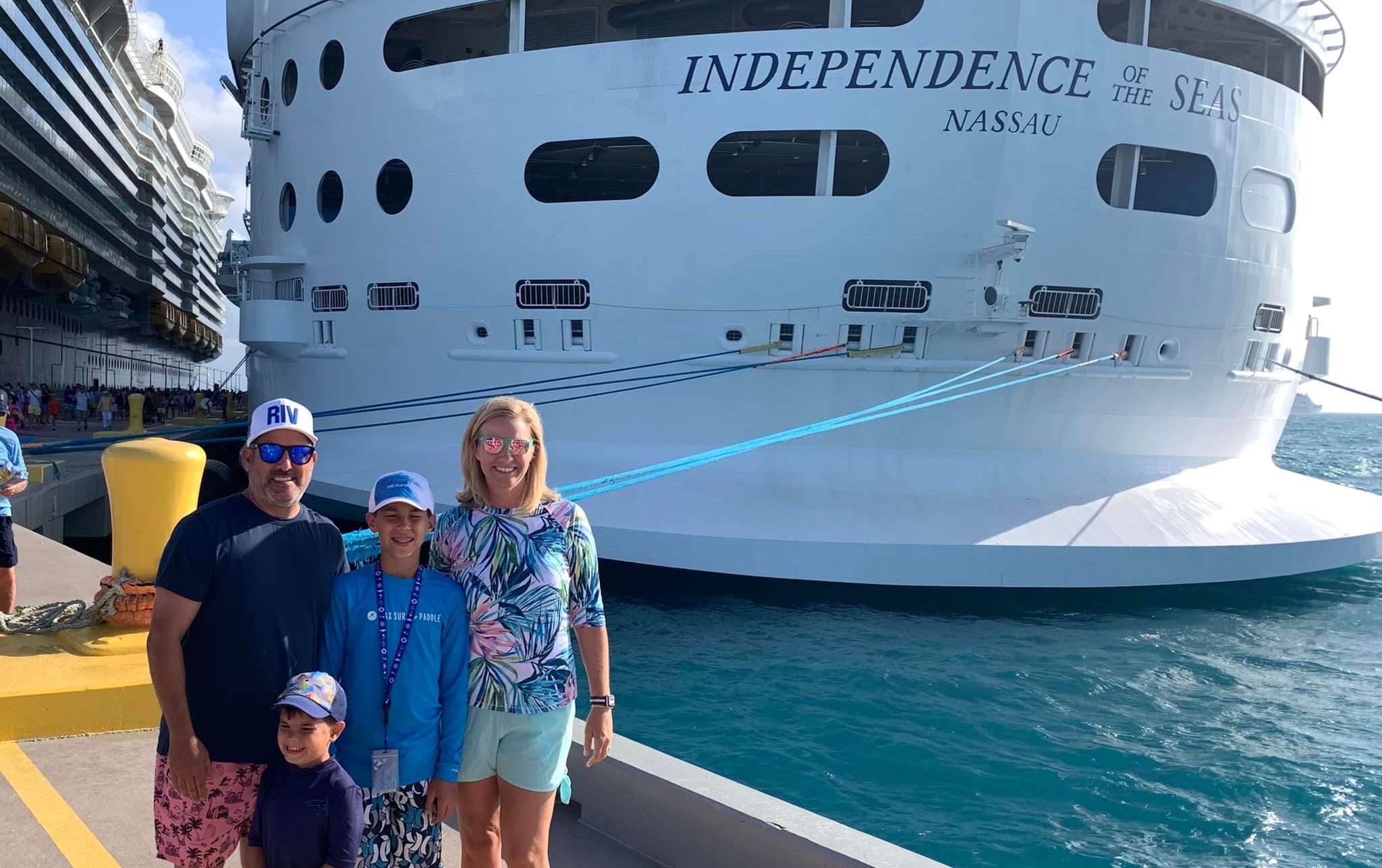 My family and I just returned from a four-day cruise to the Bahamas. It was the first time on a cruise for my kids, 4 and 11, and I was terrified of all the what-ifs — like if they got seasick or if there would be a lot of restrictions because they aren't vaccinated.
While some ships require everyone to be vaccinated to sail (Disney being one of them), Royal Caribbean's vaccine policy was that those not vaccinated had to have a negative PCR test three days before sailing, as well as at the ship before embarking. Vaccinated people had to have a negative PCR test two days before sailing.
I was dreading how long and complicated this was going to be. Based on our check-in time at the ship, our test was conducted right then, and you had to wait with other passengers for your results in a holding area nearby. It was very organized, clean, and fast, and we were on our way within 20 minutes of doing the on-site nasal swab. My stress level dropped significantly.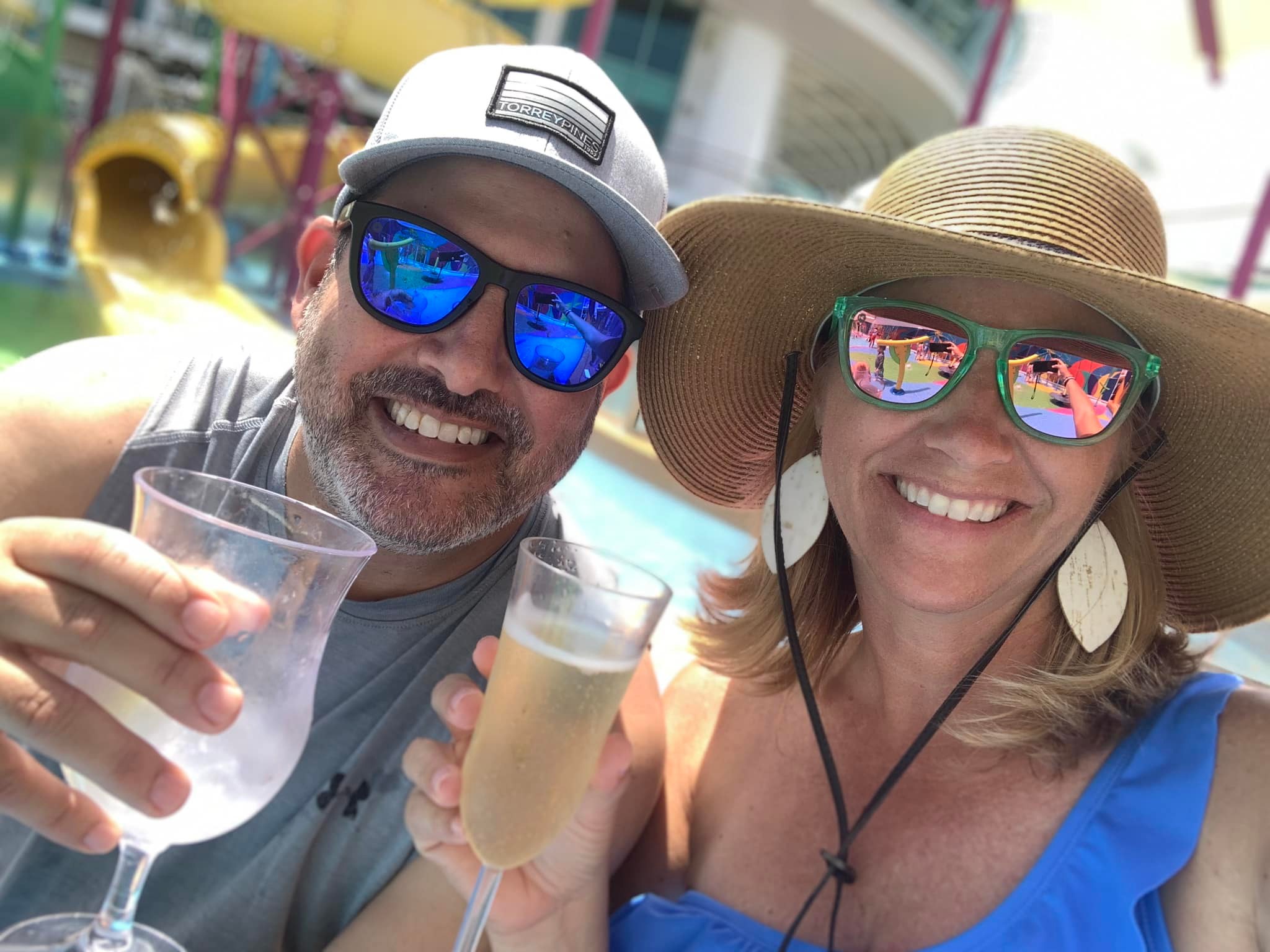 Once on the ship, you saw some people wearing masks and others mask-free. All of the employees on the ship wore masks the entire time, even in the dining areas. The ship mandated masks for anyone unvaccinated, including children — but it did not enforce it.
Before we got back to Port Canaveral, that policy had changed and non-vaccinated kids were no longer required to wear masks in common areas, like the kids' club, so my 4-year-old wore a mask one night and was without a second night. By the way, the kids' club is first-come, first-served, and is free until 10 p.m., which is when a $7-an-hour fee kicks in.
Our cruise was packed! People were ready to have a good time and forget about mask mandates. It was the first time in two years I'd been in a crowded, enclosed area without a mask, and it felt weird. But after a few hours, that feeling subsided, and it was just like old times.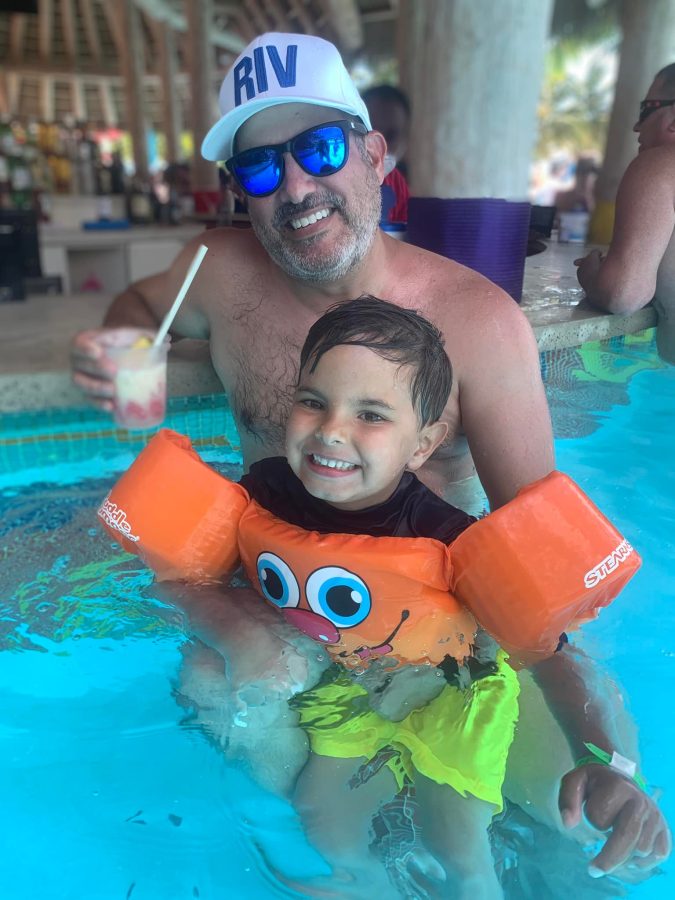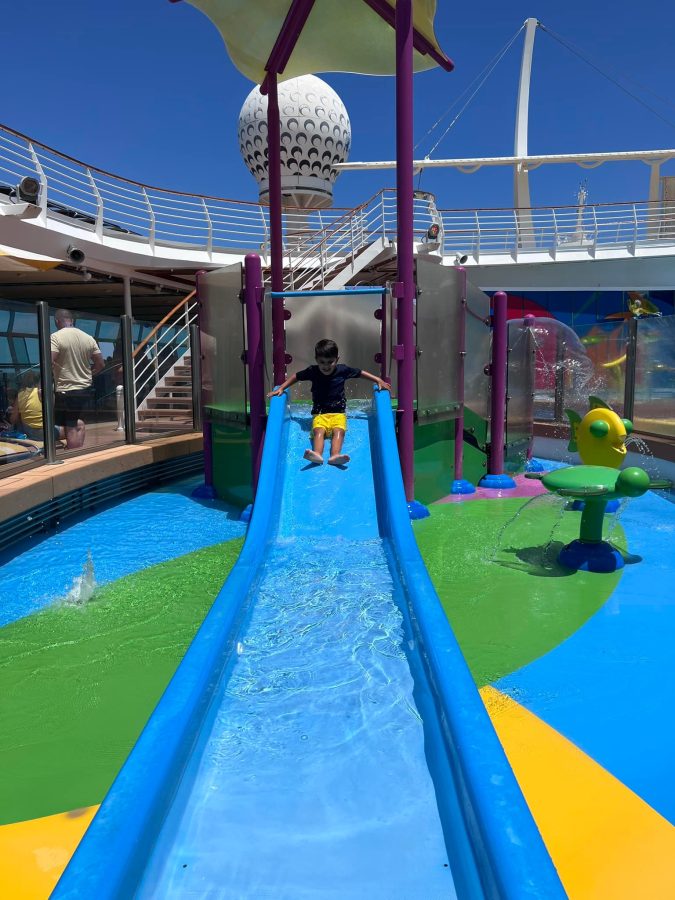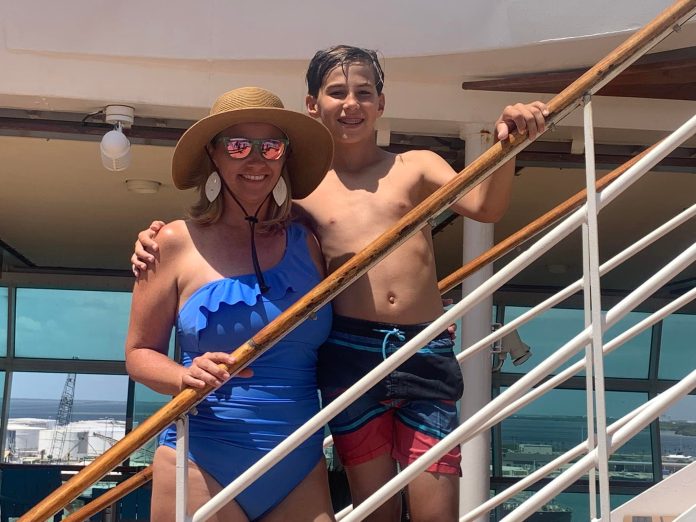 When thinking about booking off-ship excursions (we swam with the dolphins), check the country or port's COVID-19 guidelines. My husband and I were required to show our vaccination cards and identification when getting on and off the ship in Nassau, but the kids just needed their Sea Pass, which is like a hotel key you get for the duration of the cruise. It's very easy to misplace — I highly recommend getting a lanyard or two and always keeping them around your neck.
If you want to keep in touch with your family members, you have to buy an internet package, and it charges per person. We only activated one phone which didn't do us much good communicating with each other on board. I did see a family with a set of walkie-talkies which I thought was brilliant.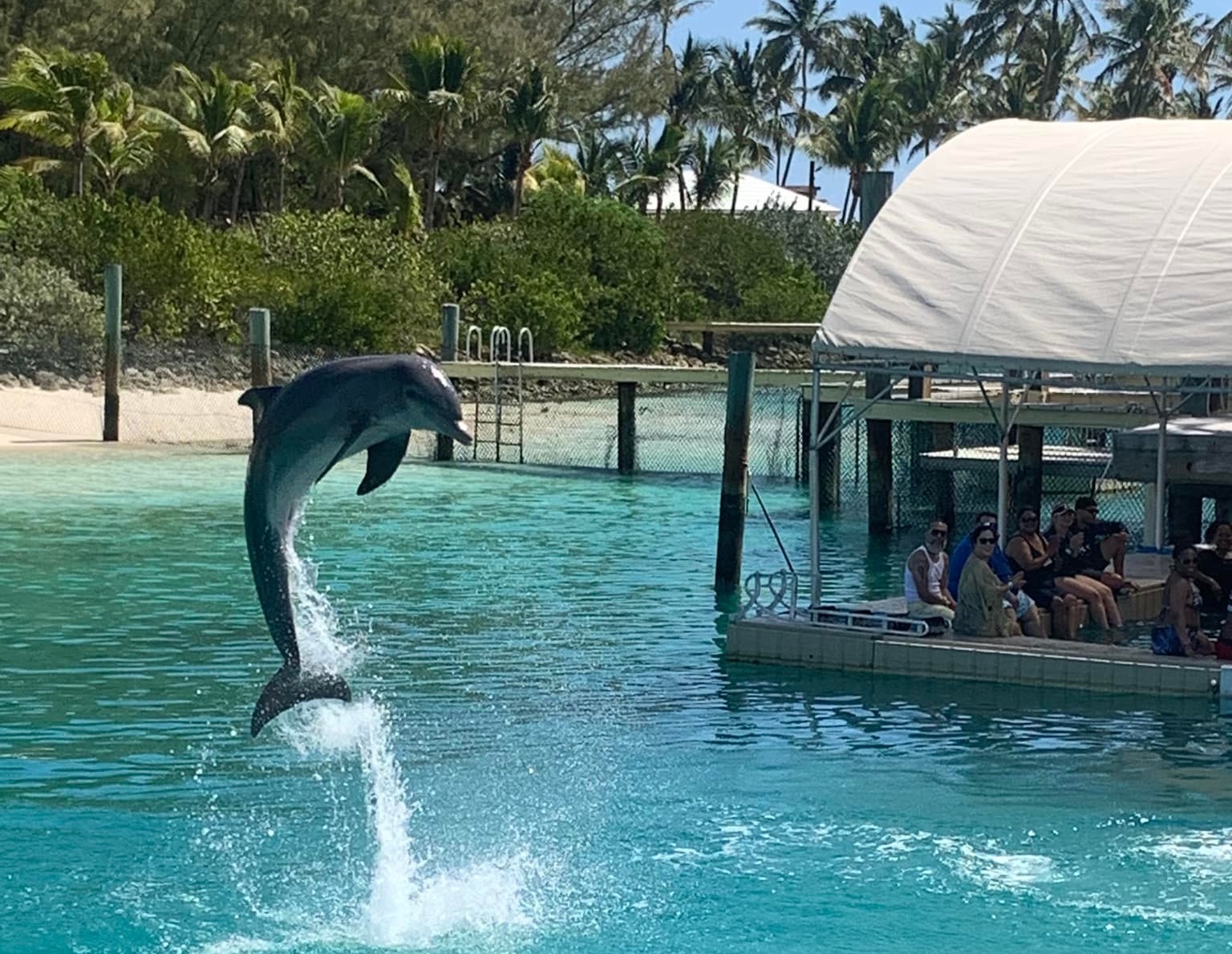 When you think about a cruise, of course, you think about all of the dining options — and there are many! You can always stick to the free restaurants like the main dining area and the buffet (which just reopened in the past month or two), or you can upgrade your dining and book at a more upscale option. When we tried to book at the hibachi restaurant, we were informed that everyone needed to be vaccinated, so we went across the promenade and had pizza instead.
If all else fails, the buffet offers something for everyone, and the items change daily for breakfast, lunch and dinner. The kids had plenty of options, and with so many desserts to choose from, we were full after each visit. There are places to get snacks in between meals as well. And rest assured, each table is cleaned thoroughly after each family/couple dine and a sign is placed on top stating that it's safe to dine there.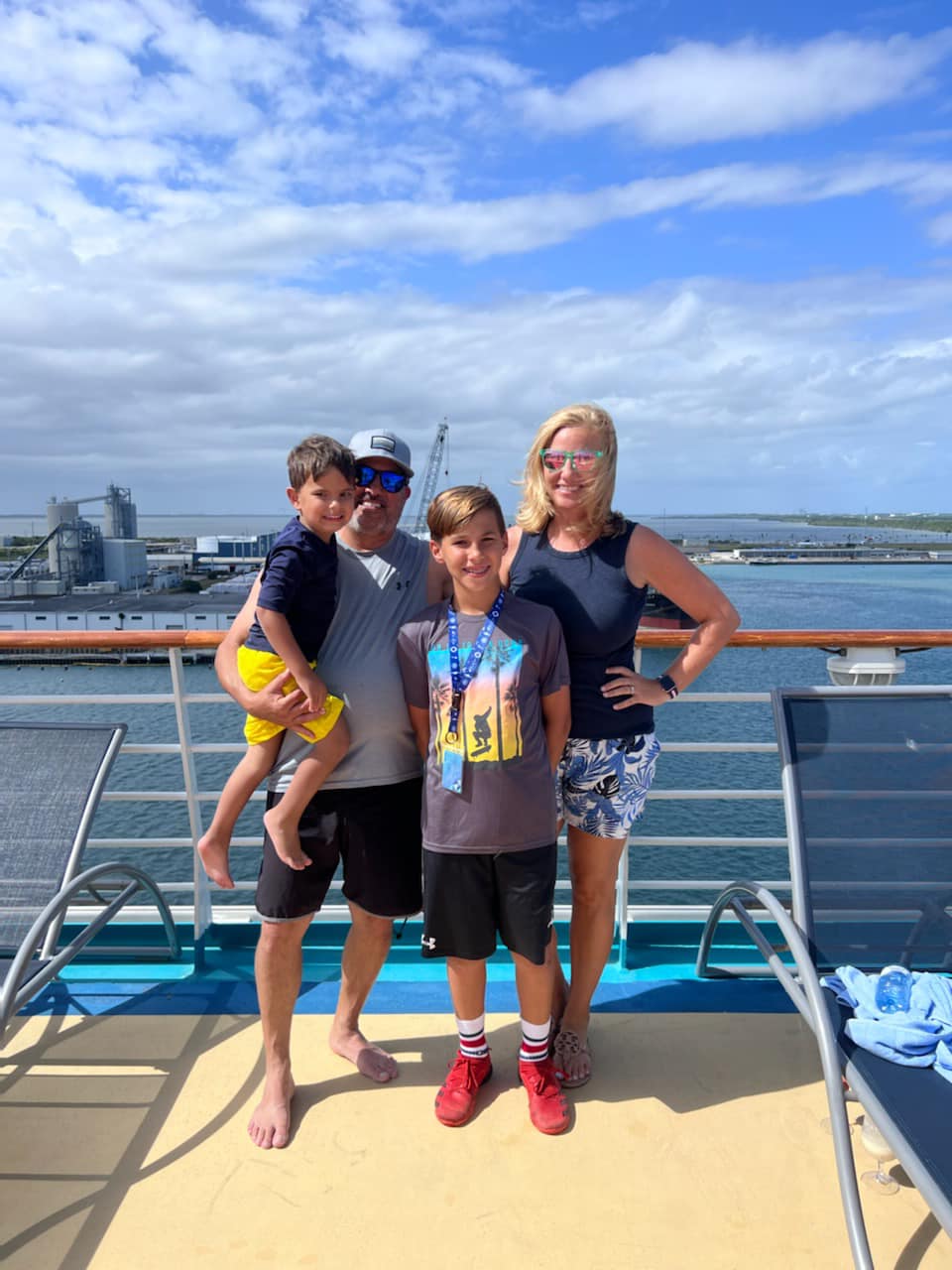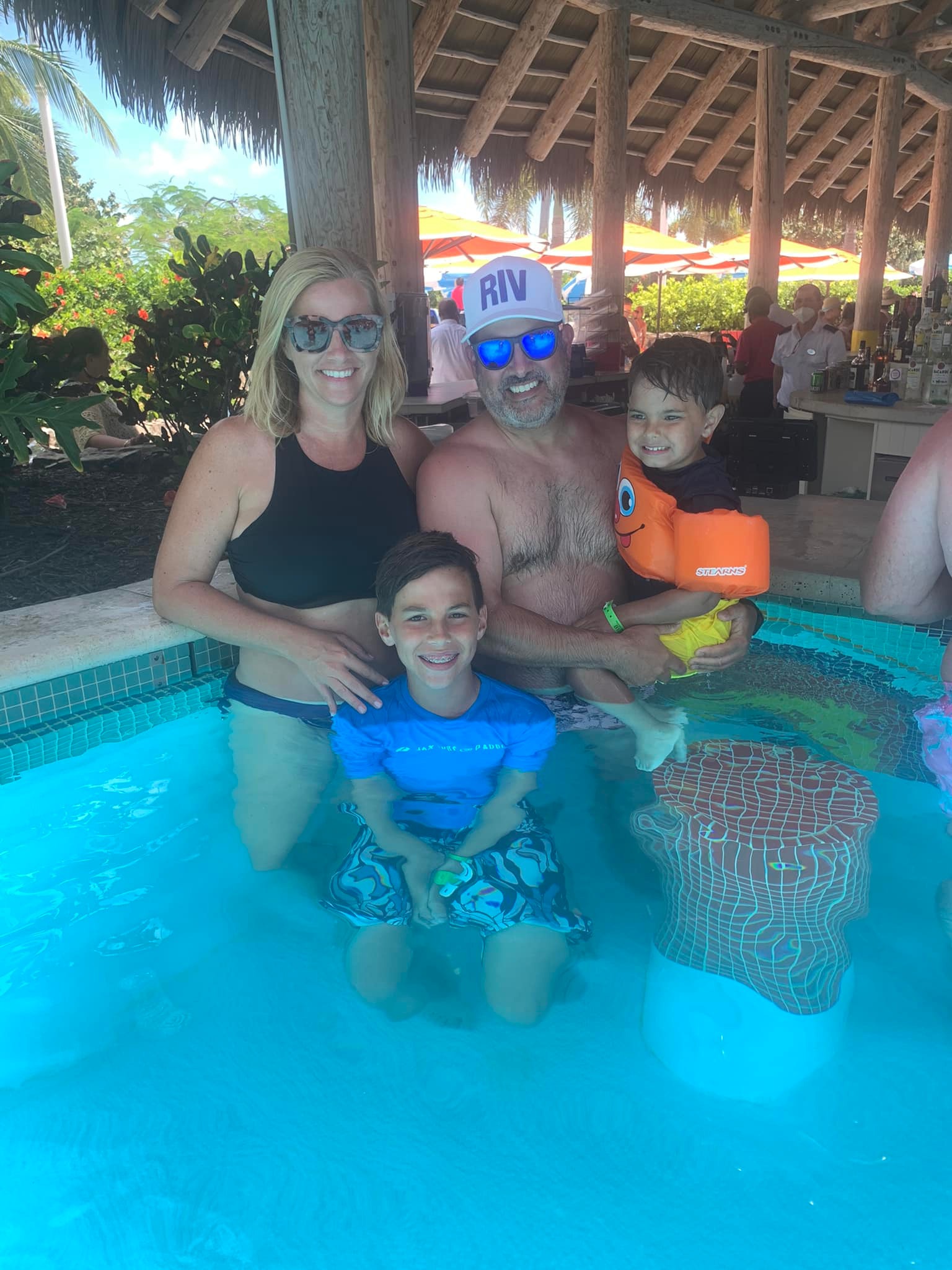 There are so many things to do onboard — we didn't have time for all of it. If you sail on a family-friendly ship, expect water slides, pools, hot tubs, sports court, putt-putt, a rock climbing wall, belly-flop contests, scavenger hunts, and more! We attended two shows which were both great for kids — ice-skating was 45 minutes long and
Grease! The Musical was an hour and a half.
We really had a great time, but the three-night cruises go by way too fast. I purposely booked a shorter duration for my kids' first time to see how everyone did in terms of tolerating the seas if they were rough, which they were the first night, and I am happy to report they never noticed a thing.
If you are thinking about booking another trip before your cruise ends, do it while onboard with guest services, and you'll get more discounted rates. We are excited to be sailing again in June 2023!