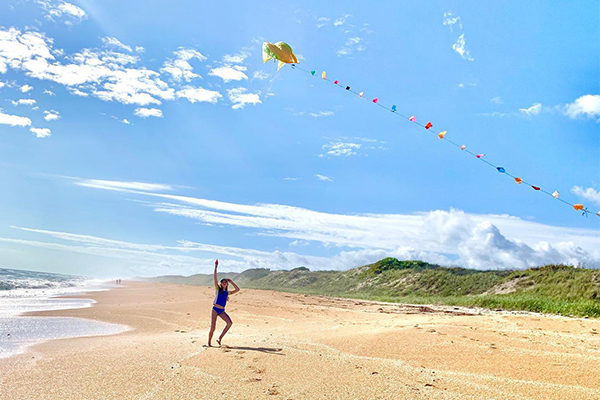 There have been times I have wished, in this busy four-kid, two-working-parent life I lead, for the world to just pause so I could catch up. And shockingly, it did last year. Am I ready for COVID to be over? Yes. Absolutely. In all the ways possible. But I also do not want life to go back to my pre-COVID "normal," either. It's the changes that have been forced upon us by the restrictions of a pandemic that have really made me see the ways I can be living life differently — even better. For me personally, the things I don't want to go "back to normal" involve how I spend my time, and who I spend it with.
As life slowly returns, we will no longer be running ourselves ragged with activities, social events, play dates, school events, and extra things we want to do that we think will be fun. We've got the activities stripped down to those the kids love and that aren't torture for us. Wide groups of acquaintances we weren't super close with but saw at events we felt we had to attend? Nope. The close friends I saw at outdoor happy hours during the pandemic were who I needed anyway. The friends I've had for 20 years and reconnected with virtually during the endless March of 2020 reminded me of how rich life is. Amazing when you look at your own social media pages from an outsider's eyes how great your life appears.
I've learned to enjoy being at home more, hard as that sometimes was. With nowhere to go and nothing to do, and no people to hang out with, we stayed busy in better ways. Endless afternoons outside. Fishing at the creek. Long walks and bike rides. Outdoor church. More art projects, chalk, LEGOs, bubbles, water balloons, and puzzles. Flying kites on the beach in November. Finding a new state park. Yes, please, let's stay outdoors and spend time together as a family before you get too big to want to hang with your mama!
COVID has taught us a lot, not the least of which was the shockingly desperate disparity between the "haves" and "have nots." I am deeply thankful we remained employed and our children remained in physical school. We also did not lose anyone in our families. I know what a privilege that is. But COVID did still upend our lives. COVID has taught me that changing priorities, being more deliberate with my time, and being unafraid to say no, can lead to a more fulfilling life: a few close friends, more of the great outdoors, and time spent only on what we love. The rest can go the way of the disease.