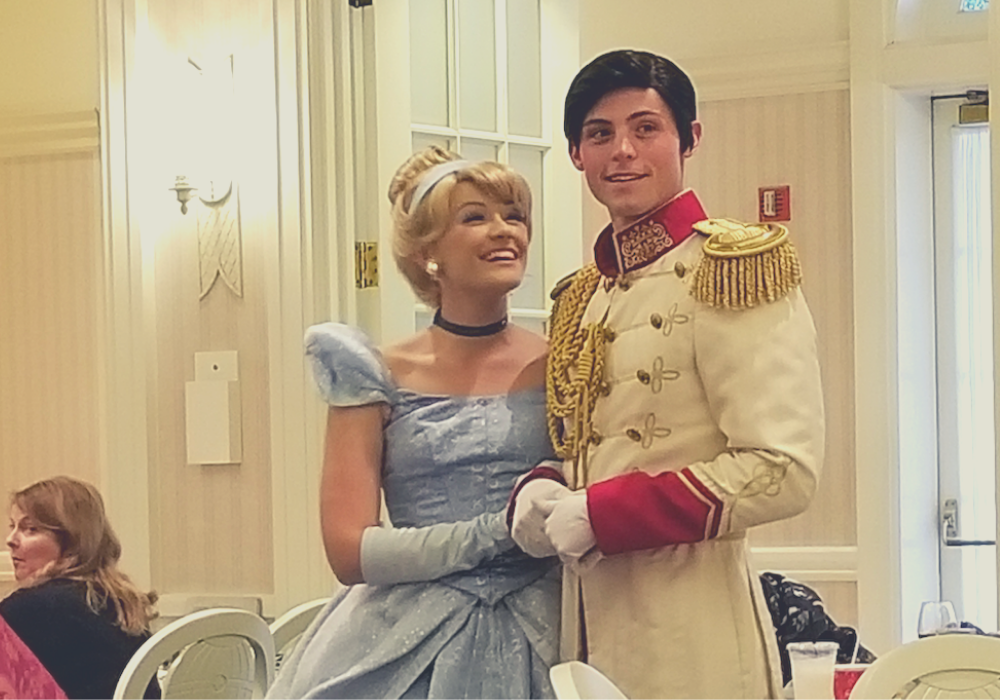 "This much I know. If you are what you eat, then I only wanna eat the good stuff." –Ratatouille
You are on vacation. Forget the diets and enjoy your time off in the Happiest Place on Earth — which actually may be due to the amazing food offered throughout the park! That being said, going to Disney with kids requires lots of planning. Otherwise, you will be waiting in long lines everywhere you turn and the meltdowns will surely ensue. When my family and I plan our Disney trip we begin by booking our dining reservations (typically three-to-six months in advance). Often we utilize the Disney Dining Plan to save money, and here is how we do it.
Decide What Kind of Vacation You Want to Enjoy
The first step is to decide how you want to spend your time at Disney. Are you the family who spends 99 percent of the time at Disney going on rides? Or are you the family who enjoys taking frequent breaks to sit in the air conditioning to relax? Are your kids going to sit at a table in a restaurant for at least an hour? Answer these questions to help you determine which Disney Dining Plan is best for you.
You have three options to choose from: Quick Service Plan, DDP, and Deluxe. The Quick Service Plan allows each family member two counter service meals per night you stay at a Disney resort (that is correct, dining plans are only available to guests of Disney resort hotels), two snacks per night, and a refillable mug. This plan is a great option for families who really pack their day full at Disney with rides and activities. The Quick Service Plan allows you to get food fast and get back to the action in the parks as soon as you finish eating.
The DDP allows each family member one counter service meal and one table service meal per night you stay, two snacks per night, and a refillable mug. This plan is a perfect option for families who only want to have a sit-down meal once a day. This leaves most of the day open for other activities at the parks such as rides, parades or shows.
And lastly, the Deluxe Plan allows each family member three meals (table or counter service) per night you stay, two snacks per night, and a refillable mug. This plan is best for families who want to spend much of their day enjoying the great restaurants within Disney World. This plan offers the most flexibility and is the only plan that provides three full meals for each family member.
Once you have decided which plan is best suited for your family's needs, then you need to know how to best use your dining credits. These are my top tips to help you navigate the many restaurants available to you.
Tips and Tricks for Dining at Disney
Your dining credits go into effect the moment you check into your Disney resort and can be used up until the end of the day that you check out. This provides you so many different ways to make the best use of your dining plan! Your magic band is loaded with all dining credits upon check-in and you can use them in any order that you wish. This means you could use all your meals and snacks on day one, all after you check out, or in any combination throughout your vacation.
Your refillable mug has a microchip in the bottom and will only work at the resort drink machines after it has been activated by a cashier. Once you check in to your resort and pick up your refillable mug you can go to any of the drink machines to fill your mug. This includes unlimited access throughout your stay. This can save you a ton of money on soda, lemonade, and tea during your trip!
Tip: Do not take your resort refillable mug into the Disney parks. The free fountain drinks are only accessible at your resort. Trick: You can bring your own drink cup or thermos into the parks and get free ice water at any restaurant inside a Disney park or Disney Springs.
Your meals (both counter and table service) now include an alcoholic drink. The drinks available at each restaurant vary so see the menu for specific options.
Tip: If you prefer a non-alcoholic drink, that is an alternate option. You can choose from fountain drinks, lemonade, tea, or specialty drinks. Trick: Should you prefer to not get a drink with your meal you can use that for a snack credit instead. But it must be used at the time you order that meal or you will lose it. A great option here is to trade your drink for a yummy dessert.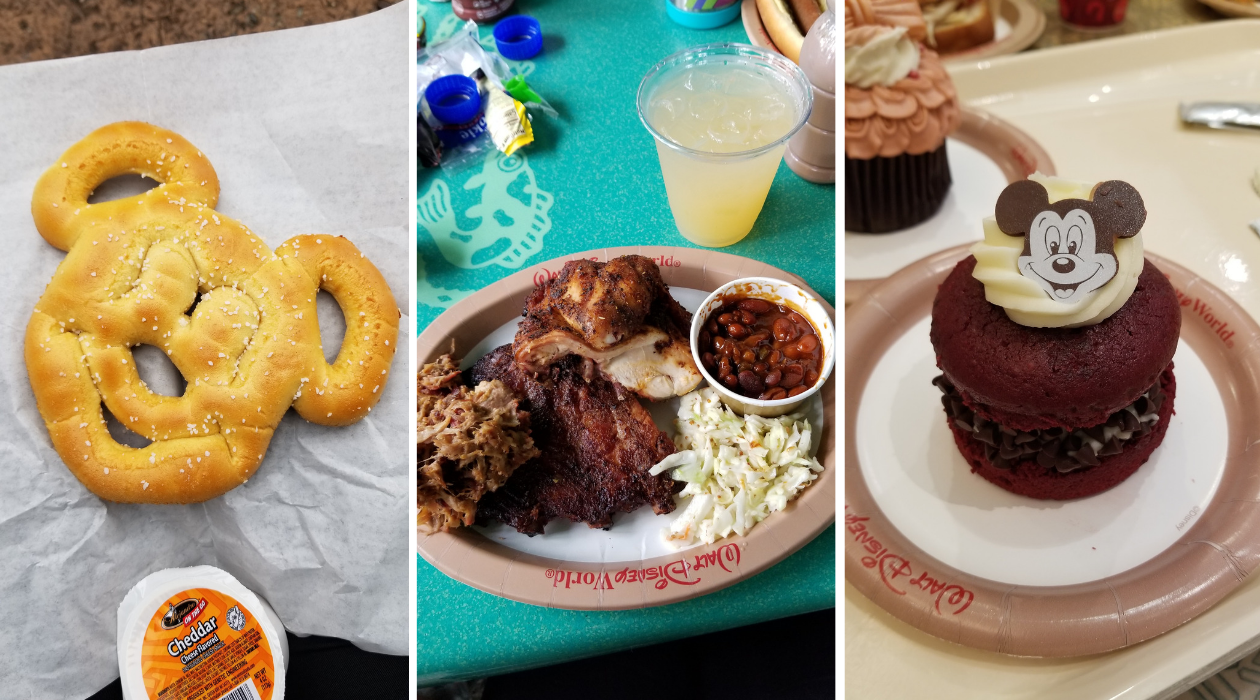 Snack credits can be used on many items at your resort and at restaurants in the parks. Everything that counts as a snack credit can be found by a purple icon. Absolutely everything that you see this icon next to counts as a snack credit.
Tip: Do not waste these snack credits on candy bars that you could purchase at a convenience store for less than a dollar. Use them wisely on larger items. We like to use our snack credits for Mickey ice cream pops, hummus and carrots, large specialty cupcakes, and packaged Disney goodies to take home.
Disney Signature Dining restaurants count as two table service credits. This can get tricky but there is a list each year that Disney creates with all restaurants and the number of credits needed to eat there. This is also available at the front desk at your Disney resort.
Tip: Do not waste your dining credits by using two at just one meal. The bottom line here is cost. The signature dining restaurants are fantastic but you could pay less to eat there if you pay cash versus the cost of using two of your table service credits! Trick: Although most character dining experiences are buffet style they are placed into the table service category. Other than Cinderella's Royal Table, all other character dining experiences count as only one dining credit. This is a great monetary saving because most character dining costs $35–$50 per person. Also, your kids can get photos taken with their favorite characters and do not have to stand in lines to do so!
Many restaurants at Disney World require advance reservations. Showing up day of and getting a table could cause you trouble and hours of waiting. It is super easy to make reservations. You can do so through the Disney World mobile app or on the My Disney Experience website. You simply choose the number in your party (including children under age 3), pick the date you want to reserve, select a time and it will show you what restaurants are available. No resort reservations or tickets are required to make a reservation. However, you can only eat at a restaurant inside of a Disney park if you have a ticket for entry into that park for that day.
Tip: If you are not sure exactly the number in your party always use the larger number you expect to attend. It is more difficult to add guests to your party than to remove them. Trick: You have 24 hours to cancel the reservation before you are charged. Therefore, if you are looking for a particular restaurant and cannot find a time you want, check back 36 to 24 hours prior to when you want to reserve a table. Many times spots open up when others cancel.
Where to Eat
There are so many dining options throughout the Disney World resorts, Disney Springs and the Parks that it can be impossible to choose. You are on a vacation so be adventurous and try new things! Here are some of my family's favorites.
Quick Service:
Flame Tree Barbecue — Animal Kingdom

Be Our Guest — Magic Kingdom (only breakfast or lunch; reservations book fast here)

Columbia Harbour House — Magic Kingdom

Pecos Bill Tall Tale Inn and Cafe — Magic Kingdom

D-Luxe Burger — Disney Springs

The Express Wolfgang Puck Grand Cafe — Disney Springs
Table Service:
1900 Park Fare — Grand Floridian Resort (dinner character dining to meet Cinderella, her two stepsisters, Prince Charming, and Lady Tremaine)

Chef Mickey — Contemporary Resort (dinner character dining to meet Mickey, Minnie, Donald, Pluto, and Goofy)

Mama Melrose's Ristorante Italiano — Hollywood Studios

Bongos Cuban Cafe — Disney Springs

Akershus Royal Banquet Hall — Epcot (character dining to meet Disney Princesses)

Boma — Animal Kingdom Lodge Resort
So there you have it — a quick guide on how to save money with the Disney Dining Plan options!
Where will you eat during your next trip to Walt Disney World?