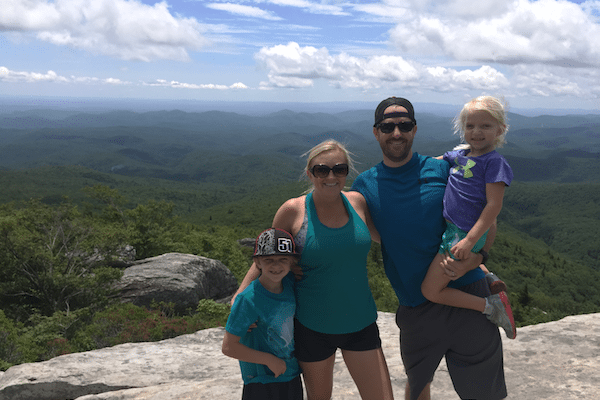 Nestled deep into the High Country of North Carolina, at an elevation of 3,333 feet, is our favorite family destination: Boone, North Carolina. We love them so much, we like to call them our mountains, but I'd love to share them with you!
When to Go
It really depends on what you want to do on your vacation! Boone and its surrounding towns — Blowing Rock, Linville, Valle Crucis, Banner Elk, and Seven Devils — are great places to visit year round! We love visiting in the summer because it's a nice break from the sweltering heat. In July and August, you still have cool mornings and some chilly nights. Who doesn't love a mild daytime temperature in the 70s? October is the high season for catching the fall foliage, even milder temps, and an App State football game. Go Mountaineers! The winter in Boone is also great for winter sports we can't enjoy here in Jacksonville. You can enjoy moderate skiing, snow tubing and build all the snowmen your heart desires. Keep in mind, this area does have many days below zero, so prepare to come with full snow gear.
Where to Stay
There are so many surrounding towns to Boone. Think of the distance from Atlantic Beach, Jacksonville Beach, Town Center, Ortega… they are all very close to each other, and you will travel between the towns to do various hikes and other activities. We love to rent a cabin for our stay. We've found cabins on VRBO, but our favorites have been through Valle Crucis Log Cabin Rentals. We have friends who love Chetola Resort, which is located in Blowing Rock and offers amenities you wouldn't have if you were just renting a cabin.
What to do
There is a little bit of everything for everyone in your party because there is SO much to do!
Hiking
This is one of our absolute favorite things to do in the High Country. There are many different hikes, and they are all marked by level of difficulty. Make sure to pack a lunch and bring plenty of water! The mild temperature makes the hike a very pleasant experience, so much so that there have been times I forgot to drink and ended up with a giant headache. Here are some hikes to check out:
Rough Ridge Trail: This is located on Grandfather Mountain off of the Blue Ridge Parkway, but the opposite side of the mountain for what it is famous for. It is rated a moderate hike, but there are a lot of rocks and sometimes mud if it's been raining. You will finish this hike so satisfied, encountering some of the most beautiful views you will ever see. Mountains for miles and miles! My children have been hiking it with no issues since they were 4 and 6, but I'd bring a carrier for anyone who can't climb over rocks.
Linn Cove Viaduct Trail: From Rough Ridge, you continue about a half mile, and you can't miss it. It has a very short trail that takes you right up under the viaduct. The architecture is amazing! You can stop the hike here or continue on. It does get a little strenuous, so plan accordingly.
Grandfather Mountain: You can spend an entire day at Grandfather Mountain. When you enter the park, they give you a CD to listen to as you drive up the mountain filled with all kinds of facts about the certain area of the mountain you are passing. Grandfather Mountain is famous for the Mile High Swinging Bridge, which is so high up, we always need sweatshirts. There are many hiking trails inside the actual Grandfather Mountain Park. Most are ranked strenuous, but we have hiked them with our kids with no problems. You will also find a few animal exhibits here, including bears, otters, eagles, and cougars.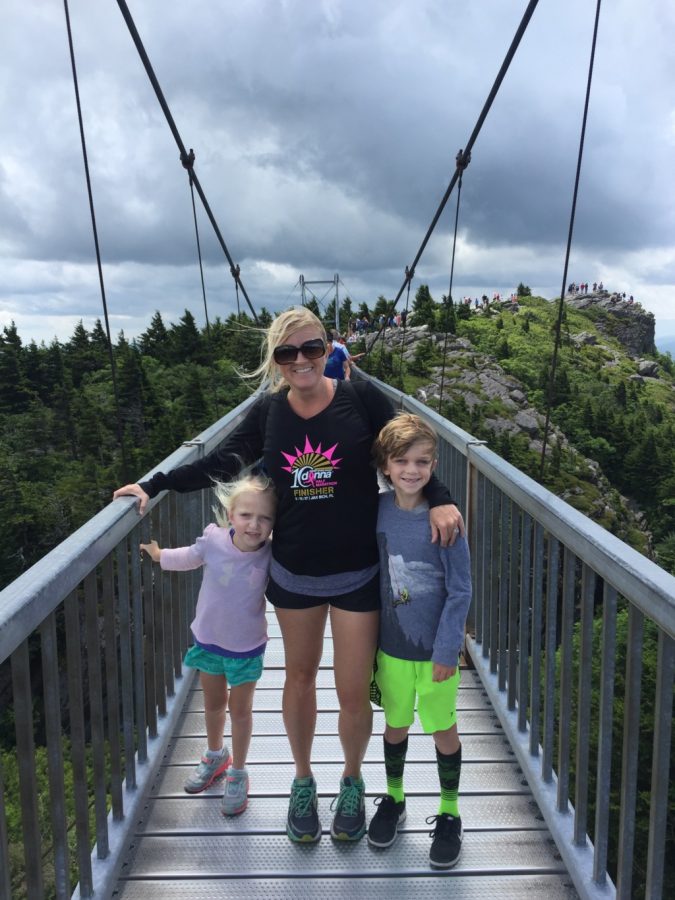 Waterfalls
Otter Falls: Located in Seven Devils, Otter Falls is a moderate downhill hike to the falls. At the bottom, there is an observation deck and you can actually hop down off of it to get a better view. Since it was a downhill hike on the way there, the hike back up is uphill. This is the part that makes it moderate. My 5-year-old daughter did it with no problem, and she tends to be the complainer of the bunch!
Linville Falls: Linville Falls is a place you can plan to spend half of a day. This is another place we like to take lunches and take in all the beauty while we eat. Linville Falls is the most popular waterfall in the Blue Ridge Mountains because of its accessibility to the Blue Ridge Parkway. It is a spectacular three-tiered waterfall plunging into Linville Gorge, the "Grand Canyon of the Southern Appalachians." The Falls Trail distance is 1.6 miles round trip and easy. The Gorge Trail distance is 1.4 miles round trip and strenuous. The Plunge Basin Trail is 1 mile round trip and moderate. This is another hike where you want to break out the baby carriers!
Other Attractions
Tweetsie Railroad: Tweetsie Railroad is a Wild West theme park located in the Appalachian Mountains (between Boone and Blowing Rock) featuring a 3-mile ride on a historic steam railroad, live entertainment, rides, and a petting zoo. This is something you don't want to miss! The petting zoo is my daughter's favorite part. In fact, I looked away for a second and when I turned around, she was carrying a baby goat!
High Gravity Adventures: Located right in front of Tweetsie is High Gravity. Way more than just a ropes course, they boast the "Foot Hills Course" for ages 4 and up, the "Blue Ridge Course" which reaches heights of 50 feet, a ninja ground course, a three-person swing, and a zipline!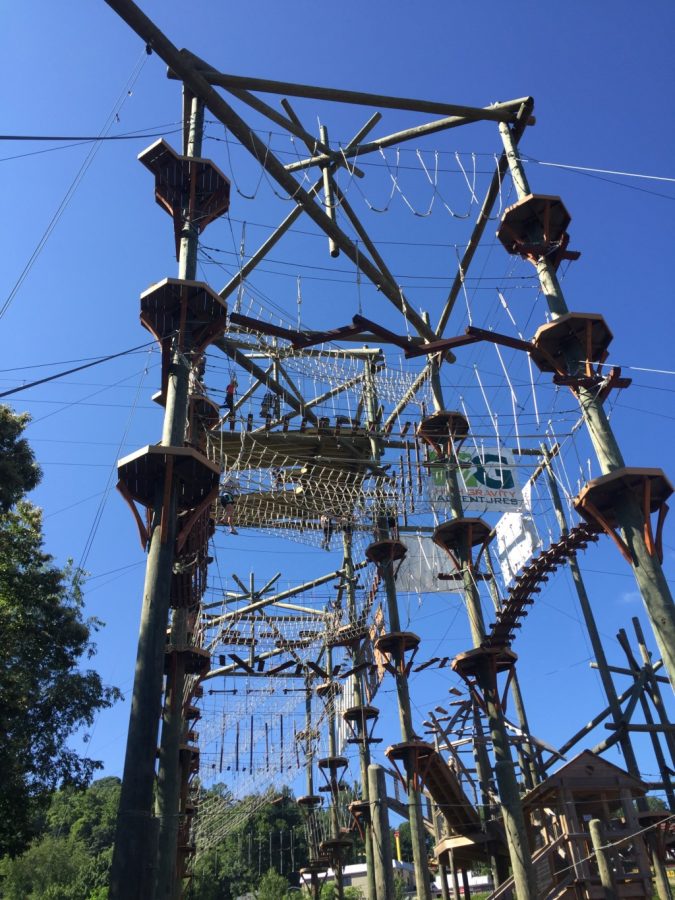 Virginia Creeper Trail: This summer, the Virginia Creeper Trail was the highlight of our trip! An hour drive from Boone, it is a 17-mile bike ride down an old rail trail from the top of a mountain down to the town of Damascus. It sounds scary, but it's a very gradual downhill ride. Most of the time, you don't even have to pedal much! The last 3 miles are flat. The trail is absolutely beautiful, and there are many waterfalls to stop and view. We usually eat lunch on some rocks next to a waterfall about 6 miles in. There are multiple bike shops to rent from, and they offer transportation to the top of the mountain. You can also rent baby trailers and tandem bikes at each bike shop.
Linville Caverns: Linville Caverns is great for a rainy day. Located inside Humpback Mountain, visitors are invited to explore the splendor and wonders nature created "inside a mountain." This is truly a spectacular sight.
Gem Mining: Another highlight of the trip! We have done gem mining at two different places, and I can't say we loved one more than the other. You get a bucket filled with rocks and sand and take it to a trough with running water. They give you a sifter and you dump scoopfuls out of the bucket into the sifter and water and voila — gems! When you are done, you go inside and they identify your gems for you. If you are planning to go to Grandfather Mountain, check out Sugar Creek Gem Mine in Banner Elk or Foggy Creek Gem Mine in Boone.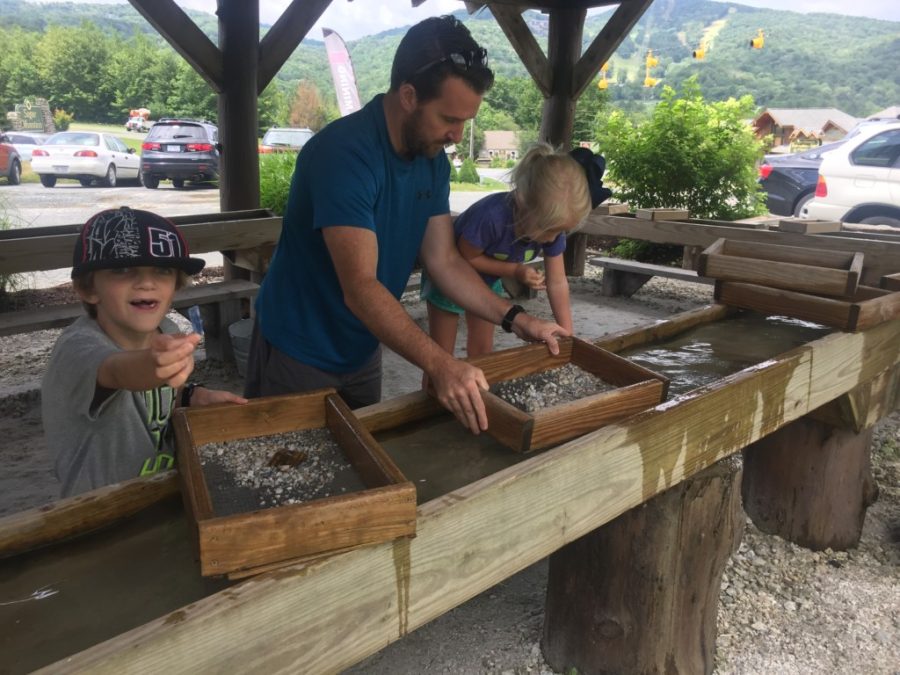 Mast General Store: The Mast General Store has two different locations in the High Country; one located in downtown Boone and one located in Valle Crucis. Here you will find barrels upon barrels of candy and other fun trinkets. This is a place you must stop in to at least once! If you visit the Mast General Store in Valle Crucis, you are just steps away from one of the most amazing parks we've ever been to, Valle Crucis Community Park. Right behind the store, down a little dirt road, is a park in a clearing of the mountain. Take a quick walk to the back of the park and you will find a little stream (part of the Watauga River) filled with speckled trout. Bring a tube and let the kids take a short ride, but beware, those rocks can be slippery!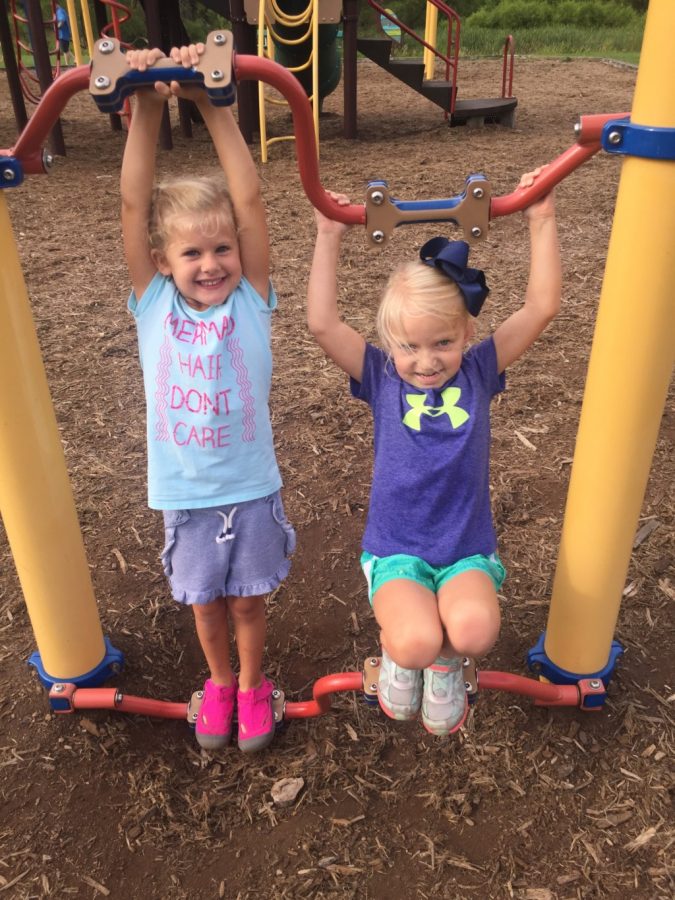 Hawksnest: Hawksnest currently has 20 ziplines including four mega zips — two over 2,000 feet long and two over 1,500 feet long, with 4 miles of zipline riding with heights over 200 feet and speeds up to 50 mph. Ziplines are over trees, through trees, over lakes and creeks with panoramic views on almost every ride. Children must be at least 5 years old. They also offer snow tubing in the winter months. There are four different areas to snow tube and over 30 lanes! Hawksnest is located in Seven Devils, about a 20-minute drive to the top from downtown Boone.
Is the High Country a top vacation spot for your family? I'd love to know your favorite places!