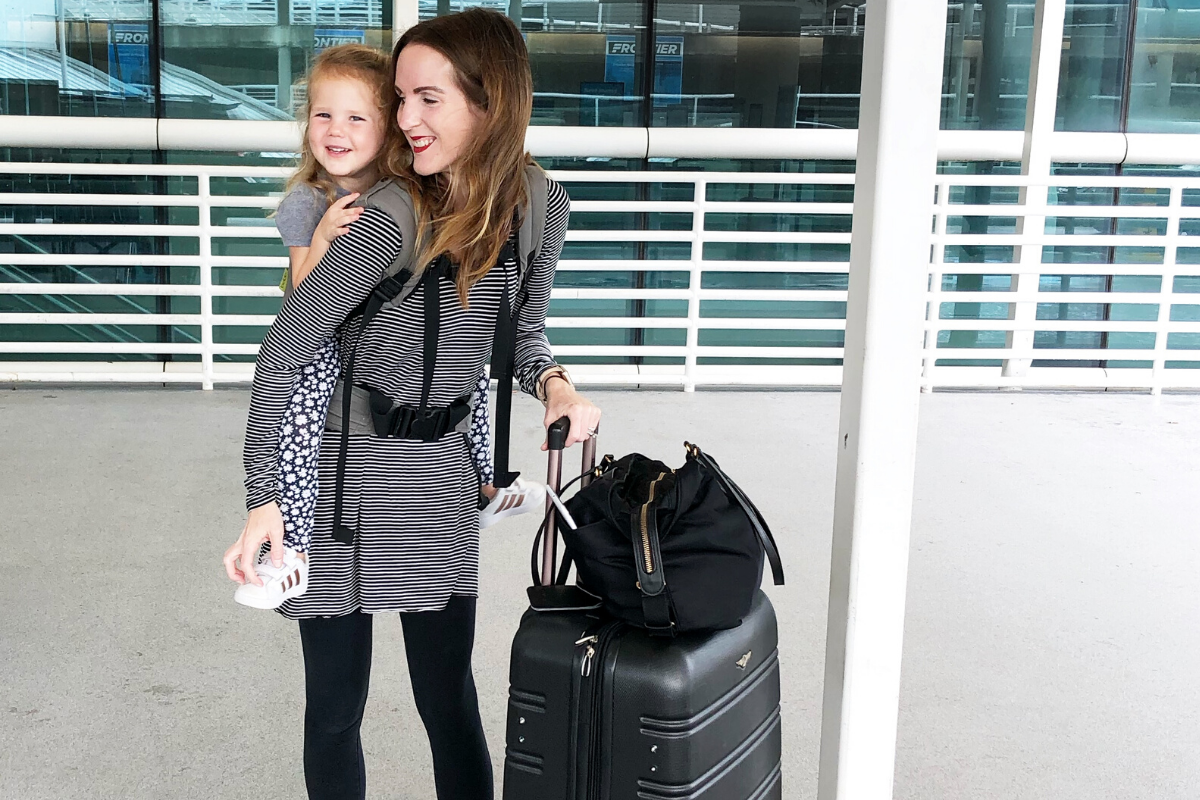 Step 1: Make a detailed plan.
Step 2: Throw it in the garbage.
Step 3: Set expectations.
Step 4: Cut them in half.
Step 5: Lower them just a little more.
Step 6: Have a cocktail and board your flight.
But, like, seriously, that's about the extent to which you can prepare for air travel with children under 4. Which, it just so happens, I get to do next month with not one, but two little ones. And not the easy, "put a boob in its mouth" little one. Or even the kind who can't really talk or make demands that can't be pacified with a cannister of puffs. Nope, it's gonna be two and a half glorious hours with our almost-2 and 3-year-olds.
Since we live so far from my family, and I would sooner walk to Indiana than get in a car for that long, my kids have flown a lot and we've picked up a few tricks and helpful tried-and-true products along the way. At the end of the long travel day, though, know that you can do your best to prepare and it'll still be a sh*t show. Try to enjoy the ride.
Airport & Pre-Travel Hacks
Jacksonville International Airport is actually really great. A wide range of flight options, dining pre- and post-security, and lots of space for kids to burn off energy. And if you've been to JIA recently, you may have noticed the addition of The Club JAX, an airport lounge. Check your credit cards' websites to see if any offer access to these clubs at airports all over the country! They have free snacks and drinks, comfy seating and a corner area just for kids. Also, DYK that if you need to bring a car seat or stroller, you can check them for free? We purchased these affordable car-seat cases ($21.99) and use them not only for car seats but to store coats and other items that you may not have room for in your other bags — again, for free.
Carry on an Extra Set of Clothes…for Everyone
This is easily the most important tip I can share. From spit-up and blow-outs to, no lie, the time my son managed to smear a small container of slime all over his shirt AND MINE in under 15 seconds, it's saved us on almost every flight. I bring them in a gallon-sized Ziploc so that I have an air-tight container to put the dirty items in. It's also wise to bring a comfy jacket or sweater since airplane temps are unpredictable…and who knows, you may get lucky and they'll want to take a snooze!
Goody Bags That Go the Extra Mile
I pick up a few toys and treats, wrap them for extra busywork, and don't give them out until we're on board. (Which, by the way, is not when they say parents with small children can board. Kids shouldn't be on that cylinder of anxiety and aggression any longer than they have to be.) The infamous slime was a bad idea but Play-Doh actually worked well! Here are a few other toys that have managed to keep my kids' attention long enough for me to pop open my mini bottle.
P.S. For those with slightly older kids, an airport/airplane scavenger hunt would be a great way to pass the time!
Snacks, Obviously
If you're a parent of children with teeth, it's highly likely that you're already a human vending machine. Snacks save lives. I like to make sure we have a variety of confirmed favorites and exciting options, with a good mixture of healthy and not-so-nutritious. Snacks like grapes, fruit snacks, cashews, almonds, cheese, and little sandwiches are great because they're not powder kegs of crumbs waiting to piss off even the most patient flight attendant. A few favorites that you can easily order on Amazon:
Hold Off on Electronics Until You're in the Air
As much as we'd like to hop on board and plug right in, I've found it best to hold off on iPads/phones/electronic games as long as possible. The chaos of boarding and take-off is often enough to keep a toddler entertained and you don't want to bring out the big guns until they're absolutely necessary. But, hey, if you've got a kid who will zone into an electronic for an extended period of time, no judgment from this mama, I just don't have that good fortune. Our 3-year-old loves her headphones and hearing her narrate a Peppa Pig episode en route will put a smile on everyone's face. Make sure you download content to your Prime Video, Netflix and/or Disney+ app so you can access entertainment without Wi-Fi.
No, Really, Lower Those Expectations & Give Yourself a Little Grace
When I was pregnant, I remember thinking "I'll definitely be the kind of person who brings gifts for my fellow passengers to bribe them into not giving me dirty looks while we fly… even though I'm sure my kid won't do anything wrong." You know, the kind of naivete that only someone without kids can have. But after a few flights with my first, I realized that people are mostly very understanding. And if they're not, they would have gotten upset about something else, anyway, so don't let it affect you any more than the tantrum you're already dealing with.
Sound off with your own tips for traveling with toddlers in the comments!