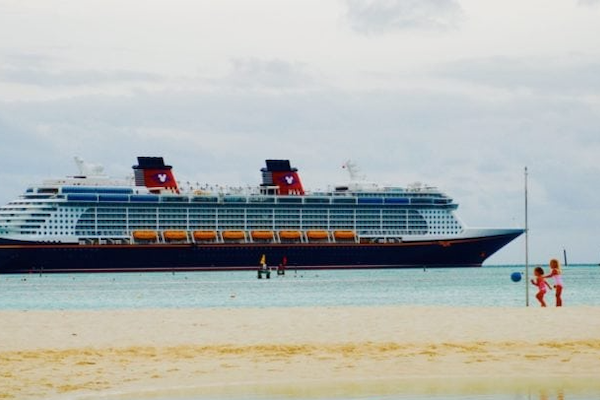 Growing up, we never took cruises, so I never knew what I was missing. Then in 2011, the Disney Cruise line was making headlines because they were debuting two new ships. We decided to take my oldest daughter for her 5th birthday for a quick three-night jaunt to the Bahamas on the Disney Dream.
Y'all, it was amazing! It was relaxing, fun, and they offered so many activities for adults and kids and families. The people who worked on the Disney cruise ship were from all over the world and would bend over backward to make sure they were taking care of our every need. The food was great, and I came home refreshed and relaxed instead of exhausted and in need of a vacation from a vacation. I. WAS. HOOKED!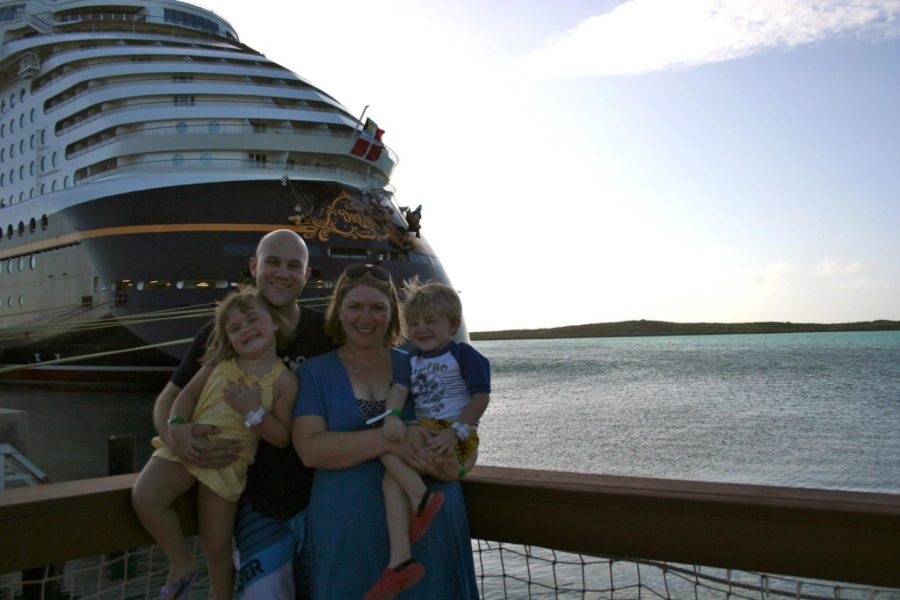 Fast forward to 2017, and we have been on 10 Disney Cruises and are headed on a 15-night Transatlantic Disney Cruise this May. I am giddy with excitement! My love of Disney Cruises has only grown from my first cruise, and I am going to share with you some tips and tricks for making the most of your Disney Cruise and also getting the most bang for your buck. (Because these cruises can get expensive!)
Booking your cruise
Book early! My advice is to join the Disney Cruising Facebook group. This group has thousands of members and is a wealth of information and a great resource for asking questions about your cruise. This group will also post when new itineraries and dates are released for new cruises. Disney Cruise Line releases itineraries for upcoming cruises 12 to 18 months out. The first day these itineraries are made available for booking is usually the absolute best prices you will get on a cruise.
Discounts. That being said, we have a little perk known as the Florida resident discount! SOMETIMES, these prices are better than booking early, sometimes they are not. But the great thing is that if you book a cruise early without a discount, and your cruise does go to discount, Disney Cruise Line will adjust the price and give you a credit on your credit card. I went on a seven-day cruise last year and booked over 15 months out. Two weeks before the cruise, it went to Florida resident discount, and we got back $1,700 and upgraded to a better stateroom! Cruises don't go to Florida resident discount until about two to six weeks before sailing. Discounts are released every Monday morning. My best advice is to book early, and as your cruise date approaches, start checking the "Special Offers" section of the webpage. Also, military discounts are usually some of the best discounts Disney Cruise Line offers! Military discounts can be found under "special offers" as well.
You've booked your Disney Cruise, hopefully at the best price possible! Now what?
The Disney Cruise Line website and associated blogs are full of the basics of what to pack, how to plan, etc. I'm going to give you my rundown of tips and tricks to make your cruise as enjoyable and cost-efficient as possible.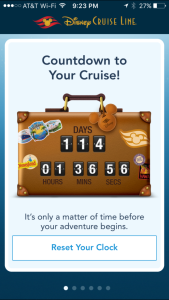 Download the Disney Cruise Line app. This is the first thing you should do after booking a cruise. The app serves as a countdown 'til your cruise (which is great if you are just generally super excited about your cruise, but also very helpful in knowing when you can book port adventures.) I also tell everyone to download this sooner rather than later, because a lot of people forget and try to download it once at port. The signal isn't great at Port Canaveral, and everyone and their brother are trying to download it and post pics on social media, and you know what that means — SLOW connection. So do it early and don't stress! Once you board the ship and get on the ship Wi-Fi, the app is where you will go to view your daily "Navigator," which is the schedule of events for each day. It is a wealth of information and lets you know about activities, shows, character meet and greets, etc. This is how you plan your day. This app will also let you text with people on board the ship. (And use the cutest Disney-themed emojis!)
Pack a day bag for the first day of your cruise. When you arrive at port, you will check your luggage much like you do at the airport (remember to tip these nice guys, they work for the port, not Disney Cruise Line). Your luggage will be sent to your room, but it often doesn't arrive until later in the day. Also, rooms are not ready until around 1:30 p.m. on the first day, so if you board before then, you will have some time to spare. The first day is a perfect time for the pool and water slides. So pack your swimsuit in a day bag, and change when you get aboard!

Bring magnets for your door! There are so many rooms and each deck pretty much looks the same. I recommend bringing magnets to put on the door so your stateroom is easily identifiable. You'll find that putting magnets on the door is "a thing," and there are many ideas out there! We've ordered magnets on Etsy and colored our own. We make one for every cruise as a memento, and it's fun to put them up each cruise and remember all the past cruises we've been on — kind of like ornaments on a Christmas tree.
Bring your own alcohol. You heard right! DCL allows you to bring your own wine and beer. Two regular-size bottles of wine or two six-packs of beer per adult. You can also buy wine or beer at your ports of call and bring them aboard, but again, the limit is the same at each port. This cuts down on the cost of things quite a bit if you are one who likes to partake in drinks! If you choose to take a bottle of wine to dinner, beware they do charge you a $25 corkage fee. I am all for paying that at the adults-only restaurants if it's a nice bottle of wine, and we need it decanted, but I usually bring a yeti or ask for a glass from room service and poor a nice big glass before dinner and take it into the dining room with me. You won't be alone. You will see people aboard the ship with cups, yetis and water bottles, usually decorated in Disney vinyl, and you better believe adults are filling those cups with booze!
Bring your own cup. There is unlimited soda on the ship at the beverage stations located by the pools. The cups they provide are tiny, so I highly recommend bringing your own cup. It will save you some trips to the drink station.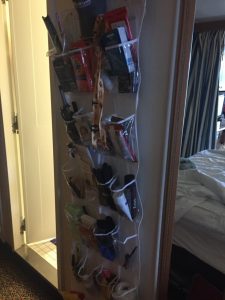 Bring a shoe organizer to hold all your stuff. This has been a great tool in keeping our stateroom organized. Over-the-door holders are not permitted on the ship, but you can attach a shoe holder to a hanger and hang it one of the hooks in the room. This a great place for goggles, sunscreen, medicines, sunglasses, etc. — all the little stuff that can clutter up a room. There is not a ton of storage room in the staterooms, so this helps keep the kids' things organized!
Order as much as you'd like at dinner. You heard right. Cruises are pretty much all you can eat! So if you see two entrees on the menu that tickle your fancy, order both. You are on vacation! Also, if there was something you really liked at a particular restaurant, they can usually get it for you. For example, I'm obsessed with the escargot from the  Royal Palace, and I asked for it almost every night of our cruise. (I know, totally gluttonous!) Also, not to fear. If you don't see chicken nuggets or your kid's usual go-to, they can usually get it in the dining rooms. Basically, if it is on the ship, you can get it.
Order five fancy coffees, get the sixth one FREE! On every ship, there is a Cove Cafe, located close to the adult pool and is an adult-only coffee shop. It's the only place you can order your fancy coffee drinks, is very good and is usually staffed with lovely, knowledgeable baristas who take their latte-making seriously! Each time you purchase a drink, they will stamp a card. Once you have five stamps, you can trade it in for your next drink. If you just want plain coffee, you can get that at the beverage station by the pools.
Order room service. Disney Cruise Line offers 24-hour free room service! I will admit, the selection is not the best — if you want better quality food then head to a restaurant. But if you are looking for a midday snack or the kids are just hungry, definitely give room service a try! My recommendation is the "All Hands on Deck" cheese plate. It's a simple plate of cheese, crackers, and grapes and makes an awesome afternoon snack. You can also ask room service to bring you some wine glasses and a wine opener for that wine you brought on board. My other suggestion is to order breakfast and coffee the night before. In the drawer of the vanity in each room, there is a breakfast room service card. Place this card on your door before bed, and check off what time you would like your breakfast delivered in the morning. This is so useful if you are like me and wake up before the kids and want your coffee! Also, they bring you a big carafe of it. Good for up to six cups! Don't forget to tip the people that bring you room service.  You can now charge it to your room, but cash is appreciated. I usually bring a stash of ones specifically for room service.

Take time for yourself! A Disney Cruise is a great time to actually get some time to yourself. Put the kids in the kids' club and head to the adult pool or an adult-only dinner (or Palo Brunch — HEAVENLY!). Of all the things I love about a Disney Cruise, my favorite is that it actually feels like a vacation for me, too. When I go to Disney World with the kids, it's exhausting. I come home needing a vacation after the vacation. A cruise is an opportunity to enjoy some YOU time while the kids have a blast doing their own thing!
Have you been on a Disney Cruise? What do you love most about them? Any other tips and tricks for our readers?