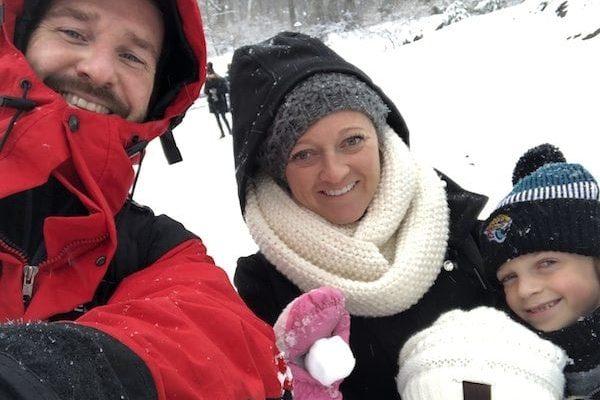 My husband often travels for work, which means hello travel perks like air miles and hotel points! We decided to take the kids on a big trip, and after researching our options, we settled on a New York City vacation over spring break. We wanted a nice blend of tourist attractions, history and museums, entertainment, and just the overall experience and amazement that comes with being in a big city.
When to Go
I don't think you could ever go wrong when it comes to timing a trip to NYC. Summer can be blazing hot (who knew?!), but with November and December come exciting parades and beautiful holiday displays. We chose spring break because the kids were off school, and we were hoping to catch one of the last snowfalls of the season. My kids have never seen snow, and it was a major kid bucket list item for them. It flurried a little the day we got in, but by the time we woke up, it was a winter wonderland. While it only snowed for one day, it was amazing and made the trip even more special. The rest of our time there was so chilly and brisk, just what we had hoped for!
Where to Stay
My husband and I have traveled to NYC kid-free many times, and we love staying in midtown close to Central Park. It's quieter and just far enough from the craziness known as Times Square. This time, since we had the kids in tow, we decided to jump in headfirst and stay in the heart of Times Square at W New York – Times Square. It was fun being in the center of it all, and the kids loved the bright lights, the people, the horns honking, and basically everything touristy about the area. We were in walking distance to a lot of what we wanted to do and were close to the subway station that had trains that basically went everywhere. Times Square was a perfect location for us with kids — but just as a couple, well, that's a different story!
What to Do
The choices are literally endless! Like I said before, we wanted a good blend of things to do, yet still wanted some flexibility in our schedule to just take in the city without being tied down. It worked out well with the massive snow storm that my kids wanted to play in! We ended up purchasing a New York C3 pass, which gets you into three iconic attractions at a lower price than purchasing each individually and allows you to bypass purchase lines. There is also a City Pass where you get six attractions and nine days to use it. This is a great deal, too, but we wanted a little more flexibility with time. These are the three attractions we chose, and they were all amazing in their own ways.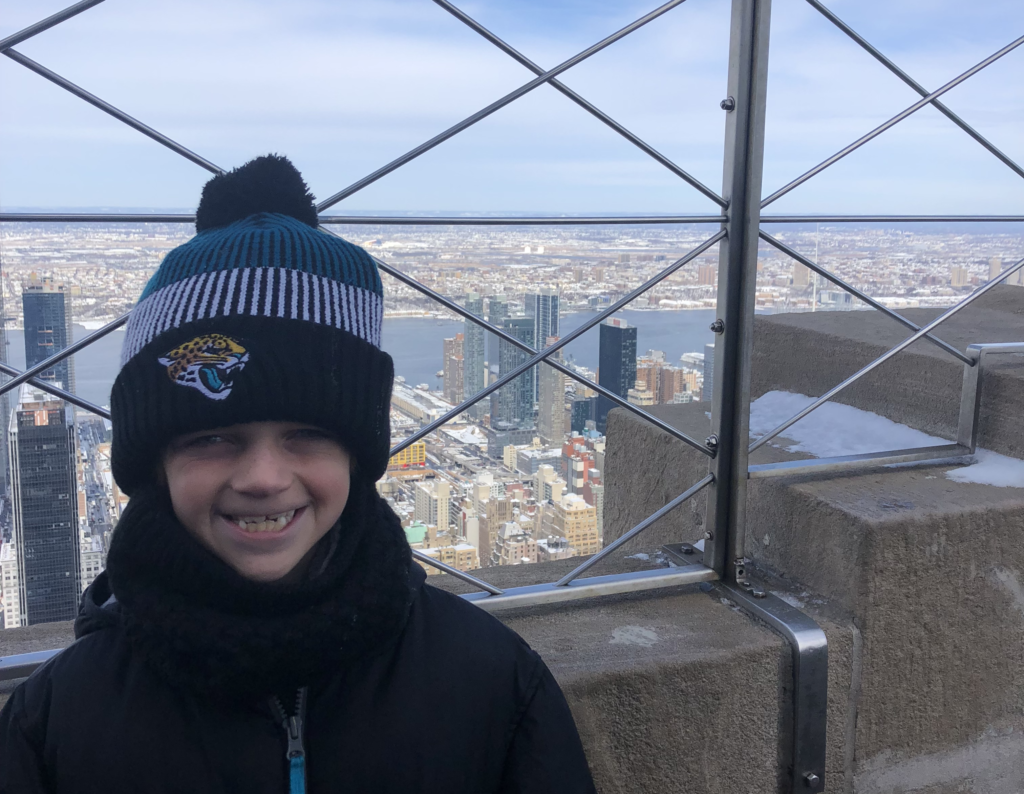 Empire State Building: My husband and I have been to the Top of the Rock a few times before sans kiddos, so we decided to take them to the iconic Empire State Building. My son had checked out a book from the library earlier in the year, so he was pumped to find out we were going. That and the fact that it gives you a perfect view of the Hudson River, and his name is Hudson! It offers a 365-degree view of the entire city. The Dare to Dream exhibit was informative and kept our 8-year-old enamored by the history of it all. It is really incredible how fast that massive building went up! The top observatory deck on the 102nd floor was also big hit with our crew. It was cold and windy, but that didn't damper the mood. The kids had never been up in a building that high!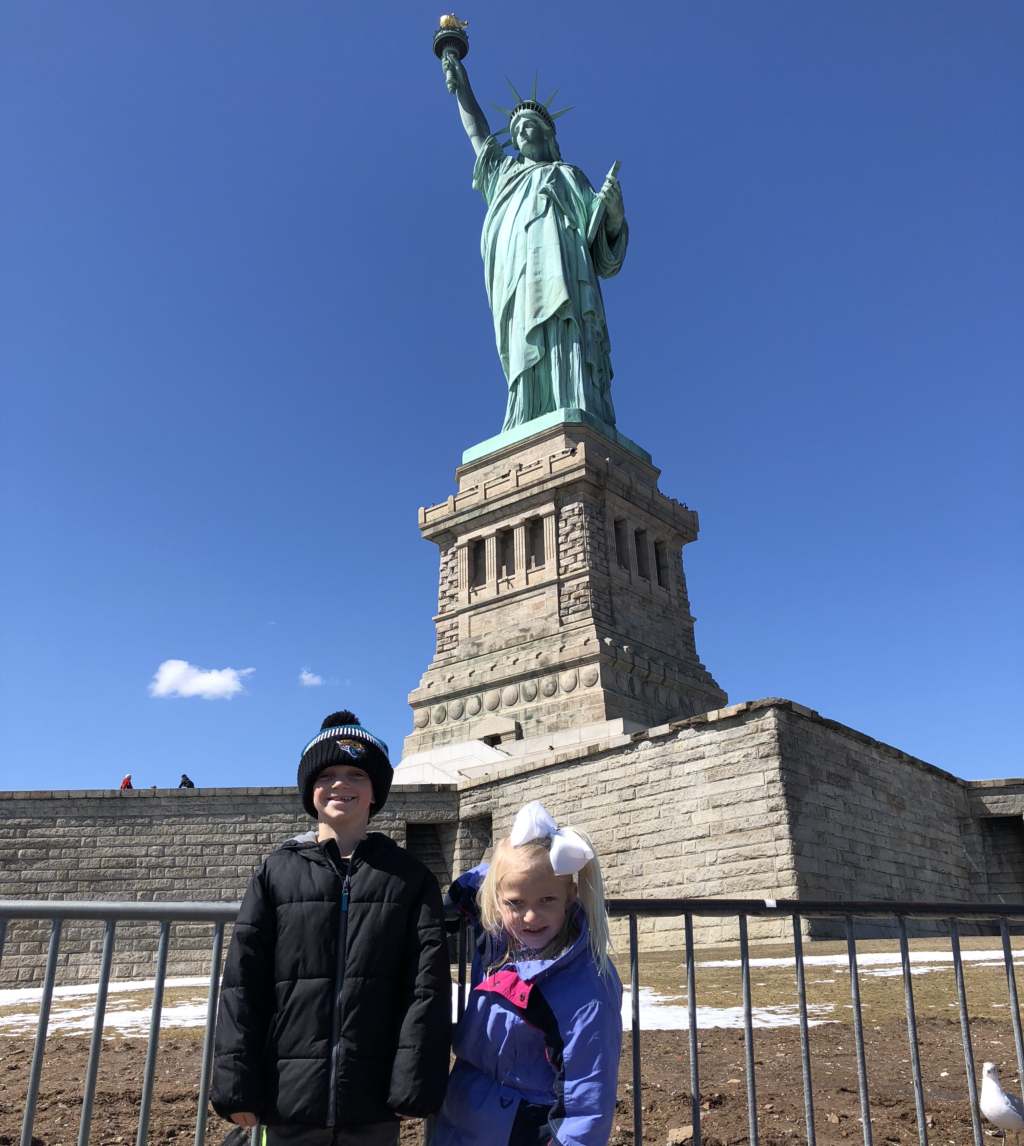 Statue of Liberty/Ellis Island: What's a trip to NYC with out seeing Lady Liberty? This was my 5-year-old daughter's pick. I have to say, if you choose to do this, go early! The security line can be long and is just as legit (or more so) than TSA. Once you get through security, which took us over an hour, you wait for a ferry to take you to the island. It was a quick ride over, and the views of the city are amazing. You can also purchase separate tickets to go up into the pedestal and crown; they are limited and sell out weeks, and sometimes even months, ahead of time. Once you are done at the Statue of Liberty, you board the ferry again, and it takes you over to Ellis Island. Such a cool experience for us and the kids to see where history actually happened and being able to look up family members who came through.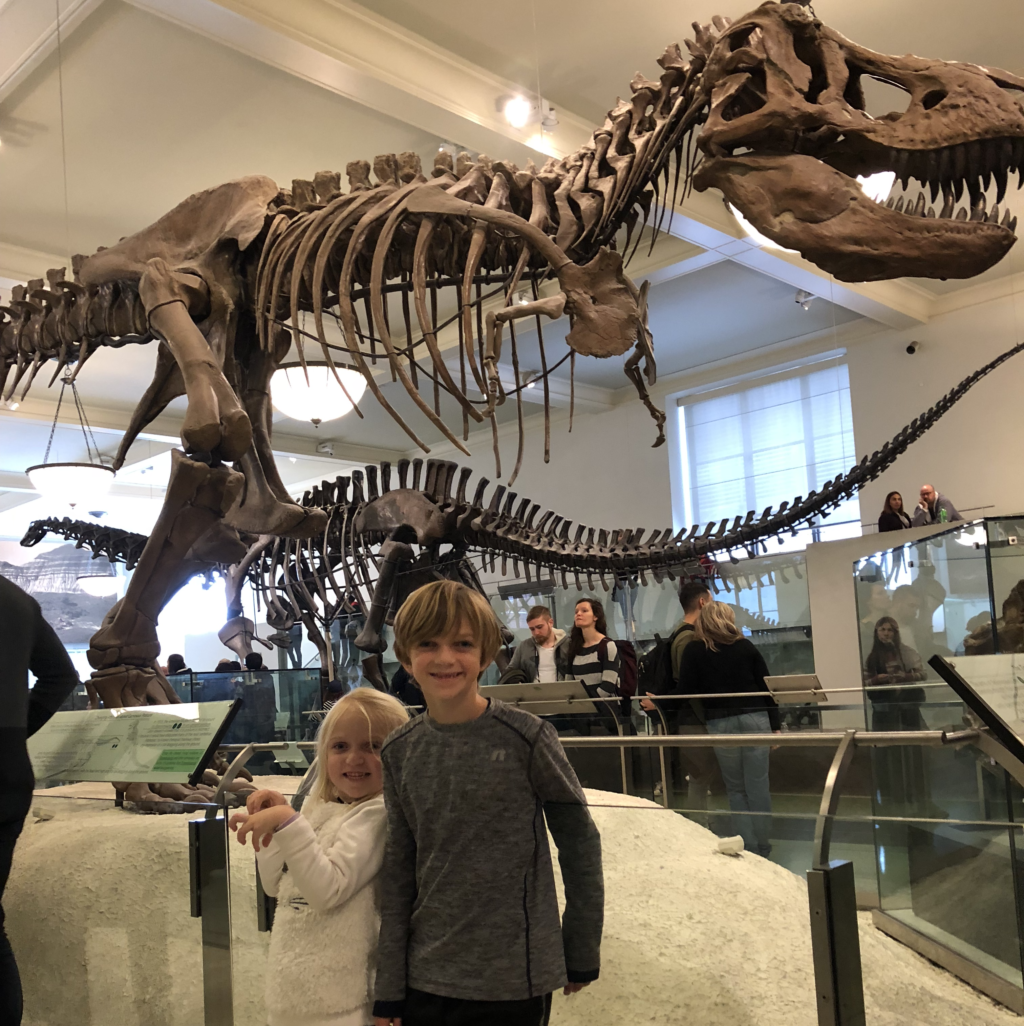 American Museum of Natural History: I have to say, out of all of the things we did on this trip, this was my personal favorite. I have never been to such an incredible museum. The highlights for us were the Hall of Nithischian Dinosaurs and the Arthur Ross Hall of Meteorites. In the Hall of Nithischian Dinosaurs, there are around 100 specimens, 85% of them being actual fossils rather than casts. They range from teeny tiny, squirrel-sized dinosaurs, to dinosaurs as tall as the ceiling and as long as the room. We were all astounded by what was displayed. The Arthur Ross Hall of Meteorites was equally as impressive, boasting rare Mars specimens and moon rocks collected from the Apollo Missions of the 1970s.

See a Show
I've never really thought of Broadway as being kid friendly, but I was definitely wrong! I looked for a show that would satisfy our whole family. Kid One is way into sports and not artsy at all, while Kid Two is artsy, but more timid when it comes to scary things. I definitely wanted to make sure it was age appropriate but still something my husband and I would also enjoy. I had a friend post pics of her family at a few shows, so I reached out and surprisingly her family LOVED Spongebob Squarepants: The Musical.  I was hesitant because my kids have never been into Spongebob, but when I looked up ticket prices, they were very affordable, and I figured if it was a flop, we'd visit a TKTS window and buy tickets to another show on the fly. It ended up being incredible! All four of us were throughly entertained; it wasn't cheesy or potty-mouthed like the cartoon. It was a full-blown Broadway show with amazing actors and dancers! The Palace Theatre was beautiful, and it was conveniently right across the street from our hotel. I don't think there is a bad seat in the house!
Riding the Subway
It really is the most affordable way to see the city! The people watching is great, and it really was faster than catching a taxi through the heavy traffic. It wasn't too challenging to navigate, and we figured out our trains and stops the night before. I never felt unsafe at any point.
Eat! (And Then Eat Some More)
Some of the best food I've ever eaten is in NYC. Now, this trip, we didn't hit up any fancy dinners, but we ate on the fly and never had a bad meal.

Exploring Central Park
There is so much to do in Central Park. You can rent bikes, run, have a picnic, play soccer, people watch, climb rocks, visit the zoo, play on one of many playgrounds… I could go on and on. For this trip, we were lucky enough to meet a sweet family from the Upper East Side that let us sled with them. These Florida beach babes had the time of their lives!
Walk Around and Take It All In
We logged a lot of miles on this trip! We were total tourists and took everything in. From Central Park to the Diamond District, Chelsea Market and the High Line, Little Italy and Chinatown, Hudson Yards and back to Times Square. The walkability of this city (if you are willing to huff it!) is unparalleled. And if you get tired, simply hop on the subway and take it to where you want to be.
This truly was a trip for the memory books. It was a great opportunity for us as parents to see the wonder and amazement of our kids experiencing a big city for the first time. I thought it might be overwhelming for all of us, but it wasn't. It was easy and enjoyable for all. The Kwartler Family loves you, NYC! Now to start saving for our return.
What big city do you think we should visit next?