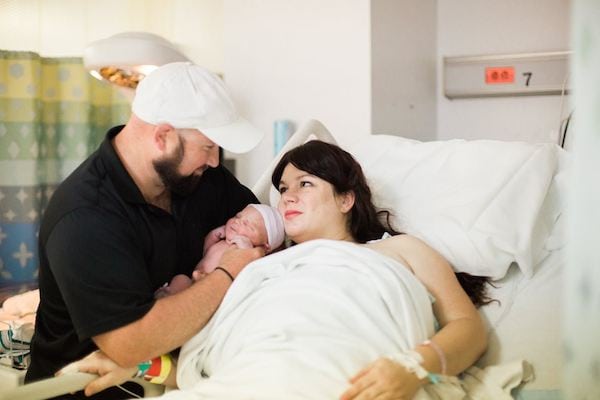 Last October, I found out I was pregnant with baby no. five. While not entirely unexpected, the news wasn't something I was able to completely celebrate; I had a lot of concerns and fears about having that fifth baby. Fast forward nine months and our bundle of joy is here: a little girl we named Felicity Rose. With her arrival, I feel like our family is complete. We have five beautiful, healthy children. Our kids love each other, they're happy, and we… well, we're mostly exhausted. And for multiple reasons, reasons that can be better discussed later, we now know that Felicity will be our last baby. And it's a bittersweet realization at best.
The good? I really don't want any more children. We have a lot on our plate as it is; my husband is a full-time student while I work from home. Several of my children have special needs. And having five kids in six years is really not for the faint of heart; it's stressful, tiring, and loud. Really, really loud. I could, in theory, handle having another baby and survive, sure. But there won't be another one. Having had five c-sections, a sixth would be ill-advised, to say the least, so we don't have the choice in growing our family. And even if we did, the reality is that we're happy to call it quits at five. I love my children, but I don't want to burden myself with more than I can handle. I want to stop while I'm still able to be a good mom to the kids I have now. And knowing there won't be any more babies in the future is a big relief.
And yet… there is still a bit of sadness when I look at Felicity and realize that she will be my last one. There will never be another baby after this. I'll never again realize the excitement of seeing a plus sign on a pregnancy test. There will never be the thrill of feeling the first kick or seeing tiny baby toes on an ultrasound. No more picking baby names. No more dreaming of what my baby will look like. There won't be that moment when I see them for the first time, tears in my eyes, as I finally meet the little person I've dreamed about. No more soft baby skin, no more baby snuggles. It's all over after this. I may want it to be over, but there's still something that is just so sad about that.
So while of course I try to make sure to enjoy and appreciate each moment for all of my children, there's something more pressing about that now. I've promised myself to indulge each second of this, because it's not going to come again. The way she nestles her tiny head into my neck, that satisfied way she smacks her lips after she eats, her chubby little baby cheeks. Down the road, these will be the final "firsts" — the first steps, the first words. I want to make sure I slow down and remember everything, instead of wishing that each phase would hurry up and get here. Those tiny hands won't grip my finger for long; she won't have that intoxicating new baby smell forever. Eventually, she'll grow up and get bigger and it'll happen before I even know it. And there won't be another baby coming after that. I may not want more children, but that thought — that she's my last, that this is it — brings me to tears.
How did you feel when you decided your family was complete?