As a new mom, our worlds are turned completely upside down when we bring that little bundle of joy home from the hospital. We quickly realize our time is consumed by feedings, diaper changes, and cuddling! Our daughter, Charlotte, was welcomed into the world, on the other side of the world, in Hawaii! We had only lived there for about 7 months prior to her arrival, so we were new to Hawaii and new parents. We planned for everything; the new baby class, the Lamaze class, infant CPR and the hospital tour. All of our family was back in Florida anxiously awaiting the arrival of sweet Charlotte. We were all surprised when she decided to come one week early. All of our family had decided to fly out later so they could maximize time with Charlotte should I go past by due date, which meant we had no family or immediate support when Charlotte was born.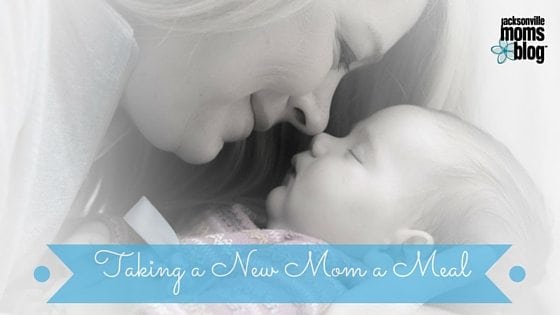 Our Hawaii family (or Ohana as they call it there) came from all over to shower us with meals. Our church, friends, running group, and my husband's co-workers brought us meals for over 5 weeks. It was by far one of the greatest blessings and the biggest help while caring for a newborn! Now, I love paying it back to new moms when they have their babies. You can also offer up meals for a sick child or a family who is going through a rough time. It is one less thing for them to stress over or worry about.
Here is an easy step-by-step guide to making the perfect meal for a new mom!
Set up a meal organizer or meal train website. There are several different sites available including Meal Train and Take Them a Meal. Both of these services are free and allow for those to sign in, pick a date and see if there are any allergies or food preferences and aversions. It will also let you know how many adults and children to prepare for.
Purchase disposable containers or trays. The last thing you want a new mom to worry about is washing your casserole dish or worrying about it getting it back to its rightful owner. Make it easy and send your meal in a disposable container. I love making casseroles and always pick up an extra set of 13×9 aluminum pans with plastic lids. You can never have too many of these!
Plan and prepare your meal. Be sure to ask the mom what time you should deliver the meal. Sometimes this is listed on the meal organizer website too. If a casserole needs baking, you can always provide instructions to heat so that the meal is hot and ready when they are ready!
Don't forget something sweet! I like to bring something sweet when I deliver my meals. If you are a baker, you could do cookies or cupcakes, or pick up a store-bought item. Whatever you choose will be appreciated, especially by big brothers and sisters!
Deliver your meal. When delivering your meal, be sure to make it short and sweet. Offer to help with something if you can. Emptying the dishwasher, folding laundry or holding the baby while mom showers. If you are going to stay for a bit, just try to be helpful! Be sure to include any heating instructions in your delivery bag too! You can also include an inspirational note for the mom if you have time.
Stumped on what to make? Here are a couple of my favorite go-to casserole dishes:
What if you are busy and don't have time for all of that? You still have options!
If you are a member of Shipt, have them deliver a rotisserie chicken meal from Publix. It has side dishes, rolls and you can even add a dessert. If your order is over $35, then the delivery is free!
Ask the mom her favorite take-out restaurant and pick up dinner from there!
Find a restaurant that delivers and set up a delivery. This one is super easy!
I can't tell you how much new mom meals helped me when I had our little one! Regardless of whether you bring a home-cooked meal or one from a tasty restaurant, the gesture will be very much appreciated!