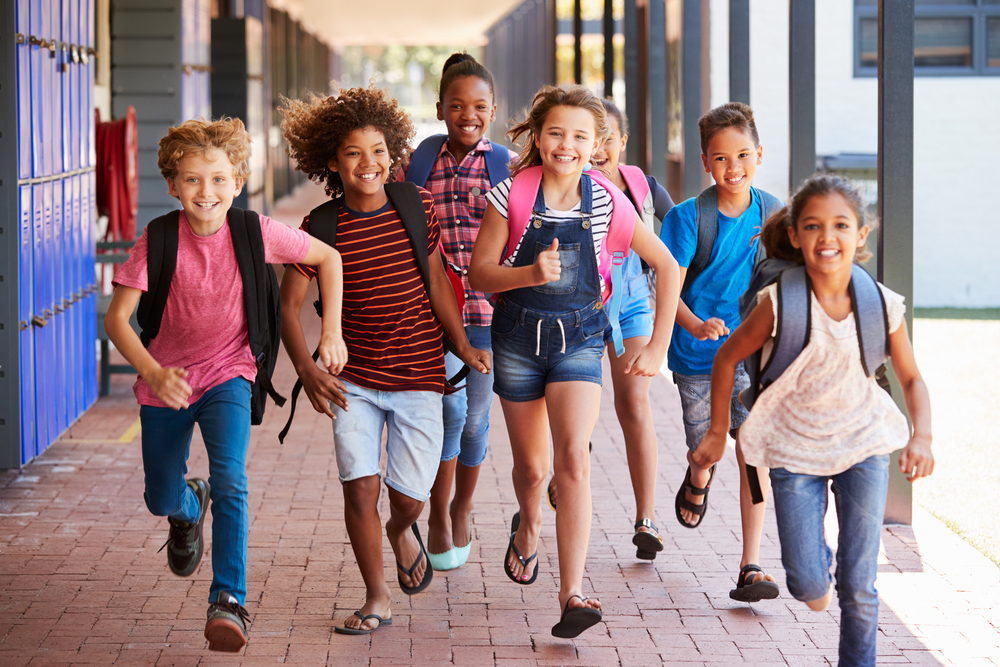 If you're like me, I stressed about middle school WAAAAY before I needed to be stressed. Put it this way: I attended Fifth Grade Parent Information nights at our surrounding middle schools as a fourth-grade parent, and again as a fifth-grade parent. In our county and neighboring counties, we have excellent choices for middle schools that include magnet, charter, private, and homeschool co-ops, in addition to our neighborhood public schools. We are fortunate in this regard, but it's like the menu at Cheesecake Factory — too many options can present a paradox of choice.

I've read countless articles about why families chose an alternative school to the neighborhood school and all of the reasoning is valid because people make the best decisions for their family. Like many, we even discussed moving to a neighboring county a few years ago "for the schools." Once we realized it was the perception that the neighboring county schools were better, not the reality, we remained dedicated to our county schools. Regardless of the county in which you reside, where are the voices for the good ol' neighborhood public school? Why do the voices seem louder for alternative schools? After considerations for ALL the schools available to us, we viewed our neighborhood school as the best option — not the only option. Here are some reasons, besides the school's resume of rating and ranking, that influenced our decision.
Diversity in school will prepare him for the real world.
I'm referring to all types of diversity: racial, cultural, religious, socioeconomic, students with disabilities, diversity of interests, etc. Private, magnet, and charter schools work hard to have a diverse student body, but most of them remain homogeneous, simply by design. That's not bad, nor is it wrong. Seeking a homogeneous school environment can have advantages. However, public schools have greater inclusiveness of diversity and the more authentically diverse a school is, the more soft skills students can develop and refine. Soft skills like interpersonal skills, adaptability, problem-solving, and having high confidence in diverse settings benefit kids in school and throughout their life. We knew our community middle school had a fantastically diverse student body and soft skill development was an important factor in our decision making. Also learning that our middle school offered many clubs for various interests, and encouraging new clubs to be formed if an interest wasn't represented, the diversity representation box was double-checked.
My neighborhood school provides a wider range of academic classes, electives, services, and programs.
Public school faculty and staff are certified and highly credentialed to ensure ALL students with ALL levels of learning, no matter how complex, are successful, and this is certainly the case at our middle school. Students can have hidden superpowers disguised as disabilities and need additional support. Exceptional Student Education (ESE) provides specially designed instruction to meet the unique needs of a child and include those with learning challenges as well as gifted and academically talented students. Advanced learners at our school can participate in the GATE Academy (Gifted and Academically Talented Exceptionalities). This immersive program enriches each class daily versus a one-day push-in of GATE activities at other schools. A typical student at our school also has great advantages, like smaller class sizes for a strong teacher-student relationship and more elective choices than other middle schools (more than GATE students, too). For students who require self-contained classrooms due to their superpower, there is a highly qualified faculty team dedicated to them. I feel our neighborhood school isn't singularly focused, but a place where any student can expand their interests, be challenged accordingly, and excel. 
My friend asked me, "Where will he go to high school?"
We were also considering an excellent magnet school before we decided on our neighborhood school. I shared our dilemma with a trusted friend who has two high schoolers. She simply asked me where we planned to send him to high school? I told her our neighborhood high school, and she provided a perspective I had not considered. Clarifying, she questioned me that while he attended his zoned elementary school and made amazing friendships over those six years, he'll now attend a magnet middle school — start over in the friendship department — and then return to his zoned high school where he will try and reconnect with those friends from three years ago? He might do that with ease, or he may feel like he is starting over again because kids change. Even though friends move in different directions as they get older, it's easier for them to remain connected attending the same school. This tiny detail, while may seem insignificant, was the tipping point for us in committing to our neighborhood schools. The intrinsic value of long-term friendships is an important consideration for our family.
I grew up in a small town where there was one elementary school, one middle school, one high school, and I'm still in touch with friends I've known since kindergarten. Some of these friends attended our wedding and our baby shower, and I see them occasionally when I visit my parents in my hometown. My husband's family moved a few times when he was growing up, and he's often expressed how special it is that I have those long-term friendships. We discussed before our son was born that if we could provide that same environment of long-term friendships for him, we would try. Most of our son's friends were also attending our neighborhood middle school and thinking of this great group of kids moving through school together from kindergarten to twelfth grade warmed my heart. 
It should be noted that I believe in school choice and that all types of schools are important in education. I am simply a daughter to an amazing public school educator. I'm proud to have attended public school. I'm a parent who wanted to consider more criteria when choosing a school path for our son than whether a school was top-rated, had a shiny new campus, or whether one of their graduates attended an Ivy League university. Middle school education is important, yet measured in many ways.
So, I'm speaking up for the good ol' neighborhood public middle school. I urge you to consider yours as much as you consider the alternatives. Look at the subtleties like diversity, electives, school clubs and sports, parent involvement, PTA support, and your child's friendships. If your neighborhood school isn't top-rated, remember these schools get stronger when neighborhood families change the narrative and remain committed to them.
I'm changing the narrative. I'm proud my son attends his neighborhood public middle school! Who's with me?