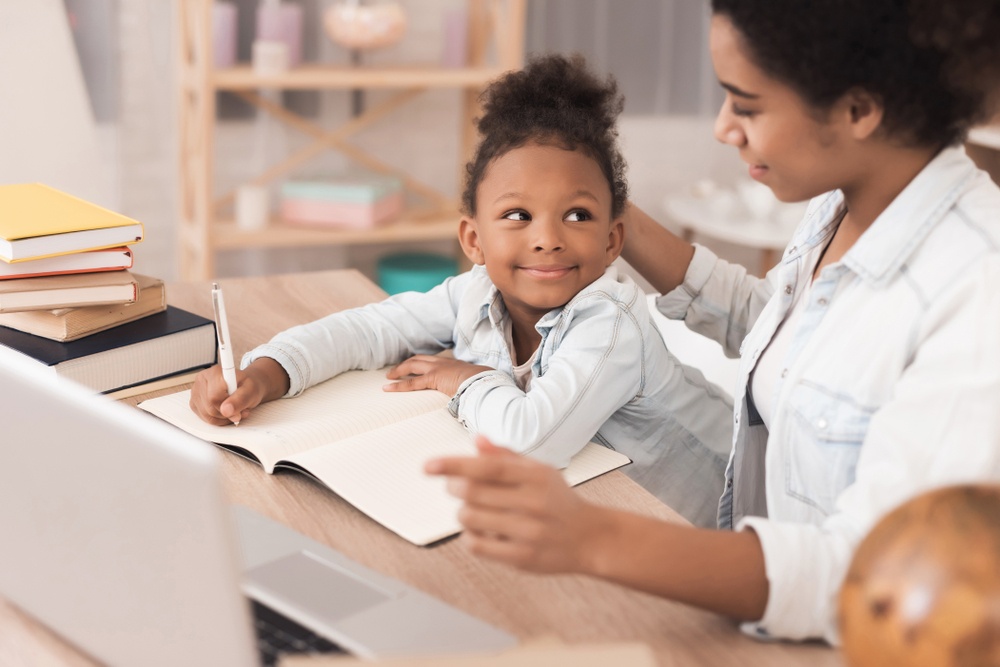 If you've found yourself taking on a few unexpected homeschooling responsibilities for an unspecified amount of time, rest assured you are in good company. Feeling a bit overwhelmed given the circumstances isn't uncommon, but hopefully, this list of (mostly FREE!) resources can help ease your mind and be of some service to you as you navigate what learning from home looks like for your family.
Early Childhood / Pre-Kindergarten
Alphabet Tracing: This can be done in many different ways. You can use alphabet cards and have them build each letter on top of the cards with different objects or make the letter from Play-Doh. You can also put sugar or salt on a plate and have them write the letters with their fingers.
Sort Items Small to Large: Place items of differing sizes in a bin and have them pull them out and sort them from littlest to biggest.
Practice Transferring: Work on fine motor skills by transferring material such as dry beans, rice, and water from one container to another with scoops, spoons, bowls, or bare hands.
Body Part Identification: Outline your child's body on a large piece of paper and have them identify and color each body part.
Where is Waldo-Inspired Game: Use a picture book or magazine and ask your child to point out different objects.
Float and Sink: Grab a tub of water and a variety of objects and make predictions of which ones will float and which will sink. Test the predictions and chart your findings. (Bonus activity: Let them wash the toys in the tub after.)
Puzzle Making: Cut a picture into pieces and have them glue it back together on cardboard or a separate sheet of paper. You can use pictures that they are very familiar with to make it easier for them (selfie time, anyone?).
Cooking Lesson: Create a one-pot meal together. Have them help wash the veggies or fruit, then cut and stir. Ask them questions throughout the process. What color is this? Is this piece bigger or smaller than that piece? Is this rough or soft? Is this sweet or sour
Early Elementary School
Kool-Aid Playdough: Check out the recipe here. Older kids can also help make the playdough by mixing and measuring all of the dry ingredients. Once your playdough is made, this is a great activity for kids of all ages.
Circletime Online Classes: Circletime Fun allows you to engage with your children, a teacher, and other families in their online classrooms. Use code: homefun1.
LEGOs: They never get old and can be great for sorting colors, counting, building, and imaginative play.
Upper Elementary School & Middle School
Make a Comicbook: Literacy and illustrating combine to challenge your kids to create a prize-worthy comic book. Have them practice their oratory skills by reading aloud to the family at dinner or to their younger siblings.
Create a Board Game: Challenge your kids' creativity by having them design and draw a board game, complete with a full set of rules.
Practice Mindfulness: InsightTimer is a free app that helps manage feelings of stress and anxiety.
High School
Build a Portfolio: Consider the Cirkled In platform for college prep through highlighting your strengths and building your "story."
Free Ivy League College Courses: Get a taste of college life by signing up here for one of the 450 online free Ivy League courses.
Additional Resources
Scholastic Learn at Home Classes (Pre-K through 6th Grade): Even when schools are closed, you can keep the learning going with these special cross-curricular journeys. Every day includes four separate learning experiences, each built around a thrilling, meaningful story or video. Kids can do them on their own, with their families, or with their teachers. Just find your grade level and let the learning begin." -The Editors of Scholastic Classroom Magazines
ABC Mouse: There's a reason the subscription-based early learning academy ABC Mouse and its online curriculum is so popular.
Caribu Video Calling: If you are ready to pass the baton to the grandparents, Caribu is giving free and unlimited access to their app, so your kids can read and draw with family members in a video-call during in a virtual playdate.
Prodigy Math (1st through 8th Grades): Is your child into gaming? Well, let's make it fun with a little math-inspired gaming for free with Prodigy.
National Geographic Kids: A tried-and-true gem of our time, National Geographic Kids doesn't disappoint with their interactive learning platform for kids.
Mystery Doug Science Lessons: Mystery Doug has been a go-to source for science learning. Right now you can get a starter kit of K-5 science lessons free with no signup required.
Virtual Storytime: Don't have time to read aloud to your kids because you are working? Let an actor do it for you at Storyline Online.
Literacy Lessons (1st through 8th Grades): Afraid literacy skills are going to suffer during this time away from school? This wonderful teacher is sharing a free take-home literacy packet at no charge.
Khan Academy (Kindergarten through 12th Grade): Khan Academy is staying true to their mission of student learning by offering free self-paced and interactive content. It even has the option for parents to monitor progress and assign work.
Squiggle Park (ages 3 to 15): Gaming that builds foundational reading skills and comprehension skills? Please sign us up for Squiggle Park.
Still want more? Just because we love you so, please find an additional list of educational resources here.
What at-home educational resources do you enjoy? Comment below!