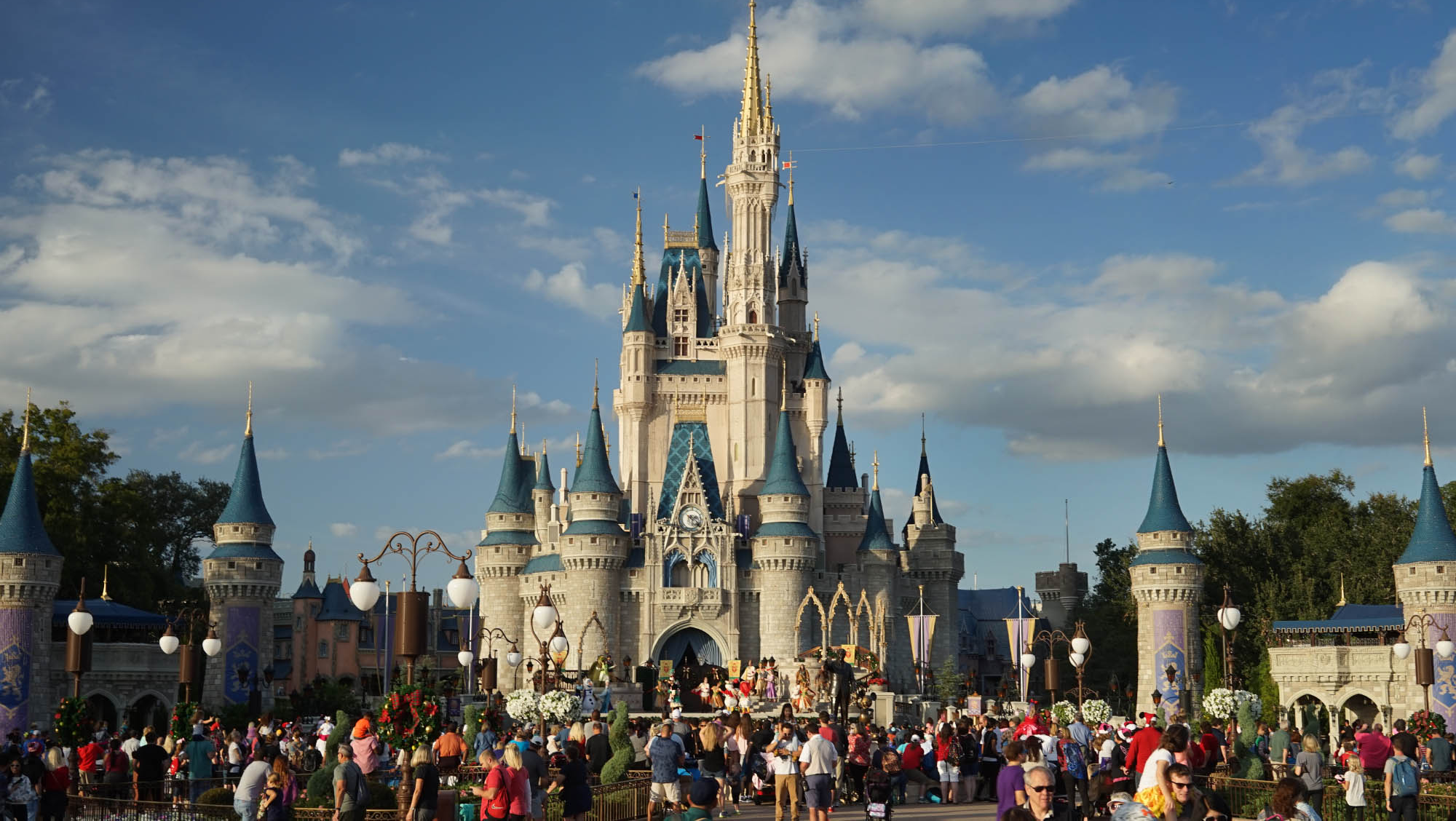 I grew up within 30 minutes of Anaheim, California, which meant that Disneyland trips were easy and scattered throughout my childhood, with a few glorious years as an annual passholder. When I moved to Jacksonville from the DC Metro Area, where there are absolutely no good theme parks, I excitedly set my sights on Walt Disney World (WDW). Last year, after figuring out Florida resident costs for annual passes, we bravely headed to the most Magical Place on Earth with our 11-month-old.
We've been a lot. (Let's just say our passes have more than paid for themselves.) Doing WDW with your child is a totally different ballgame than going as two adults who don't worry about naptime or meltdowns or strollers. But for me, it's totally worth it. For one thing, kids are free until their third birthday. Even if they may not remember every minute, the pictures and memories you make together will feel…magical.
Basic Tips
Download the My Disney Experience app.

The app allows you to see how long wait times are on each ride at any given moment, provides directions, and lets you manage or snag a new FastPass.

Pack snacks and water. Disney lets you bring in outside food and drink as long as it's not packed in loose ice. We've done sandwiches, bars, and endless snacks to entertain our toddler as we wait in line.
Identify the Baby Care Centers on the map and use them! These air-conditioned spaces have high chairs and microwaves, a nursing room, a quiet room with TV, and tons of changing tables that are cleaned almost constantly. They also have baby essentials for purchase like wipes, diapers, and baby food in case you forgot something. I love coming here for diaper changes instead of battling it out over the single changing table in the Tangled restrooms.
Ask cast members to take your photos.

If you're meeting a character and don't want to pay for Photopass or $16/photo, the cast member standing there will happily take your photos using your phone for free.
Make It Enjoyable
Determine the type of trip are you taking. Do you have passes? Are you going for just one day? A week? There's so much to see and do, and you definitely won't get it all done with a toddler. If you have passes, it's very easy to just ride a few things, eat a Dole Whip and go home. If you are just going for a single day

, you will want to do as much as you can — get there early and plan breaks in your day for everyone's sanity (shows, sitting inside a cool restaurant, a calm ride, or even a trip back to your hotel for a nap).

Prioritize.

 Look up the rides and shows at the park and pick 3-4 things that are must-dos and plan your day around those. Anything else is just a cherry on top.

Follow the lead of your child.

Are they an early bird? Get to the park before they open — they let guests into the entrance of each park early and you can sometimes grab a Starbucks and relax before the madness of the day. With fewer people there in the morning, you can usually knock out a lot of rides before the lines get long. If your child is more of a night owl, I do not recommend waking them up early. Go a little later and maybe you can stay for the fireworks and evening shows!  

Stay flexible.

Not everything will always go according to plan! We usually plan for a midday break back in our hotel so our son can nap. (We drive and stay off-site within 15 minutes or so, but if you are staying on property and using Disney transportation it can be even faster to get back to your hotel!) However, if your toddler happens to drift off in the stroller, that can be an opportunity to grab food or a drink, sit down, or even take turns going on the adult rides. I try to gauge how everyone is feeling — are we tired and cranky? Time to go back to the hotel and relax or call it a day.

Set them free. 

Kids do not want to stay in the stroller or carrier all day, they want to run around. There's nothing more nerve-wracking than your toddler taking off into a sea of matching Mickey Mouse shirts. Familiarize yourself with the areas they can go roam free (listed below) and use them when they seem antsy.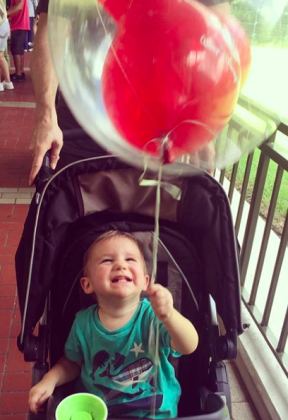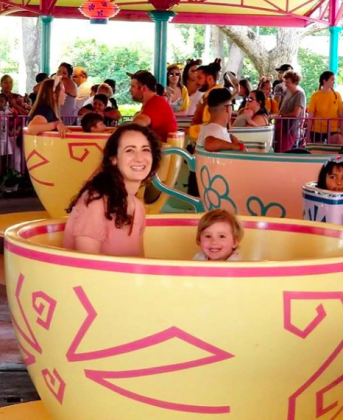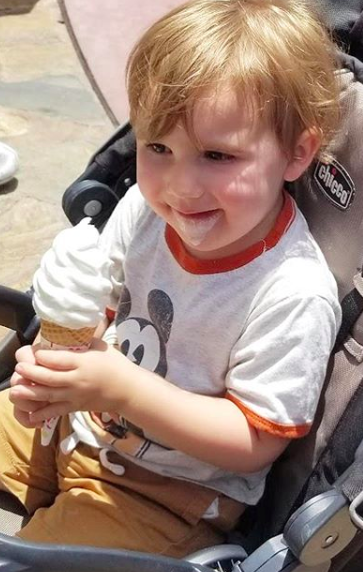 Toddler-Friendly Roaming Areas By Park
Magic Kingdom
Where the magic really happens, almost everything at Magic Kingdom is suitable for younger kids. Babies and toddlers can ride everything without a height restriction, which is the majority of the rides here.
Winnie-the-Pooh ride:

This ride has a small playground in line!

Dumbo ride:

You will get a pager and your kids can run around the air-conditioned indoor playground while you wait your turn to ride.

Casey Jr's Splash-N-Soak Station:

A small, friendly splash pad to let your kids (and you) cool off.

The Laughing Place:

 Located under the train tracks near Splash Mountain, this soft-surface play area is geared toward younger kids. Perfect for crawlers and early walkers.

Tom Sawyer Island:

Raft over to this peaceful island filled with trails, a fort, and tunnels to explore. Great for letting your kids roam, it's usually very empty.
Epcot
Somewhat overlooked, Epcot is a great park for kids. There are lots of rides suitable for the younger set, and the walk around the world has delicious food and drinks as well as things for kids to explore. This is also the park with the Frozen Ride and the only place you can meet Anna and Elsa.
Playgrounds:

There are actually playgrounds at Epcot, although they will rotate in and out depending on the festival and the season — check the map when you get in the park! There is a permanent playground located by the Mouse Gear store and Test Track.

The Seas:

After riding the Finding Nemo ride, step into the aquarium, where there are dolphins, manatees, and fish of all kinds. There is a small indoor playground near the gift shop.

Spaceship Earth — Project Tomorrow: After riding Spaceship Earth, explore the interactive area that explores future technologies. My son could spend all day pretending to drive with the Super Driver Simulator.
Germany:

Does your child like watching trains? There is a model train set near Germany where we spent a solid hour watching the trains. Our son made friends with the other entranced children while we bonded with the parents. Get a giant pretzel or caramel corn and a German beer on your way.

England:

Back behind the buildings, there is a garden maze where your child is supposed to run through the bushes (but may just crawl under them and get covered in dirt).
Animal Kingdom
This is one of my favorite parks! There are no lack of rides for toddlers, and the atmosphere is very relaxed, with exotic animals tucked around every corner. The quick service food here is excellent — we like the Satu'li Canteen and Flame Tree Barbeque. My son, were he writing this article, would note his favorite WDW ride, Na'vi River Journey, is at this park.
The Boneyard:

This huge playground will definitely get those wiggles out. Pluto also makes an appearance and will play with the kids!

Gorilla Falls and Maharajah Jungle Trek:

I consider these hidden gems of Animal Kingdom — our son loves to walk and stop and look at the gorillas, hippos, tigers, bats and more. Both of these are walking trails, and your toddler may want to walk themselves or hop in and out of the stroller.
Hollywood Studios
I confess this is my least favorite of the WDW parks to bring my toddler. There is one ride without a height restriction (Toy Story Mania) and one ride with a smaller height restriction (Alien Swirling Saucers). There are a lot of shows if your toddler will sit through them, including the Frozen Sing-Along, Lighting McQueen's Racing Academy and Beauty and the Beast. If your toddler loves Star Wars or Disney Jr. Characters, this is the best place to meet them.
Disney Jr. Dance Party:

Let your toddler rock it out with their favorite Disney Jr. Characters!

Echo Lake:

I discovered in a moment of desperation that the area around the lake with the big dinosaur (Gertie!) is usually empty and a great area to stretch out those legs from the stroller.
Additional Resources
These are just a few of the top tips and tricks I've picked up along the way that make WDW as smooth and enjoyable as possible. For very basic tips such as how FastPasses work, which rides you want to see, and which park is which, I recommend doing research before you go. The following sites have been extremely helpful in trip planning:
What Disney-with-toddlers tips do you have?