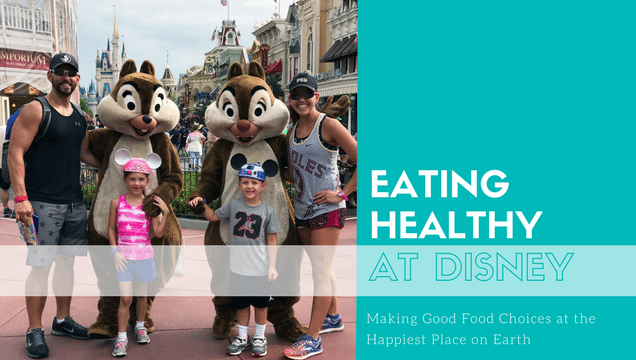 When we go on vacation or even just to the zoo, my first thought is always the food choices. It's literally a plan of attack. (I take food pretty seriously.) Healthy eating is a priority for us. We made our Heart Healthy Lifestyle change about three years ago, and it literally has changed our entire of way of life. We feel better, look better and our health is our top priority now. So, when it comes to planning our yearly trip to Disney World, my main "to-do list" involves our snacks, meals and making dining reservations for each day we are on vacation. Am I crazy? YES! Here are my tips and tricks for eating healthy at the most magical place on Earth: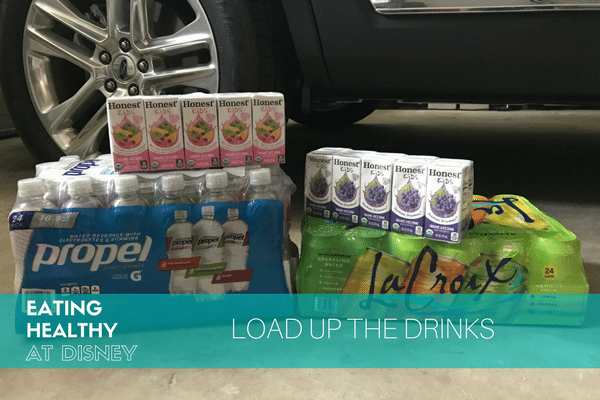 There is something we local Floridians should take advantage of, and that's bringing our own food and drinks to the hotel or resort we are staying at. Since we are so lucky to not have to fly, make it a priority to load up your car with drinks! Bring an entire case of bottled water, LaCroix, Propels, juices boxes, or whatever your family drinks. You CAN bring them in the parks! What?!?! Oh yes, you can! Another tip, bring a large empty water bottle. We refill ours several times around the park. AND did you know you can go to any quick-service restaurant or food stand in the parks for a FREE cup of ice? It sure helps if you're braving Disney in the heat of summer!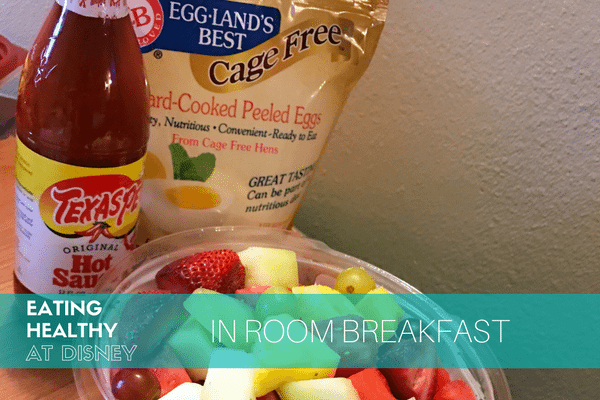 Breakfast is a quick meal for us, and the one meal we eat in our room. We bring fresh fruit salad, hard-boiled eggs, cereal, Greek yogurt and almond milk. I also make blueberry oatmeal muffins the day before our trip to take as another option. We want to eat good, quick and get to the park ASAP. I also hate paying top dollar for breakfast, so we always eat "in" and get rolling to the park.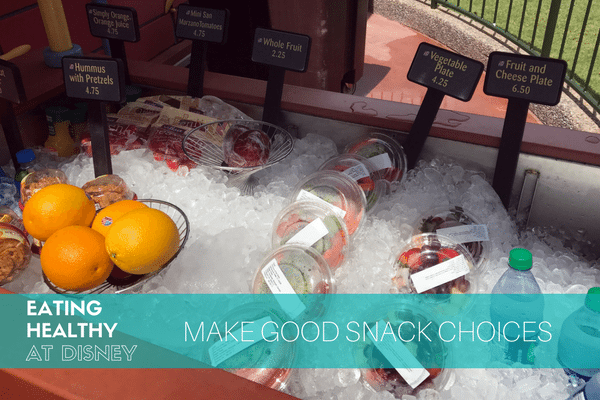 Places like Liberty Square Market in the Magic Kingdom, or this food stand at Epcot, make it super easy to stay healthy while snacking at Disney parks. From cheese-and-nut bowls to fresh fruits and smoothies, the choices are super yummy and filling. Disney has been really working hard to have more of these healthy pop-up stands readily available at all their parks.
If you want to save calories and money, try prepacking your snacks before you leave the house! A few days before our trip I prepack our snacks in a separate Ziploc bag: protein bars, oranges, apples, unsalted nuts, raisins, gum and lollipops (keeps the kids entertained). My husband and I each carry one of these "snack" bags in our backpacks. Each night I use our "snack sack" (pre-packed extras) to refill the snacks we ate that day to get ready for the next day at the parks. You'll have snacks ready at hand for those long lines or just walking around the park. And if your family is like mine, we eat ALL the time, so it makes sense to pre-pack!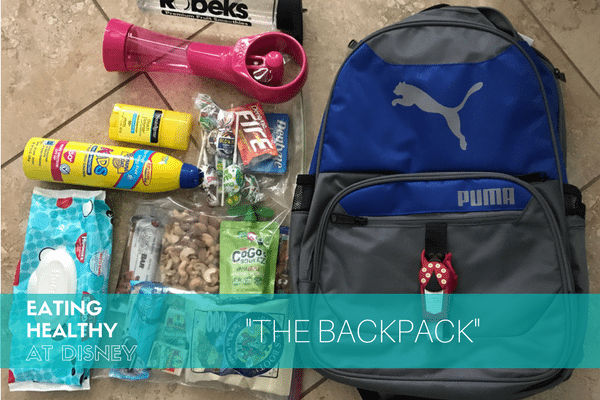 Have everything you could possibly need in one spot no matter where you are in the parks. "The Backpack" will be your best friend. We pack our pre-packed snack bag, water bottles, cooling fans, kids' change of clothes, ponchos, and of course, wipes and hand sanitizer. My husband and I both carry a backpack — one year we made the mistake of having only one, and it got super heavy, ugh!
If you have any questions about what is restricted in the Disney parks, click here.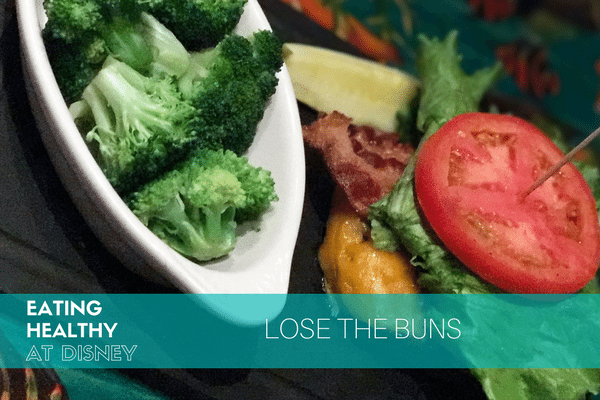 When trying to balance my park calories in meals, I lose the buns and complex carbs to save the calories for a treat, like a Dole Whip, yum! Here's what my dinner looked like at the Rainforest Café at Disney Springs: My husband and I both wanted a burger, so we asked for no bun and swapped the fries for broccoli. The kids had mac & cheese and mini burgers, with fresh orange slices and a banana for a side. Look for the Mickey Check at Walt Disney World restaurant menus. It makes it easy to spot food and beverage choices that fit your family's healthy lifestyle. When you find that Mickey Check, you'll know that option is both yummy and meets Disney nutritional guidelines! I love this idea, making it easier for kids to make good food choices. Kudos to Disney restaurants for offering more and more healthier options for both adults and kids!
We do eat special treats with the kids while at the Disney Parks, we are on vacation after all. BUT, if we go too far off our normal diet, our stomachs are pretty much done for. Make healthy eating a priority in your everyday life and even on vacation. You will feel great knowing you didn't gain 10 lbs., even after walking 10,000 steps around Disney!