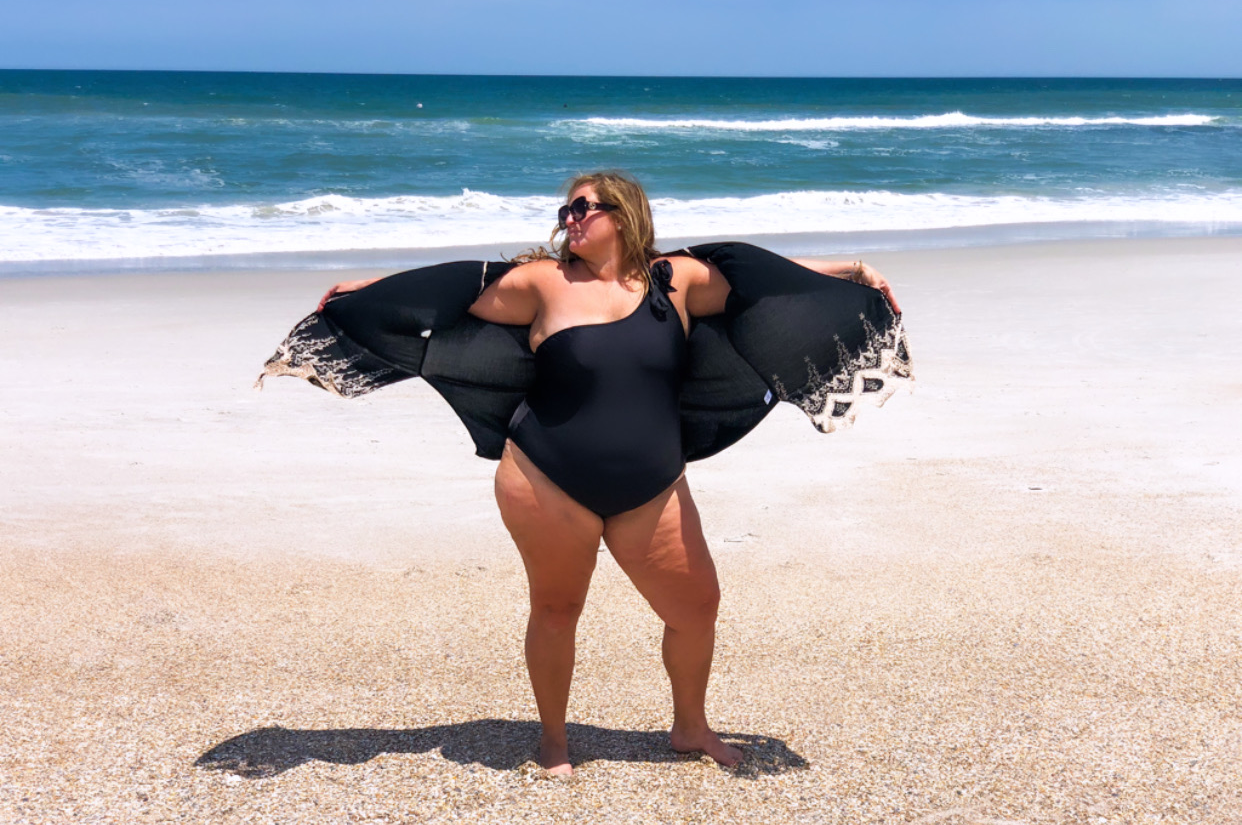 I'm back. Remember me and me? It's that time — another body positivity Ted Talk.
It's bathing suit season in Florida. And no matter who you are or what size you are, bathing suits bring up a mix of emotions.
The other day, we were going to the beach, and I decided I was going to wear my new crop top rashguard with my hipster bikini bottoms. I felt SO good in it. I even took a picture and posted it to my social media (and holy moly, did that blow up my feed). My 7-year-old daughter took a look at me and said, "Wow, Mami, that looks so good!" In the next breath, she pointed out an area where I have more skin than she does. I promptly replied back and let her know that extra skin is okay. That all skin is beautiful no matter the size, shape, or color. She took a moment to think about it, smiled, and agreed. It was a great teaching moment for her. I want her to look at my body. I want her to see the confidence. I want her to know that no matter her age, size, or shape, as long as she feels good, she can wear anything she wants.
I oftentimes get asked, "How is it that you are so confident in your body?" I always laugh when I'm asked this question. I don't think the person is coming off as rude, but rather, trying to give me a compliment. First I always answer, "THANK YOU, because yes, I am confident, and I'm glad you see that." But then comes the next part of the question… in your body. Why MY body? My body is perfect. I love it. Is there something you see wrong with my body? 'Cause I sure as hell don't see it.
I've worked really hard to unlearn what society has taught everyone — that only bodies in certain sizes are beautiful. I make it my mission to help all my friends feel that way about their bodies, too. I don't have any friends who have the same body type. We all are different sizes, have different curves, and have different features that make us unique and amazing.
Don't let others define what you should wear or what you should look like. Celebrate your individuality. After all, it's what makes you, YOU!
All bodies are different and beautiful in their own ways. Size 2, size 22 (and more), you are awesome! You don't have to change your body to feel accepted. But you do have to change your mindset to see that your body is a gift. A gift that, as a mother, has given life to others. It's carried life, it's given life, and it has a whole life to continue to live. So give it some love and tenderness, because you are beautiful, and your size does not define you. You are worthy, no matter what size you are.
Even if it's been days, months, or years since you've been happy with your body, today is the day. Pick yourself up, dust yourself off, and strut that MOM BOD. You do not need permission from anyone else to feel good about yourself.
And now I leave you with one of my favorite quotes: "Beauty begins the moment you decide to be yourself." –Coco Chanel
Okay, so who's with me?