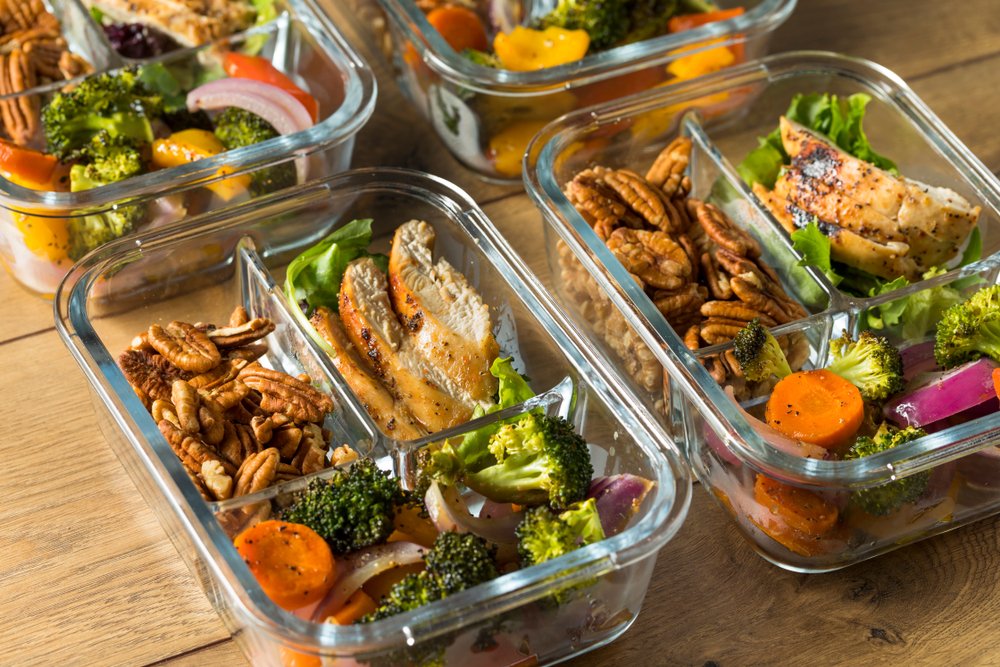 Meal planning is not a one-size-fits-all kind of thing. Instead, do what works for you until it isn't working anymore and then switch it up again. For me, meal planning varies based on what my family and I have going on throughout the week. On Saturdays, I typically look at our calendar for the upcoming week to make adjustments to our meal plan to factor in days we have evening extracurricular activities or a date night. I then utilize a grocery delivery service or venture out to get groceries right when the store opens sans kiddos.
I like to meal prep a few items for the week so I always have options for things to eat for lunch and dinners, as well as have a few emergency freezer meals stocked with something that can be defrosted and dumped into the Instant Pot for dinner. And always have a well-stocked pantry so you can easily throw together chicken fried rice, tacos, or spaghetti and meat sauce at a moment's notice.
How to Meal Plan
Step 1: Figure out your goals and purpose for meal prepping. Set your intention. Are you looking for a lifestyle change? Lack of time? Tired of eating out? Are you interested in pursuing a health goal like eating vegetarian or vegan? Have lots of extracurricular activities outside of the home in the evenings? Consider your goals, and go from there.
Step 2: Plan your menu. While planning your desired menu, consider the time it will take to prepare the meal and its feasibility. This matters a lot! Easy to prepare, tried-and-true recipes should be your focus. Also, consider your portion sizes. This is especially important if you are preparing meals for the entire family and want to have leftovers. It will also help you determine how much food you will need to purchase so you don't waste money or see food go to waste.
Step 3: Make your grocery list. Write an organized grocery list separated into categories such as produce, meat/seafood, dairy, dry, cold, frozen, and deli. This will cut your shopping time in half! We all know that time is money, and you're already spending more than you would like in the kitchen.
Step 4: Make sure you have storage containers for your food. Meal planning for my family is typically family-style so that we can mix and match over the week to keep things new and exciting. We generally reheat food in the air fryer versus microwave. I prefer glass, but use what fits your lifestyle.
For family-style meal prep, I recommend Pyrex as they stack easy and are reliable after many years of use. Just don't microwave your lids! For composed meal prep, I recommend these Prep Naturals bento box-style containers. You may want to invest in disposable sauce containers as well. Think the ones you would use for Jell-o Shots — those are perfect for sauces. There are also some great reusable sauce containers.
Step 5: Grocery shop and start cooking! Utilize a grocery delivery service or go grocery shopping when you are not hungry.
Step 6: Order of operations. Start with the most time-consuming items first, and prepare hot items to give them time to cool. If you are preparing a dish that needs one hour to cook in the oven, start that item first. Once you have a handle on your hot foods, begin to prepare your vegetables and salads. Lastly, package any sauces you may want in sauce containers for lunches. Allow your food to cool then package in storage containers.
Meal-planning tip: Work smarter, not harder! Clean as you go so you're not working in a mess, as this will slow you down! (And you won't have as much to clean afterward.)
Menu Planning Tips
One-pot meals and sheet-pan meals are time savers! For example: chili, casseroles, spaghetti, soups, etc. Anything that can go into Crockpot or Instant Pot helps save time from preparation to the cleanup.
Have a list of tried-and-true recipes that you know your family loves so you can incorporate those weekly. I have a list on my phone in categories based on the type of cuisine and protein type as that works for me.
Involve your family in the meal planning. I ask each child and my husband to tell me what they would like for their meal and then they love to guess which meal I'm cooking to see if it's their meal day or not.
Cook by Theme: Meatless Monday, Taco or Mexican Tuesday, Kid's Choice Meal, Leftover Night, Breakfast for Dinner.
Escape the what's-for-dinner rut completely by leaving the planning to someone else. Customized meal plans include tried-and-true, easy-to-prepare recipes, an organized weekly grocery list, nutritional information delivered weekly to your email plus weekly support.
How do you meal plan?