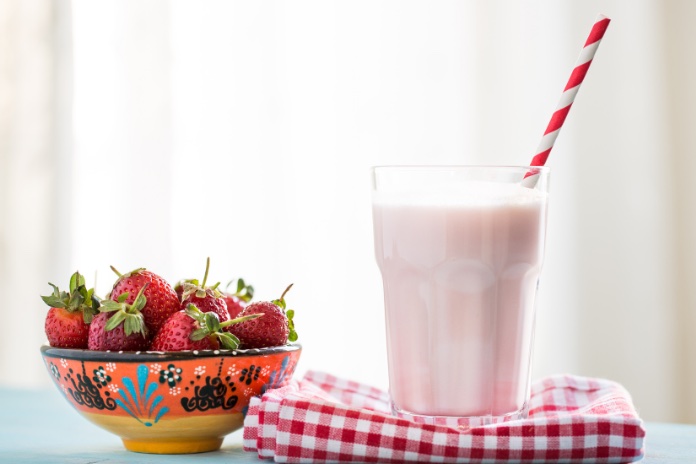 Is it just me, or do strawberry milkshakes seem to scream summer? When I think of the perfect summer cool-down treat, I envision all the best moments of childhood wrapped into one sweet and creamy staple made with simple, fresh ingredients and a vibrant rush of flavor! Impress the kids by adding sprinkles or whipped cream on top, and now you're suddenly Mom of the Year!
What makes this strawberry milkshake the most delicious?
It's made with real, frozen strawberries! The addition of real, frozen strawberries adds an extra burst of flavor and thickness.
Using real strawberry ice cream enhances the strawberry flavor. By opting for a strawberry ice cream rather than just plain ol' vanilla, the strawberry flavor is heightened and separates this recipe from your basic strawberry milkshake.
It's easy! What can be a better reason than the fact that it's just a super simple treat? Seriously, leave it up to the kiddos, and it will still be perfect every time!
Plus, the ingredients are super simple!
Here's what you'll need to create this delicious treat!
Strawberry ice cream. Choose an ice cream that is made with real strawberries and cream, avoiding artificial ingredients to keep the most authentic flavor.
Milk. Whole milk or 2% will do just fine.
Frozen strawberries. Strawberries frozen at their peak freshness are my favorite. You can substitute fresh strawberries if you don't have frozen, just make sure they are sweet and you can expect a shake that may not be quite as thick and creamy.
*For a dairy-free alternative, opt for dairy-free ice cream and milk choices.
Strawberry Milkshake Recipe
Ingredients:
1 1/4 cup frozen strawberries
1 cup strawberry ice cream (such as Tillamook Oregon Strawberry)
1/2 cup milk
Directions:
Add ice cream, strawberries, and milk to your blender, then blend on high until creamy. If the milkshake is too thick, add milk very little by little until desired thickness is achieved. Pour into two glasses, and top with desired toppings. Enjoy!
Now it's time to enjoy the most delicious strawberry milkshake! Save this recipe for later and share with someone who can use a flavorful pick-me-up this summer.