How much do you spend on groceries for your family each week? Who jumps for joy each time you see that staple product your kids will actually eat on BOGO, or the deal of the century on organic chicken breasts? Or better yet, who cheers when you are rewarded for just shopping for those must-have products (diapers, milk, PB&Js, the list could go on!) and when those rewards can then be used towards the things you actually spend your hard-earned money on?
Southeastern Grocers, Inc. parent company and home of BI-LO, Fresco y Más, Harveys Supermarket and Winn-Dixie grocery stores, introduces SE Grocers rewards, a brand new loyalty program designed specifically around two everyday components customers value the most – food and fuel.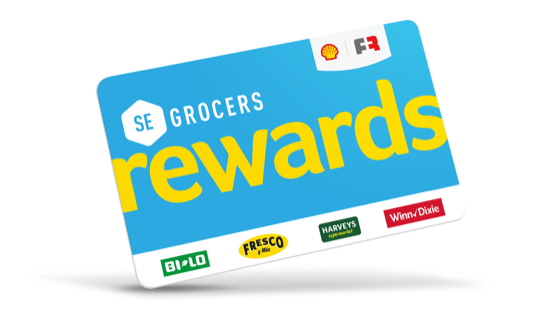 The new loyalty program will allow customers to earn points during checkout at any BI-LO, Fresco y Más, Harveys Supermarket and Winn-Dixie grocery store and points can then be redeemed for savings on groceries or savings on fuel at participating Shell or other select fuel stations.
You heard that right, feeding your family by shopping at these stores AND get free fuel to power your sedans, SUVS,  and mini-vans to and from work, school, and those after-school activities. We'll even volunteer for carpool. We love rewards that meet our everyday needs and Southeastern Grocers is offering that in this new rewards program.
Beginning July 18, 2018, customers throughout all BI-LO, Fresco y Más, Harveys Supermarket and Winn-Dixie stores will be able to receive an SE Grocers rewards card to easily start earning points that can be redeemed for savings on groceries and fuel at Shell-branded stations. The new SE Grocers rewards program will offer bonus points on hundreds of products throughout the stores, and customers are encouraged to check their receipts for even more ways to earn points. For additional flexibility, points will be available for up to two years, expiring December 31 of the following calendar year. For a seamless transition to SE Grocers rewards, customers who present a rewards card at checkout will receive a new SE Grocers rewards card and welcome kit. The value of unredeemed Plenti points earned in stores will be issued to the new SE Grocers rewards program for all fully registered customers. SE Grocers rewards members who swipe their SE Grocers rewards card at participating Shell-branded stations will be enrolled in the Fuel Rewards® program and receive Gold Status, saving an additional 5¢/gal on every fill, up to 20 gallons.
For more information, please visit www.SEGrewards.com. To find a participating Shell station nearest you, please visit www.bi-lo.com/locator, www.harveyssupermarkets.com/locator or http://www.winndixie.com/locator. For complete terms and conditions on the free fuel events, visit www.bi-lo.com/fuelevents, www.frescoymas.com/fuelevents, www.harveyssupermarkets.com/fuelevents or www.winndixie.com/fuelevents.