Thank you to Orangetheory Fitness for participating in our Guide to Fitness and sponsoring this post. All opinions are my own.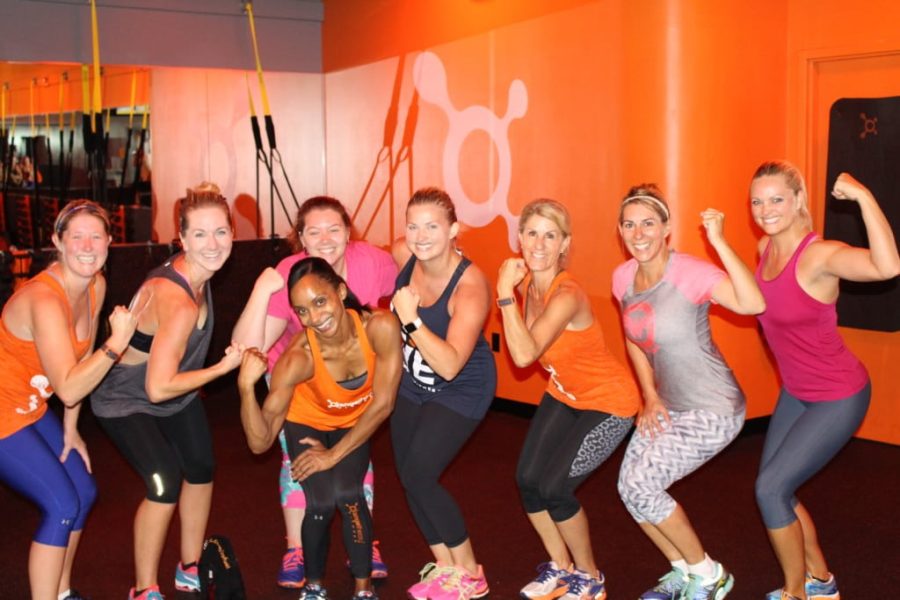 My journey with Orangetheory Fitness began earlier this year. I consider myself an active person, but with a full-time job and being a mom, I noticed that my workouts (and the time involved with those workouts) were becoming few and far between. I would try to make it to a yoga class or get a run in with my little one in the BOB, but it just wasn't cutting it. One thing that immediately caught my attention at OTF, was the wide variety of class options throughout the day. I knew I could complete a great total-body workout in just 1 hour and I wouldn't have to think about what equipment or weight to use!
I did some research, downloaded the app on my iPhone and as easy as that, I was signed up for my first complimentary trial class! For your first class, you'll need to arrive about 30 minutes early to receive an overview of the studio, equipment and what to expect. The staff and trainers are super helpful and always available to answer questions. You'll also get outfitted with a wristband or chest strap that will monitor your heart rate during the workout.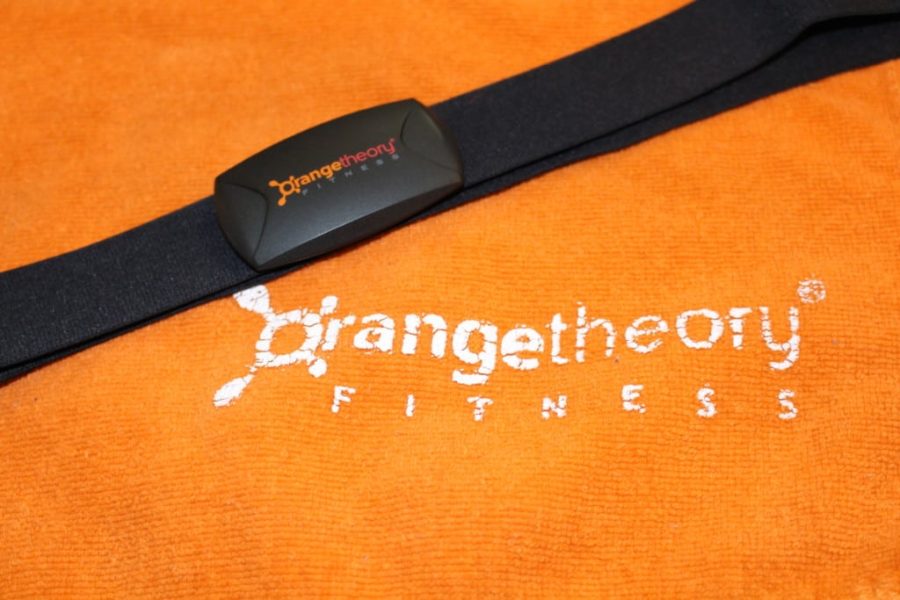 The "theory" behind the Orangetheory workout is known as "Excess Post-Exercise Oxygen Consumption" or EPOC. With the heart monitor or POD, you are able to monitor the 5-zone interval training sessions that is called Orange 60. During those 60 minutes, you will perform multiple intervals designed to produce 12 to 20 minutes in the "orange zone" where you are at 84% or higher of your maximum heart rate. This program produces an "afterburn" effect, which is an increased metabolic rate for 24 to 36 hours after the workout. Most clients burn an average of 500 to 1000 calories per workout!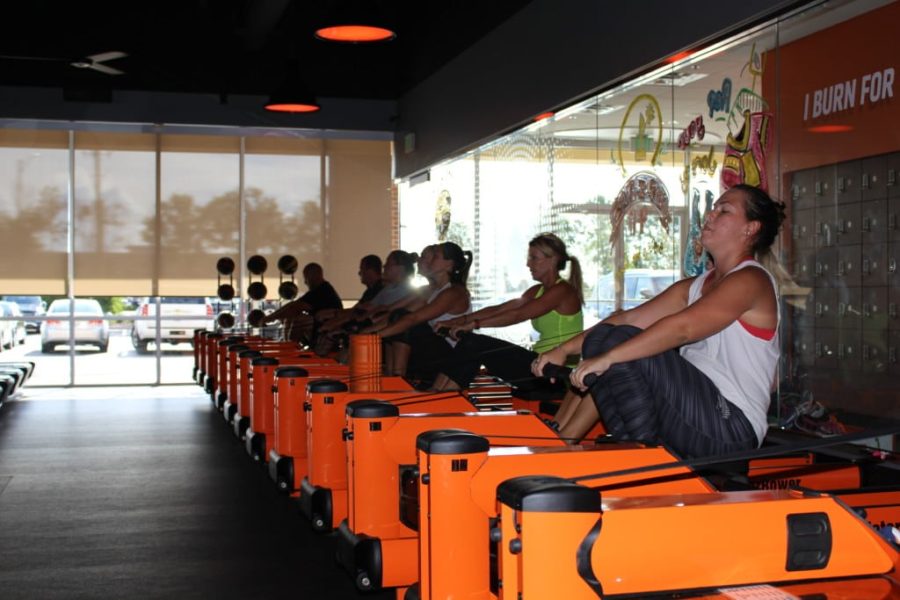 After my first workout at OTF, I was immediately hooked and I couldn't wait to go back! Each class is different and the trainers have an awesome music playlist to help the time fly by. I immediately signed up and haven't stopped going since! I signed up for the 8 classes/month package, but you can view all of their options for classes here.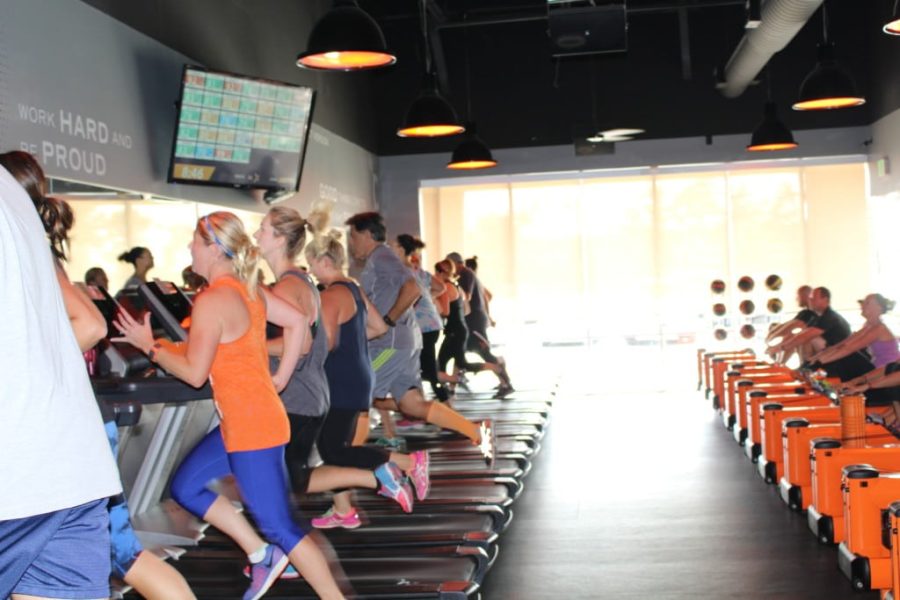 One of the OTF sales associates will review all of your options with you and help you make the best decision. The best part is that there is no yearly contract like most gyms and you can cancel at any time!
In the Jacksonville area, there are several locations to choose from: Hodges Pointe, Mandarin, Fleming Island, Ortega, St. Johns/210 (Grand Opening October 7th), Tinseltown (coming in November). With your membership, you can rotate among locations and also visit locations while out of town or on vacation. They make it very easy to work out, wherever you are!
For every new studio that opens, Orangetheory does a weight loss challenge you won't want to miss. The winner of the challenge will receive $2500. Yes, you read that correctly, what an awesome prize! Be on the lookout for a weight loss challenge for all current studios in January.
Testimonials from Jacksonville Moms who attend OTF:
"I have been at Orangetheory Fitness for over six months and absolutely love it! Being a runner, it has helped greatly with my pace and endurance! I love that I get a great balance of cardio and strength training! The staff and trainers are amazing and very friendly."- Tina P.
"I'm a runner. I joined Orangetheory, hoping it would help increase my overall pace. Not only have I gotten faster during races, I'm stronger as a result of the rigorous strength training and amazing core workout each class. Every class is unique, challenging and fulfilling. The coaches are so encouraging and motivating. After being a member for 9 months, I can easily say that I'm now an OTF Addict."- Aleisha B.
"I've never been a runner or a fan of rigorous exercise, but have been in a constant state of dissatisfaction with "body after babies". My youngest is well over 7, so we're talking years! My dad started Orangetheory Fitness in Tampa, FL, a few years ago and is in the best shape of his life. He's 66! I went to a class with him and he left me in the dust. I'm slightly competitive (and younger!) and couldn't believe what just happened. So of course when I saw "opening soon" sign at the Hodges Pointe location, I was quick to join as a member! I've been going twice a week since this location opened February 2015! I started out with a love/hate relationship, but now I just LOVE it! It's a personal battle to get through some days, but the trainers are so motivating and encouraging!! Aside from whipping my body back into shape, my favorite part is that each class is different. There is always a new treadmill block, different rowing distances, unique weight/strength/TRX/core exercises each and every day. The water rower they use will do wonders for your muffin top & core, let me tell you! Plus, you'll never leave without a full body workout in the 60-minute class!"– Jenn R.
Frequently Asked Questions:
I'm new to working out and not a runner. Is Orangetheory still for me?
Yes! The trainers offer modifications for all exercises- for beginners or those with an injury! For the treadmill, there are 3 options: Powerwalker, Jogger, and Runner. So, you can take each class at your pace and still get a great workout!
How do I sign up for classes?
Orangetheory uses an app on your phone for class sign up. You simply select the date and time and the book the class. Sometimes, the class may be full and you can get added to the waitlist. You receive an email notification once you are added to the class.
What can I expect to do in my first class?
Throughout the class, you will rotate between the treadmill, rower, and floor. On the floor, you will use a variety of equipment including weights, TRX straps, ab dolly, etc. Every day is different, which makes this workout exciting!
Ready to give Orangetheory Fitness a try? Try your Free Session at the Orangetheory Fitness locations listed below near you. Call 238-5272 to Book your Free Session.
Hodges Pointe, Mandarin, Fleming Island, St. Johns/210, Tinseltown, Nocatee, and Jacksonville Beach.