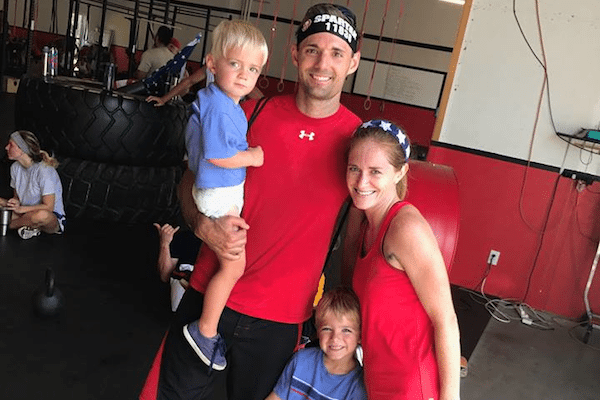 Growing up, I wasn't really the athletic type. I dabbled in running track in middle school and played one year of high school softball, but it wasn't really my thing. And that attitude translated into my adult life for sure.
After college, I could eat DiGiorno pizza every weekend night for dinner and drink two to two-and-a-half Blue Moon beers and easily keep my girlish figure. In fact, looking back at old pictures, I was unhealthy and didn't treat my body as I should have.
Today, after birthing two baby boys, I have a newly discovered love of exercise. Although many factors led my husband and I to a lifestyle of clean eating and frequent workouts, the hands-down reason I surrendered to my hatred of working out is simple: I realized I could miss the bedtime routine madness by working out at night. It was beyond genius!
Our Christian-based gym, Trinity Fitness (which I love, they have three locations across Jacksonville), has metabolic conditioning-type workouts that are oh-so hard but also very addictive. I was hooked, despite my lack of interest in exercise, after attending my first class. As a woman and mom who aims to lead a God-first lifestyle, I love that Trinity Fitness opens with a devotional, motivates us with a Bible scripture and ends with a prayer.
Trinity offers many different class times, and I could attend weekday mornings with my youngest in childcare, but the BEST, and I repeat BEST time of all to attend is the 7 p.m. class — perfectly scheduled smack in the middle of bath/books/bedtime!
One night recently, I wasn't feeling super motivated to head to the gym, but then I heard my boys break out into an all-out war over a toy upstairs. It sounded like they removed all of the items from their shelves and just went into a full battle. I looked at the clock: 6:05 p.m., and my husband would just be about to walk in the door.
I had two choices: Help with bedtime or work out. And so, I threw my sneakers on and with a pep in my step, walked out that door at 6:45 p.m. and missed the whole dang bedtime thing.
I realized after getting into this workout routine that what I really was seeking was a much-needed break in the day. And the irony was that my avenue of catching a break in motherhood was the same thing I loathed for decades of my lifetime.
After working out, I now feel recharged and feel better about myself as a woman, wife and mom. I definitely have more energy, and it has changed drastically what I want to consume for meals and what I allow my kids to consume, too.
I love spending time with my husband and kids, altogether as a family. Most nights, that's exactly what you'll find happening in the James household at 7 p.m. Oh, but those workout nights. Those two glorious nights per week where I know my boys are in good hands, and I get to do something for myself.
We all deserve to do a little something for ourselves.