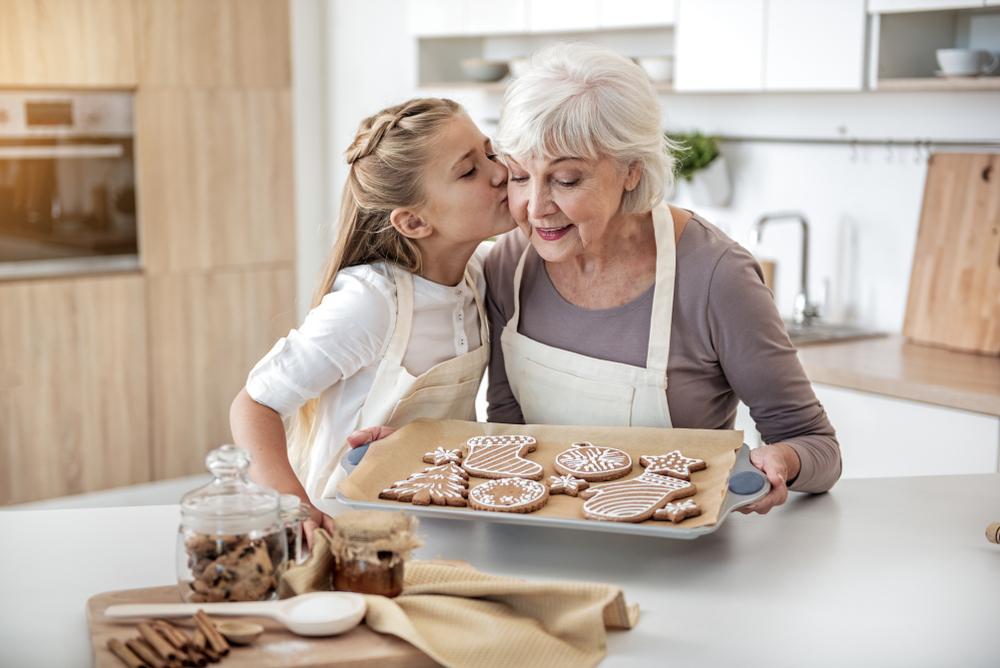 We could all use a little more love and kindness in our lives, especially now more than ever. One of the best ways to teach kids how to be kind is to take action and model it ourselves. Show them what kindness truly looks like and get them involved by having them help you!
We've compiled a list of local resources and ideas for giving back that you and your family can do together during the month of December — and we're making it easier than ever by simply encouraging you to select one item a week. The best part? Many of these selfless acts of service don't cost a thing and can be an instant mood booster for someone else who could use a pick-me-up during the holiday season — while instilling a sense of gratitude in ourselves and our children.
We hope that these small acts of kindness can kickstart conversations with our kids about giving and gratitude, inspiring us to do more and make the world a better place. See below for details and links to several of the resources mentioned, which will have additional information including wish lists, addresses, how to donate, and more. Be sure to bookmark this page for future reference!
We can't wait to see your little ones in action. Download the list now, and use the hashtag #JMKidsGiveBack so we can see all the good taking place here in Jacksonville.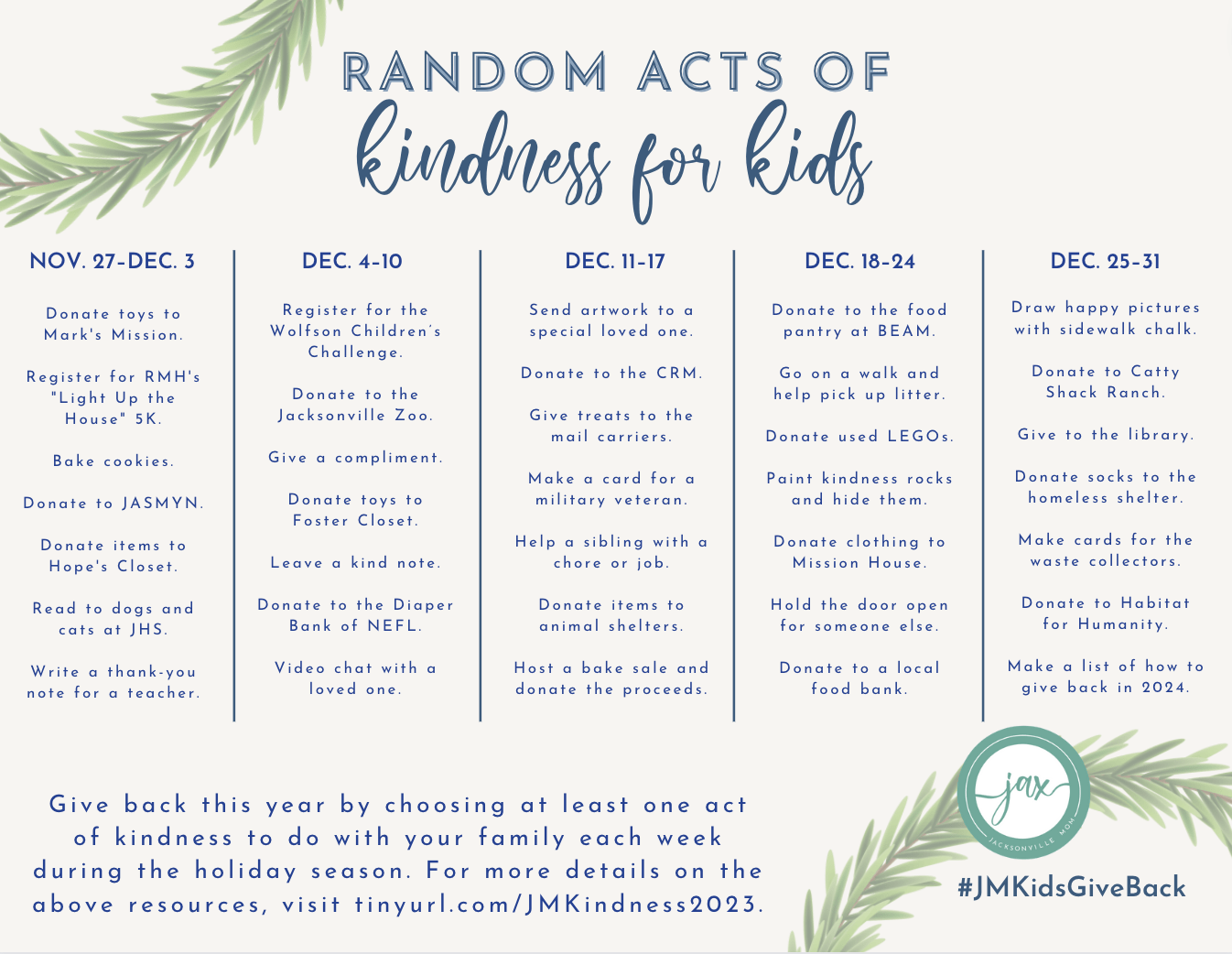 Week of Nov. 27–Dec. 3
Donate to the Mark's Mission Christmas Miracle Toy Drive. The new, unused toys collected by Mark's Mission will be donated to children at Wolfson Children's Hospital. Click here for details, and click here for other ways to give to Mark's Mission.
Register for the Ronald McDonald House "Light Up the House" 5K. Grab your sneakers and get ready to "Light Up The House" during the festive holiday season for critically ill children staying at the Ronald McDonald House of Jacksonville. Athletes and children of all levels are invited to run, walk, or stroll through the San Marco route during the 5K on Saturday, Dec. 1. Click here to register.
Bake cookies and deliver them to a neighbor. Weekends are great for baking. Surprise someone in your neighborhood with a few freshly baked treats!
Donate items to LGBTQIA+ youth at JASMYN. JASMYN supports LGBTQIA+ young people in Jacksonville by creating a safe space, providing health and wellness services, and offering youth development opportunities while bringing people and resources together to promote equality and human rights. Donate warm clothing to their Winter Gear Drive or access JASMYN's Amazon Wish Lists for the following items: Food pantry, housing, and undergarments.
Clean your room and select a few gently used toys and clothes to donate to Hope's Closet. Hope's Closet Thrift is a retail ministry of The Church of Eleven22. Serving the Jacksonville area since 2015, Hope's Closet aims to create affordable, quality goods for all people. Click here to view hours and donation locations.
Read to animals through the Pawsitive Reading Program. Pawsitive Reading at the Jacksonville Humane Society is an enrichment program for kids, dogs, and cats — and hearing a person read is proven to help lower stress levels in animals. Must attend an orientation first; click here for details.
Write a thank-you note to your teacher or school administrator. Tell your teacher or a hard-working school staff member (or both!) that you appreciate them and that they're doing a good job. We all could use a few genuine words of kindness!
Week of Dec. 4–10
Register for the Wolfson Children's Challenge. On Saturday, January 27, 2024, runners across our region will come together to raise money at the 15th annual Wolfson Children's Challenge. Featuring both team and individual races for runners of all skill levels, the family-friendly event aims to raise $125,000 for Wolfson Children's Rehabilitation. Click here to register.
Donate money or items for the animals at the Jacksonville Zoo. The Jacksonville Zoo & Gardens offers many opportunities to donate. Did you know it costs $225 a day to feed a manatee in rehabilitation in their Manatee Critical Care Center? Our local zoo collects monetary donations, tribute gifts, donated items, and items off their Amazon Wish List to assist in the care and feeding of over 2,000 animals.
Give someone a random compliment. Who doesn't love a good compliment? Say a few nice words to a friend or a stranger and make their day!
Donate clothing and holiday toys to Foster Closet. Foster Closet provides clothing, toys, and other necessities to foster children. Access there list of urgent needs here, and you can adopt a family and/or access the most recently updated Foster Closet Christmas wish list here. Please email [email protected] to schedule a donation drop-off.
Leave a secret kindness note for a friend or loved one. The easiest way to brighten someone's day? Write a few kind words on a piece of paper and leave it where they will find it later!
Donate diapers or wipes to the Diaper Bank for Northeast Florida. The Diaper Bank of Northeast Florida provides diapers to low-income families who are experiencing diaper need. Click here for ways to donate and drop-off locations, or donate to their Amazon Wish List.
Video chat with an older loved one. Seniors and older relatives could always use a little love. Wish them a happy holiday and show that you're thinking of them with a surprise FaceTime or video chat!
Week of Dec. 11–17
Send some artwork to a long-distance loved one. Color a beautiful picture and mail it to a long-distance friend or family member to bring a smile to their face.
Collect items for the City Rescue Mission. The City Rescue Mission is collecting items for our Jacksonville neighbors in need. Click here to access the list of needs, along with the drop-off location. Children 12 and older are also allowed to volunteer at CRM; click here for details.
Put out a basket of treats for the mail carriers. It's the busiest shipping time of the year! Brighten a mail carrier's day by putting a basket of snacks on your porch for them to enjoy.
Make a card for a veteran or deployed service member. Send a thank-you card or draw a picture for a military veteran or deployed service member. Click here for the mailing address and to learn more about America's Adopt a Soldier program.
Help a sibling do a chore or job. Think how happy your brother or sister would be to have your unexpected help with a household chore!
Donate wish list items to shelter animals. Jacksonville's Animal Care and Protective Services (ACPS) wish list can be found here. Also, check out the Jacksonville Humane Society's wish list and the Clay County Animal Services' wish list.
Host a bake sale or lemonade stand and donate the proceeds to charity. Any of the charities listed here also accept monetary donations.
Week of Dec. 18–24
Donate to the food pantry at BEAM. BEAM provides emergency assistance to the Jacksonville beaches communities. Click here for items they need, including drop-off details.
Go on a cozy walk and help pick up litter. Clean up, clean up… everybody clean up! Help keep our community clean by bundling up and picking up trash, whether on the beach or in your neighborhood. Beaches Go Green offers many opportunities to help. Or make it a point to just pick up three pieces of trash you see in one day!
Donate used LEGOs through LEGO Replay. By donating your used LEGO bricks through LEGO Replay, you can help share the power of play with children who need it most. Click here for more details.
Paint kindness rocks and hide them for others to find. Spread even more kindness throughout the community with a little fun rock painting — decorate rocks with special words or messages to brighten someone's day.
Donate clothing or hygiene items to Mission House. Mission House provides assistance to homeless adults throughout the Jacksonville Beaches. Click here to access a list of items that are currently needed, including drop-off details.
Hold the door open for someone else. It's a small gesture that can make a big difference — especially if you throw in your biggest smile!
Donate non-perishable food to a local food bank. Mandarin Food Bank, Jewish Family & Community Services, and Feeding Northeast Florida all gladly accept food donations.
Week of Dec. 25–31
Draw happy pictures in chalk for neighbors to enjoy. Break out the sidewalk chalk and draw some fun pictures outside in front of your home for others to enjoy.
Help animals by donating to the Catty Shack Wildlife Sanctuary. Catty Shack relies on community donations to support their endangered big cats. Click here to access their Amazon Wish List.
Donate gently used books to the local library. The Jacksonville Public Library accepts books in good condition. Click here for the library's donation policy.
Donate socks or underwear to the homeless shelter. New socks and underwear are one of the most requested items by the Trinity Rescue Mission and Sulzbacher Center, one of Jacksonville's homeless shelters. Access Trinity Rescue Mission's list of needs and Sulzbacher Center's list of needs.
Make cards for the waste collection workers. Gift-giving season equals a lot of boxes and trash. Show your appreciation for waste collectors by making them a thank-you card!
Donate to Habitat for Humanity. HabiJax could always use monetary donations and construction items for the homes they build for families throughout Northeast Florida. Click here for ways to help.
Make a list of ways you can help others in 2024. Keep the kindness going and make a list of ways you can help others throughout next year.
What is your favorite thing to do with your kids to show kindness to others?