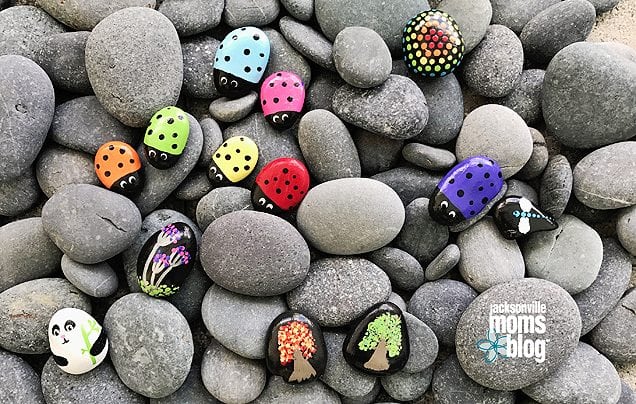 There's a new craze sweeping the nation, and it's made its way to Jacksonville. With roots stemming from The Kindness Rocks Project, rock painting isn't just about getting creative, it's also about spreading kindness, and getting outside to explore the great parks around town. From the beaches to the west side, First Coast Families are rocking out and joining in couldn't be easier.
Step 1: Get Some Rocks
Your first step is going to be getting your hands on some rocks. Bags of rocks can be purchased at Home Depot or Lowes, but they can also be found at Walmart or even the Dollar Store. There are no rules about what type of rocks to use so get creative. Flat rocks, white rocks, shiny rocks, whatever you like, go with it. You can grab some rocks out of your backyard or use some you find at the beach. Rockin' Tip – Don't steal rocks from other people's landscaping, that's not cool.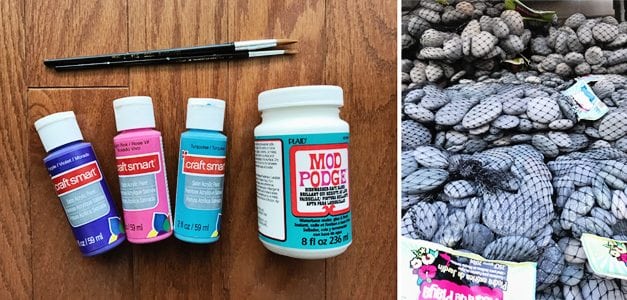 Step 2: Grab Some Paint
While I like to preach about my love of washable paint, you're going to need to take a deep breath and dive into the world of non-washable acrylics for this project. You're also going to need to seal your rocks when you're done painting them. This ensures they'll hold up to the elements when they're hidden around town, waiting to be discovered. You can use a spray sealer or my favorite, a more kid-friendly option, Mod Podge. Michael's and other craft stores sell the small bottles of craft paint for less than $1 each. Rockin' Tip – Consider hosting a rock painting party and ask each family to bring a few colors of paint. This way you'll be able to use a wide variety of colors without having to invest in extra supplies.

Step 3: Let Your Creativity Flow
Now that you've collected all your supplies, it's time to have some fun. Painting rocks can be as simple or intricate as you would like. Kids and adults of all ages can join in the fun. My kids have spent hours painting rocks in the past few weeks since we discovered this past-time. Once your rocks are painted and have dried completely, be sure to apply a coat of sealer to them. Rockin' Tip – Rock painting and finding is a family friendly activity, make sure all your artwork is kid appropriate because you never know who might find your rock.

Step 4: Get Outside
The final and most exciting step in your rock painting journey is to get outside and hide your mini masterpieces as you search for some hidden treasures that another avid rock painter has dropped off. Jacksonville has a vast and diverse number of parks and playgrounds where you can go hunting and hiding. Joining Facebook groups such as Jacksonville Rocks, St. Augustine Rocks, or Rockin the Beaches is a fun way to keep track of where people are hiding and finding rocks. Rockin' Tip – Don't hide your rocks in grassy areas where they can be hit with a lawnmower.

The rock painting and hiding phenomenon is hitting cities far and wide so be sure to keep your eyes peeled while on vacation or visiting other towns. If you are going to be traveling, consider taking a few rocks with you to hide along the way. It can make your journey even more exciting.
So what are you waiting for? Grab some rocks and paint and join us in Rocking Out Jacksonville!