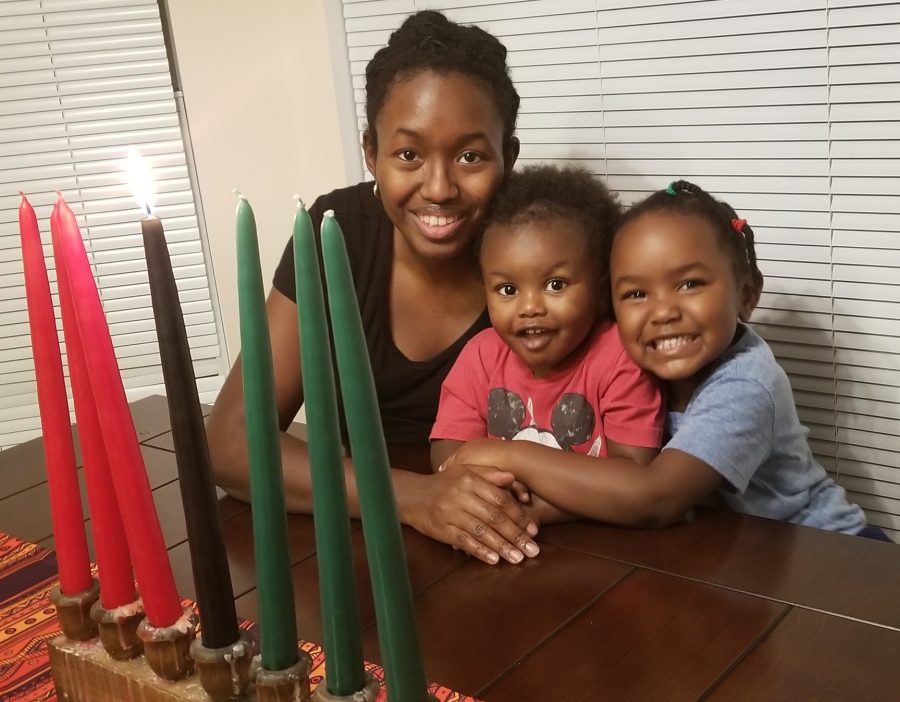 I have fond memories of celebrating Kwanzaa as a child. We celebrated Kwanzaa because my mother thought the principles were important building blocks for promoting good stewardship while also emphasizing others and promoting character building immediately following the focus on commercialization of the Christmas holiday. (Let's be honest, the true meaning of Christmas is sometimes lost in the hustle and bustle and worrying about how many gifts are under the tree.)
What is Kwanzaa?
Kwanzaa, started in 1966 by Dr. Maulana Karenga, is a non-religious holiday that celebrates family, community, and culture of African Americans and people of African descent. It is celebrated December 26 through January 1 and revolves around seven principles, each representing one of the seven days of Kwanzaa in Swahili. Each day, we light a candle on our candleholder called the kinara. There are three different colored candles which are symbolic of the African flag. One black candle represents the African people, three red candles represent the blood or struggle, and three green candles represent hope for the future. Each candle also represents one of the seven principles which are meant to be celebrated throughout the year. Kwanzaa reflects on our African culture and is a time of reassessing, reaffirming and rewarding all that we have done in the past year.
Seven Principles Defined
1. Unity (Umoja): To strive for and to maintain unity in the family, community, nation, and race. This basically means taking time to celebrate by being together as a family. We can celebrate Unity by sharing thoughts and feelings while relaxing in the spirit of togetherness by doing a family activity like playing a board game or activity without distractions of social media and phone use.
2. Self-Determination (Kujichagulia): To define and name ourselves, as well as to create and speak for ourselves. We celebrate Self-Determination by learning traditions that help us define ourselves like braiding hair, learning African rhythms of drums, or learning how to cook a special family recipe.
3. Collective Work and Responsibility (Ujima): To build and maintain our community together and make our brothers' and sisters' problems our problems and to solve them together. We celebrate Collective Work and Responsibility by working together to get a family chore done or working on a special project as a family.
4. Cooperative Economics (Ujamaa): To build and maintain our own stores, shops, and other businesses and to profit from them together. We celebrate Cooperative Economics by supporting one another by shopping at black-owned businesses or really any small mom-and-pop shop. Many may save spare change and then buy a household gift the whole family can enjoy, or of course, purchase goods from a local business or perform community service such as serving a meal at a soup kitchen or assisting in building a house for a family in need.
5. Purpose (Nia): To make our collective vocation the building and developing of our community in order to restore our people to their traditional greatness. We celebrate Purpose by first having a goal and by reflecting on how to fill the days ahead to meet that goal. We may want to focus on setting goals that benefit the community.
6. Creativity (Kuumba): To do always as much as we can, in the way we can, in order to leave our community more beautiful and beneficial than we inherited it. We celebrate creativity by creating something beautiful or helpful, learning a new dance, planting a garden, or trying something new.
7. Faith (Imani): To believe with all our hearts in our people, our parents, our teachers, our leaders, and the righteousness and victory of our struggle. We celebrate Faith by believing in ourselves and others by strengthening our personal belief that we are of value in the image of our higher power as an individual, person, community, and culture.
Why I Celebrate
I celebrate Kwanzaa because I want my children to have a better understanding of their African American heritage, and I want to build strong bonds as a family. I want my kids to feel proud of their culture while learning how to help others and give back to the community. I feel that the seven principles should be incorporated in everyday activities, and the emphasis should be placed on giving and not receiving. I want them to participate in something meaningful and feel a part of a bigger community. I want my children to see and be encouraged to seek the positive energy of what we can do when we put our minds to it. I want them to find creative ways to come together as a family,  support black-owned businesses and other small businesses year-round, and reflect and refocus before going into the new year.
Honestly, it's so easy to just buy online sometimes, but I am trying to be more mindful of shopping locally first before making Amazon Prime purchases. While Kwanzaa is a great way to start the new year and close out the current year similar to new year resolutions, in celebrating Kwanzaa, we take the time to specifically reflect on how to achieve each of the seven Kwanzaa principles throughout the year ahead. Kwanzaa is a great way to look at the past and see what we can do now to make a brighter future as a family. While Kwanzaa is a celebration of our culture, it can be celebrated by all cultures because its principles are universal.
While Kwanzaa is a great way to connect, build friendship, and build community with like-minded people, it currently does not appear to be celebrated widely here in the Jacksonville area. Perhaps this is a good time to start a Kwanzaa celebration!
I would love to start a Kwanzaa festival here. Please let me know if you would be interested by commenting below!