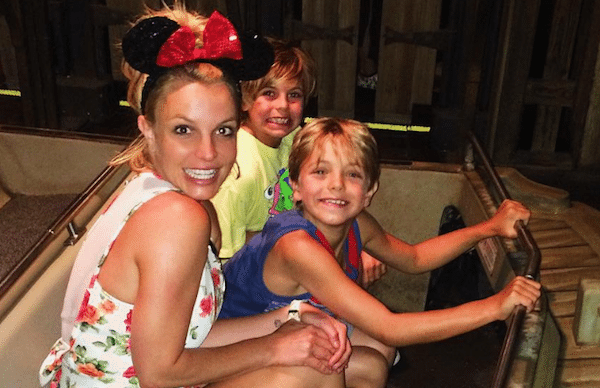 Wait. Hear us out. So Britney Spears got a little flack a decade ago for going through a rough time — you can learn all about it in the New York Times' documentary, Framing Britney Spears. The only difference between Brit's meltdowns and my meltdowns is the fact that mine are in private. (Usually.) So, let's all leave her alone when it comes to past mistakes, okay?
If you follow the "Slave 4 U" singer on social media, then you know a few things: She's still got it, more than 20 years after the release of "…Baby One More Time." (Have you seen one of the latest videos off her ninth studio album?) She completed a highly successful Las Vegas residency. She's finally comfortable in her own skin — though it probably helps that her skin and body are completely flawless. And despite her 2006 divorce from their dad, Kevin Federline, she's an amazing mother to her teenage sons Jayden and Sean. When they were younger (because teens aren't exactly all about selfies with mom), the proud mother would post photos of her kids about as much as she'd share pics from her epic career.
So, we'd like to bring you this list of parenting tips inspired by a few old pics from the pop icon's Instagram account:
View this post on Instagram

1. Read. And then read some more. Reading books aloud to your children — no matter how young — has been recognized as one of the most important activities a parent can do. It can foster a lifelong love of learning and result in advanced language development and increased reading skills. Plus, it's a great (and easy!) way to bond and engage with your little ones.

2. Stay active and find ways to make it fun! You don't have to gyrate on a Las Vegas stage four nights a week in order to stay active. Hiking, swimming, yoga and bike rides are all things you can do with your kids on occasion. Healthy parents make for healthy kids; plus, there's the added benefit of mood-boosting endorphins and increased energy — both essential ingredients to keeping up with the endless energy of your tykes.

3. Encourage study dates with friends. Fostering learning and social skills? Win-win! Plus, your kiddo might actually get his homework done without too much hassle.

4. Take pride in your children's accomplishments. Whether she got a grand award at school or he learned how to write his name, don't forget to dole out the praise. And go on, brag a little, if you wish. Put that bumper sticker on your car.

5. Don't be afraid to spoil your kids… sometimes. No, we don't all have a disposable amount of income like Brit, but there's no harm in saying YES to your kiddo every so often. Sometimes. Just a little. Maybe on his birthday.

6. Get a little silly WITH your kids. Kids can be really friggin' weird sometimes, and you might not ever understand. But that's what makes them kids. Ditch your grown-up hat, and get silly with them. They have their whole lives to grow up. In fact, so do you.

7. Support your kiddos' activities, whatever they may be. Be it ballet or basketball, hit up those recitals and games. Support them. Encourage them. Show them you care.

8. Don't leave your phone unattended. You never know what could happen.

9. Let your kids be kids. Like, within reason, of course. Keep the Crayola markers off the walls (unless you want a cheap mural), but if your son wants to dye his hair blue for a day, so be it.

10. Stress the importance of health and good hygiene. Sure, this is an obvi one, but it's still important. And this photo was too cute not to include.

11. Give in to the snuggles. You never know when the cuddles and snuggles will fade (probably at the age of 14), so enjoy them while you can.

12. Cherish and enjoy EVERY moment. Because they grow up so fast!