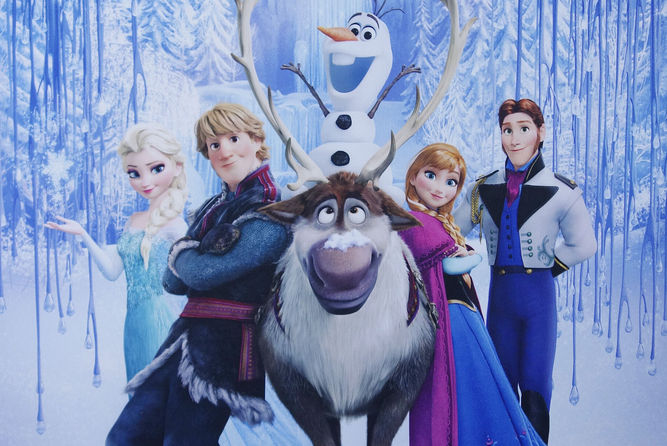 As a mother of 2- and 4-year-old girls, I have mixed emotions about the Frozen movies. On one hand, I'm thrilled because I know their level of excitement to see Queen Elsa could be rivaled only by Anna's when she gets to build a damn snowman. On the other hand, I am so annoyed by Frozen that I want to hide my kids in an igloo for the season.
My family went through the first Frozen obsession about two years ago with my now 4-year-old. I remember thinking then that it was odd that she would be so infatuated with only Elsa, considering that she was hardly actually in the movie and that Anna was clearly doing all the heavy lifting. But at the time I was so pumped to have time to myself while my toddler sat still for 90 minutes that I didn't think much more about it.
Cut to two years later and now my 2-year-old has begun the Elsa obsession again. "I WAN WATCH FWOZEN." On repeat. The avalanche-sized tantrum that she throws when I don't play it is hardly worth it. So now, after roughly 784 viewings of this film, I have some additional thoughts, and the gloves are coming off.
First of all Disney, you're really on my nerve for somehow making my kids adore the snow queen antagonist (Elsa) over the sweet little protagonist (Anna). Clearly, they both have unresolved Daddy issues, but what is it about this movie that makes my girls idolize the character who hides in her room, won't play with her sister, has temper tantrums at parties, and runs away from an entire town that she literally just f-ed over? That's "froze" over, of course.
I guess it's the song. And potentially that borderline inappropriate sashay that she does after she's transformed into a glittery dress and is boldly declaring "the cold never bothered me anyway," before she slams the door of her newly-built ice palace. Meanwhile, her sister is over here fighting wolves (and potentially a case of gangrene), falling in love with every male character she meets, and traipsing all over the North Mountain to go retrieve her selfish Highness, only to induce another Elsa temper tantrum that gets her bubbly little heart frozen. Yet NOT ONCE has either one of my daughters requested to dress up as Princess Anna. I don't get it.
Let's not pretend though like this whole mess for Elsa and Anna couldn't have been avoided with better parenting. When it's discovered that Elsa has some special talent, her dad's answer is to stick her in her room with a pair of gloves. Isn't it Parenting 101 that you're supposed to be supportive of whatever gifts your kid has?  Instead, the ol' King is like "Nope, not today. Cover up those paws and we're moving your sister to a different room until you figure it out."
But he's not the only one to blame. It wasn't until the 479th time that I watched this movie that I realized that the mom has literally zero role in this entire story. Ironically isn't this the case with most Disney princess movies? Unless it's an ugly, wicked stepmother, there isn't a huge maternal presence in these films. But that's a topic for another day. Anyway, I'm not sure that the mom says even one word in Frozen. Where you at Queen Mama? Oh, just standing there silently while your husband fires the entire castle staff — just in case Elsa being sequestered to her room wasn't isolating enough — and then comes up with the sage "conceal don't feel" advice for her, and whisks you away on a cruise? Cool. Way to step up and take care of your girl.
Obviously, with a childhood like that, Elsa didn't stand a chance when she finally emerged from her room. But that doesn't make it any easier to watch my girls idolize her, dress like her, and sing like her, while Anna doesn't get a second thought. And that doesn't make it less obnoxious to watch the ending of the movie, when after Anna has thawed herself out and fixed everything, Elsa is the one being adored by the entire town because she makes a little ice-skating rink. I don't get it and I don't like it.
But after all of that in-depth psychoanalysis and opposition of a cartoon movie, you better believe I was one of the first online for presale tickets, and have already spent my obligatory $200 in that giant Frozen II section that Target so thoughtfully placed right by the front door. Because my girls love it, they're excited about it, and this is what good parents do. Guess I'll just have to let it go.