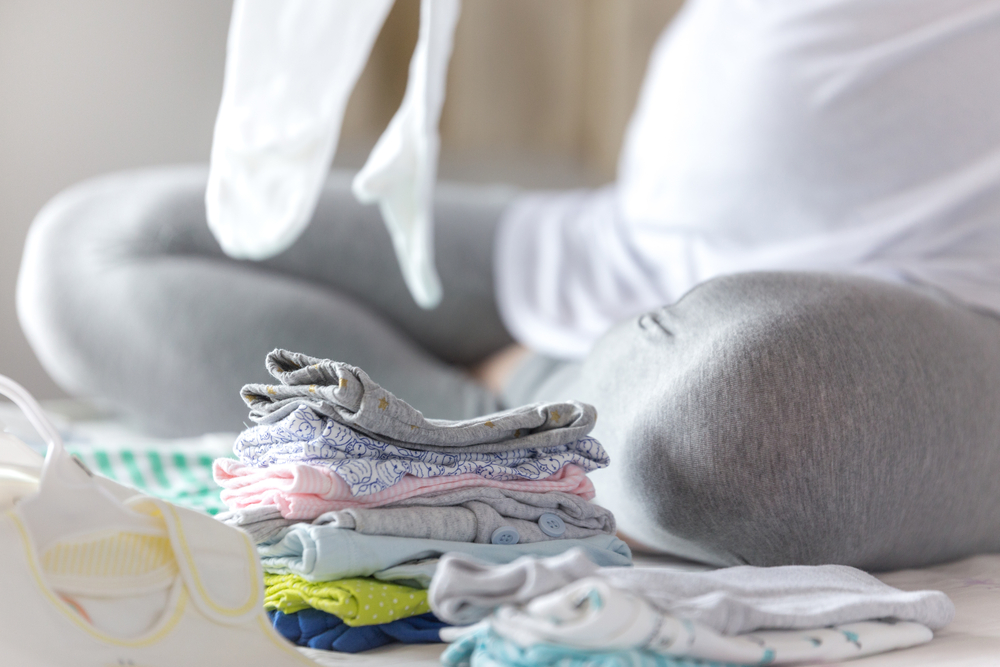 Who doesn't love buying new baby clothes? I mean, they make them irresistible with all the gingham and bows. When my first son was born we bought new clothes and of course received some as gifts. I fell in love with every new outfit we put on our baby boy. I was the first of some of my younger friends to have a baby (I was 34) so hand-me-downs were not a thing with my firstborn. Everything we bought was new. And I think that is the preference for most first-time parents.
Then, the spit-up started happening. And the sweet potatoes started staining. And the blowouts ruined clothes faster than I could grab the wipes. I quickly started realizing that maybe all the money I dropped on clothes from Baby Gap wasn't the best investment.
Enter my second child last year. I was literally the last of my friends to have a baby (at age 42), and we received, and are still receiving, so many hand-me-downs, our second son could wear a new outfit every single day and still not get through them all by the time he moved up a size. And then before you know it, it was time to go up a size again. My mom friends couldn't get rid of the stuff fast enough. And we still had stuff from our first son that we planned to upcycle.
I think about how truly useful all these hand-me-down clothes and toys have been. He may play for a toy for a day or two and never look at it again. And it doesn't bother me as much because I didn't pay for it. Most of the toys have probably had a shelf life of three or four kids and are still in great shape! So, to all my mom friends who passed on your baby's once-beloved things — thank you!
It may not seem like a lot — a bag of clothes here, a box of toys there. But, it is.
As my son approaches his first birthday, it has completely made me rethink what I buy for him. There are a number of great kids' consignment sales in town and I shop at all of them — another place to find hand-me-downs from complete strangers. Some stuff still has the price tag attached, but it's a third of the cost. A little laundry detergent, and voila!
And don't even get me started on shoes. Their little feet grow so fast you can find nearly-new shoes at these sales, stores like Amy's Turn and Once Upon a Child, or even online on local Facebook Swip Swap sites and not feel bad when they never actually get to wear them. I feel like parents who don't have the same-sex child could benefit most from this approach. Or, previously loved things may not be for you.
Don't get me wrong, I still look for some things that are brand new. For instance, I just bought an Easter outfit for both boys — because of course, they must match for the family portrait (ha). But, my youngest will wear his big brother's outfit again one day. Thank goodness kids' clothes don't really go out of style the way adult fashion does.
I have a pile of under-12-months baby clothes that have seen their share of tiny bodies. I've already paid it forward to my cousin who just had a baby boy, and the rest, I'm happily boxing them up to donate for others to benefit the way I did.