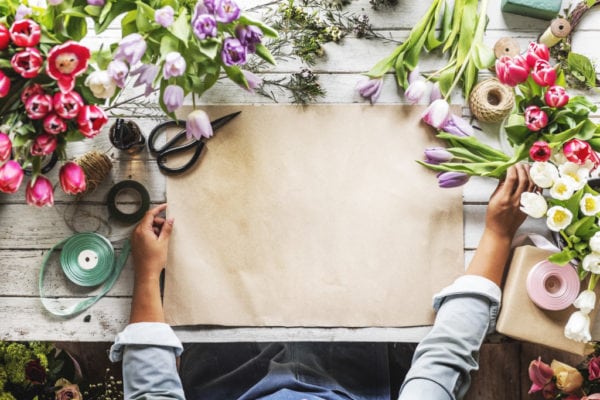 "Light, white, and bright." Those are the words that seem to run through my head a dozen times a day as I walk through my house. I've lived here for over 10 years. This is the house my husband and I came home to after our honeymoon, and this is the house we brought our newborn babies into. It's a home and I love it, but I also want to tear it down and start all over. Light, white, and bright: It's a wish list's mantra really, because my reality is "dark, beige, and a closed-in floor plan."
It's a lovely house with about 15 too many walls. I've never been one to go full throttle into trends. I can't tell you the last time I logged into my Pinterest account. I do not want to shiplap all the things. I do, however, want to knock down all the walls and have one open room we can all live happily ever after in. Okay, maybe not quite that dramatic, but I feel stuck and restless. I've felt this way for a few years. The obvious question is why haven't I done anything about it? Well, my sweet husband who never needs a thing could live here, as is, until the day we die. That kind of makes me feel awful about everything I want to shake up. We're stuck in the "do we move?" vs "do we renovate and possibly pour money into our house that we'll never actually get back?" debate, and I don't know what to do. So, I instead wander through my house, sighing, "light, white, and bright." Maybe if I say it over and over I'll wake up and my bathrooms will be remodeled and my kitchen will be changed? It consumed me so much that I even had a dream that woke me, jolting out of bed. In my dream, I saw a cloud of construction dust. Then, a huge wrecking ball came crashing through my house destroying everything in its path. Where Miley Cyrus was missing, I was standing next to the massive steel ball, smiling, my hair a mess and a fire in my eyes. All I whispered was, "It. Looks. Perfect." HOLY what the heck?! I sat up in bed in a full sweat, convinced I was losing it. Also, why was I wearing leather pants in my dream? So many questions, so little answers. Clearly, this house issue was getting out of hand. Also, leather pants.
I poured my thoughts out to my mother, about the things I would do differently in another house. She smiled and just said, "Do it now. Bloom where you are planted." I had never heard that saying before, and it strangely stopped me in my tracks. That phrase has been rolling around in my head ever since she said it to me. It's a simple thought but one that I've taken to heart. Although nothing is wrong with having long-term plans, I'm realizing there's a fine line between being driven and being purposefully restless. Instead of letting all the details of my life that are yet to be drive me, I really should let my current reality drive me.
Then, the other day, something kind of great happened. My son and daughter were playing outside. I was folding laundry in my bedroom and couldn't help but smile when I heard all the neighborhood children directly outside my window singing and giggling. What a pure joyous sound. Years ago, it felt like my kids would never be old enough to run around with the others. Now, the age gaps have closed and everyone runs in a pack around our cul-de-sac and through backyards. It's like it was when I was a kid, I thought. Just then, I could hear the pack of children run to a different side of the house, and then to another side. I was surrounded in laughter and my house felt a little lighter. I was overcome with gratefulness. That same day, I decided I was going to start regularly buying fresh flowers. Nothing over the top or expensive, just simple hydrangeas and baby's breath from the grocery store. I bought several white bouquets, spent 30 minutes cutting them up and arranging them all over the house, and couldn't believe how much whiter and brighter it made everything. I felt so thankful that something that insignificant could make me feel so great. A couple small changes in perspective and priority truly changed my mind that day.
So, it occurred to me, what if we never move? What if we never knock out a wall? What if this is it? What a shame that would be to look back on my life, knowing that I spent valuable time wishing things were different when I could have just found the good where I was. If this is all my life will ever amount to, or if this is all it will ever mean, it is enough. I think owning that has freed me to actually enjoy it all. Lifting my two beautiful babes up and knowing that they are IT while focusing on the minutes and hours of our days instead of the year as a whole is allowing me to nurture what I have and let it all bloom.
For me, right now, that means to thrive in the day-to-day life I'm currently wading through, as messy and unorganized as it can often be. Maybe we will renovate one day, maybe we will move, and maybe we won't. Maybe this is it, so maybe now's the time to just roll with it. I've recently hung up photos and artwork that I had "saved for a different time, for a different house." I always wanted a koi pond but told myself, "well that's for the next house," but we went ahead and put one in our backyard because this is my real life. I can hear the fountain bubbling when I sleep, and I love watching my kids feed the fish in the mornings. In the near future, we will paint. That's an easy thing I can do. For me, my mother's simple words are a reminder to be mindful in the life I'm in. I recently hung up a print in our playroom that says, "There's joy in every season." Wish lists, goals, things you hope for in the next five years, planning — it's all a part of life. But don't let it also rob you of the joy around you and the season you're in.